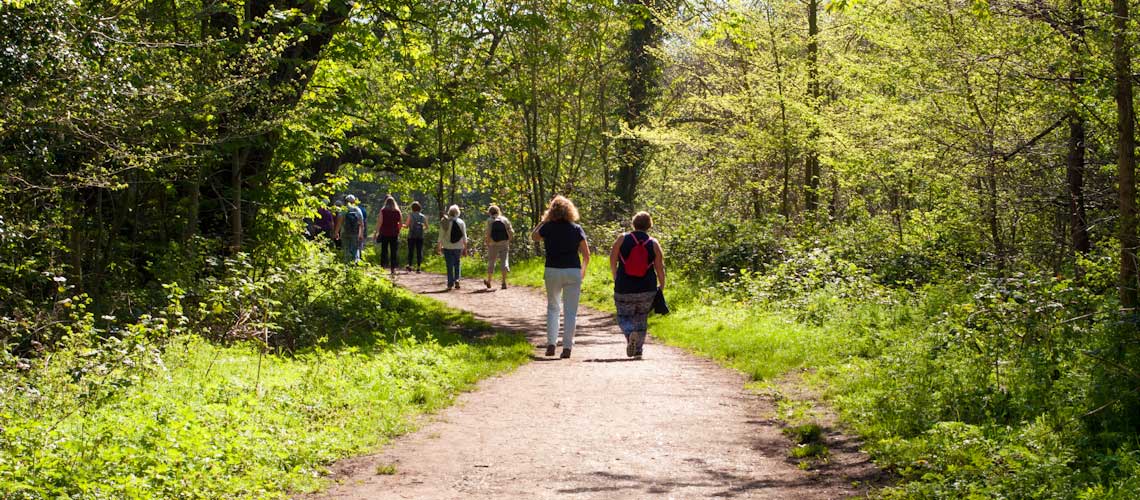 Walking for Health
Free organised weekly walks which take place in parks and open spaces across Redbridge. No booking required, just turn up and enjoy the company.  Organised by the Vision Redbridge Sport and Health team. 
Upcoming Walks
18 February at Valentines Park
25 February at Fairlop Waters
4 March at Clayhall Park
11 March at Goodmayes Park
21 February at Hainault Forest Country Park
28 February at Valentines Park
7 March at Fairlop Waters
14 March at Wanstead Park
Every Saturday from Wanstead Place Surgery, 45 Wanstead Place. 
Meeting points and difficulty grades for walks
1 = easy, flat walk at a gentle pace on hard surfaces
2 = steady pace, some gentle slopes and uneven terrain 
3 = steady to a faster pace, some hills and uneven terrain 
* all these walks are accessible for wheelchair users
| | | | |
| --- | --- | --- | --- |
| Park | Meeting Point | Approximate Time / Duration | Difficulty grade |
| Claybury Woods | Entrance opposite Wannock Gardens, Tomswood Hill | 60 minutes | 3 |
| Clayhall Park* | Tennis Courts inside park Longwood Gardens | 20 to 45 minutes  | 1 to  2 |
| Fairlop Waters* | Main entrance of Pavillion | 20 to 45 minutes  | 1 to 2 |
| Goodmayes Park* | Entrance at Aberdour Road/Abbotsford Road | 20 to 45 minutes  | 1 to 2 |
| Hainault Forest Country Park | Car park adjacent to Global Cafe  | 60 minutes  | 3 |
| Seven Kings Park* | Bandstand (Aldborough Road South entrance) | 20 to 45 minutes  | 1 to 2 |
| South Park* | Car Park adjacent to tennis courts | 20 to 45 minutes  | 1 to 2 |
| Valentines Park* | Outside Valentines Park cafe  | 45 minutes  | 1 to 2 |
| Wanstead Park | Thursday: Park entrance, Warren Road | 60 minutes  | 2 |
| Wanstead | Saturday: Entrance off Wanstead Place Surgery | 60 minutes  | 2 |
Your guide to walking in Redbridge
The Walk Redbridge brochure is designed to make it as easy as possible for you to start leisure walking. It gives bus routes to the walks' starting points and grades each walk depending on the type of terrain. Download a copy of Walk Redbridge (PDF 1.1MB)