Recycling collection
Every year Redbridge residents produce around 100, 000 tonnes of waste. That's almost 1 tonne per household. By taking simple steps to reduce, reuse and recycle your waste you can help save money and make a difference to your environment.
Check your collection day
We offer kerbside recycling collection on the same day as your normal bin collection. 
Presenting your recycling boxes for collection
Your recycling must be in the blue and black recycling boxes that we provide.  Boxes should be left just within the boundary of your property by 7am on the day of collection.
In your black recycling box
 
You should use your black recycling box for:
plastic bottles with lids removed (no yoghurt pots or plastic food trays)

tins and cans

glass bottles and jars with lids removed (not broken glass or windows)
If you do not have your blue box yet then please keep your paper, card and other materials in separate areas of the box. You can use an untied carrier bag on or in the box. 
In your blue recycling box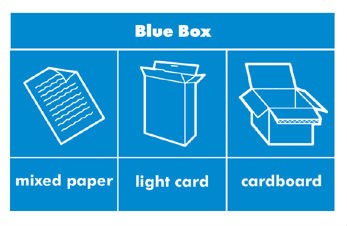 You should use your blue recycling box for:
paper

newspaper

 magazines,

catalogues,

junk mail

envelopes including window envelopes

catalogues

yellow pages and phone directories

cardboard and card

cardboard packaging

cereal boxes

egg boxes

greetings cards

corrugated card
Cardboard must be flattened and presented inside your existing recycling box.  It may be necessary to cut larger items up to ensure they fit in the box.