Redbridge School Streets
Please note that the existing Redbridge School Streets at Fairlop Primary School and Saints Peter and Paul's Catholic Primary School / Gordon Primary School are still being enforced from Monday 4 January 2021, the start of the Spring term.
We have introduced Redbridge School Streets as part of our plans for a safer and greener Redbridge. We want to:
reduce levels of air pollution around our schools
help protect children from traffic at the school gate
encourage more children to walk and cycle to school
Redbridge School Streets mean vehicle traffic is banned from entering School Street zones and travelling past schools at the schools' start and finish times, during term time only. Vehicles within the School Streets zone can exit the School Streets zone without penalty, at any time, even during the restricted period.
Early results show that the existing Redbridge pilots have been successful at reducing traffic at the school gate, making the area safer for children and encouraging them to walk, scoot and cycle to school.
A number of recent reports have also demonstrated the benefits of School Streets.
Residents and businesses within the School Streets zone can apply to the Council for a free exemption meaning that they can enter and travel through the area during the restricted times. 


Redbridge School Streets consultation details 
In addition to the two existing schemes at Fairlop Primary School and Saints Peter and Paul's Catholic Primary School / Gordon Primary School, Redbridge is currently consulting on 10 additional schemes across the Borough at Schools that have been identified as suitable for a school street scheme. The locations are; 
1. Avanti Court Primary School, Carlton Drive, Ilford, IG6 1LZ
2. Parkhill Infants' and Junior Schools, Lord Avenue, Ilford, IG5 0DB
3. Wanstead Church School, Church Path, London, E11 2SS
4. Aldersbrook Primary School, Harpenden Road, London, E12 5HL
5. Fullwood Primary School, 21-24 Burford Close, Ilford, IG6 1ER
6. Gilbert Colvin Primary School, Strafford Avenue, Ilford, IG5 0TL
7. Oakdale Infant and Junior Schools, Oakdale Road, London, E18 1JX
8. Snaresbrook Primary School, Meadow Walk, London, E18 2EN
9. Christchurch Primary School, Wellesley Road, Ilford, IG1 4LQ
10. Nightingale Primary School, Ashbourne Avenue, London, E18 1PL


The current School Streets consultation has now closed.  


Existing School Streets
Fairlop Primary School is located in Colvin Gardens, Ilford, IG6 2LH.
The vehicle prohibition operates on Colvin Gardens between the junction with Greenwood Gardens and its junction with Tomswood Hill. This is because the entrance to the school is located on Colvin Gardens.
The prohibition timings are between:
8:45am and 9:20am
3:00pm and 3:50pm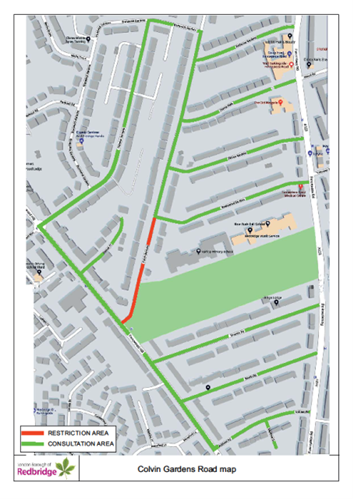 Saints Peter and Paul's Catholic Primary School is located in Gordon Road, Ilford, IG1 1SA.
Gordon Primary School is located in Golfe Road, Ilford, IG1 1SU.
The prohibition means that during term time, vehicular traffic (motorcycles, cars, vans and lorries) will be prohibited from driving along the following roads. This is because the entrances to the schools is located on Gordon Road and Golfe Road.
Gordon Road, between the junctions with Green Lane and Golfe Road
Golfe Road, between the junctions with Gordon Road and South Park Road
Winchester Road, between the junctions with Park Road and Gordon Road
Littlemoor Road, between the junctions with Cavenham Gardens and Golfe Road
The prohibition timings are between:
8:30am and 09:15am
2:45pm and 3:45pm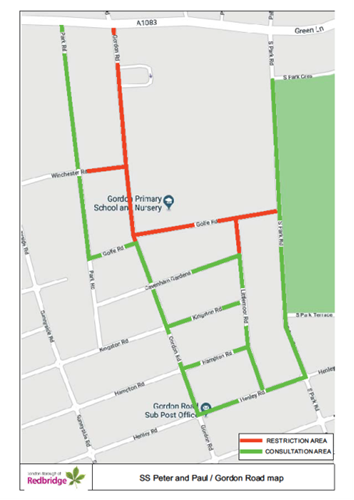 Exemptions
Residents and businesses that are located, or have their property vehicle access located within the Redbridge School Street zone can apply for a free vehicle exemption from the Council. See FAQs for further details of exemptions.
Electric or hybrid electric vehicles are not exempt from the Redbridge school street as the aim is to reduce all traffic at the school gates and to encourage more children to walk and cycle to school.


Enforcement
School Streets zones are identified with signs and enforced using Traffic Enforcement Cameras.
Penalty Charge Notices (PCNs) will be issued for any vehicle that unlawfully enters the School Streets zone. The level of the Penalty Charge is £130. A 50% discount is applied if payment is made within 14 days reducing the Penalty Charge to £65.


Contact
For more information about Redbridge School Streets please email the team at schoolstreets@redbridge.gov.uk or write to them at School Streets Team, 10th Floor Front, Lynton House, 255-259 High Road, Ilford, IG1 1NY)


Why is this scheme being run?
The aim is to help eliminate the traffic hotspots around those schools, reduce children's exposure to air pollution and the risk of road accidents and encourage walking and cycling to school.
Early results from the two pilot schemes in Redbridge show that traffic at the school gates has fallen, without reports of traffic problems on surrounding roads. Further evaluation will take place after schools have fully opened.
Why is this scheme only being run near three schools?
These are pilot projects to investigate the impact of Redbridge School Streets. Consultation is currently taking place to roll-out further School Streets across the Borough.
How is the success of School Streets measured?
The school is consulted to understand the impact at the school gate, perceptions of safety and changes in travel.
Pollution will be measured by real-time pollution monitors.
Road safety statistics are produced on an annual basis.
Children's travel to and from school is measured as part of School Travel Plan monitoring.
Won't this scheme just push more traffic to other roads?
A report by Edinburgh Napier University reviewing School Streets in the UK and Europe concluded that there is;
"Medium strength evidence that in almost all cases the total number of motor vehicles across school [streets] closures and neighbouring streets reduces".
The Council is working with each school to promote the use of public transport, walking, cycling, scooting and other forms of active travel to reduce car traffic. We hope that parents and children who currently travel by car will consider changing the way that they travel to school. Those drivers that still wish to travel at school start and finish times will have to avoid the School Street. That will mean that all pupils attending the school will breath cleaner air at the school gates.
What if a child needs to be transported to school in a vehicle for safeguarding and welfare reasons?
Arrangements are in place at each school to ensure that those children having specific needs e.g. disabilities or Special Educational Needs, are still able to be safely transported by their parents to school.
Similarly, if a parent / carer has very restricted mobility, suitable arrangements can be made.
What is the cost of an exemption permit?
There is no cost to residents or businesses who apply for a vehicle exemption.
How is the Council consulting on School Streets?
The first stage is for the Council to consult the school and ward councillors on the School Streets scheme . This enables local issues to be highlighted and understood, to ensure a robust proposal
The next stage is the public consultation where the Council writes to residents within the restricted area and those who may be impacted by dispersed traffic and parental parking.
The consultation is opened on the consultation pages on the Redbridge website (https://www.redbridge.gov.uk/have-your-say/consultations/) to enable all residents and non-residents to let the Council know their views.
Schools provide information on the Consultation to parents/carers and staff.
A decision is made by the Council taking into account the consultation response and other evidence.
School Streets are implemented by an "Experimental Traffic Order". Residents have a further opportunity to provide the Council with their views when the "Experimental" order is made "Permanent". It is envisaged that this may take place for September 2021 when schools could be opening as normal.
What about deliveries?
Neither residents nor businesses within the two pilot areas have reported that deliveries have been adversely affected. The Council does not expect deliveries to be particularly affected as School Streets are rolled-out.
There is no restriction on delivery vehicles exiting the School Streets zone during operating times. The restrictions are just upon entering the zone.
Businesses routinely deliver to addresses, or access roads with traffic restrictions in place and adapt their routes and plans accordingly without disruption to customers.
Residents / Businesses are advised to inform those requiring access about the vehicle restriction so that they can adapt their plans accordingly.
Delivery companies can successfully appeal a PCN by providing proof of making a delivery in a School Street.
What about the Emergency Services?
Any vehicle being used for police, ambulance or fire brigade purposes in an emergency is exempt from School Streets enforcement, so will not be delayed.
How do people get to and from work?
Residents living within the school streets are free to access / leave their property at any time once an exemption has been granted.
There is no restriction on resident's vehicles leaving the zone during the restricted times, just restrictions on entering the zone.
To apply for a free exemption please fill out the online exemption form that can be found at - https://www.redbridge.gov.uk/roads-and-pavements/redbridge-school-streets/.
Other residents will need to make a short detour around the Redbridge School Street to complete their commute.
We hope that this change will make more people consider walking and cycling and using public transport instead of using their car and that they will avoid driving through the area during school drop off and pick up times to reduce the impact of air pollution and associated road safety risks to children.
Are School Streets enforced over the weekend, Christmas holidays / bank holidays / school half terms etc.?
No. School Streets are enforced on weekdays during school term-time only. They are not enforced over weekends, or during school holidays, on bank holidays or on election days to ensure that people can go and vote.
What about people who travel by Taxi or Private Hire Vehicle
Taxi or Private Hire companies can successfully appeal a PCN by providing proof of collecting or dropping-off a passenger in a School Street during restricted times.
I have daily Health and / or Social Care visits. How will they be impacted?
Please contact the School Streets Team to discuss your specific requirements and find out how they can be accommodated.
What camera data is held by the Council?
The School Streets "Traffic Enforcement Cameras" are operated by Redbridge Council.
They are only in operation i.e. recording, on weekdays during term time and during the times advised in the Traffic Management Order and as advised on the on-street signage.
The cameras cannot be used for general surveillance. They are fixed focused on a specific spot on the street to record the vehicle making the potential contravention and the associated signage. That is the information required to issue a Penalty Charge Notice (PCN). The pictures taken are of the rear of the vehicle, so the driver cannot be identified.
Once the camera records a potential infringement, the automatic system checks the number plate against the list of exempted vehicles. If the vehicle registration appears on the list then the video clip is deleted. If it doesn't appear on the exemption list then the system saves a 10-15 second video clip of the event.
That video clip is then manually reviewed a Council Officer who will determine whether they believe a contravention has taken place. If they believe that a contravention has not taken place, then the video clip is discarded. If they decide that a contravention has taken place then a PCN is issued.
Any video clips that are used to support the issue of a Moving PCN are kept for 2 years in line with Redbridge Council Data Retention Policy. At the end of that period they are then deleted, unless the case is still subject to ongoing action.
How can I request a School Street at my local School or the extension of an existing scheme to my street?
Please email (schoolstreets@redbridge.gov.uk) or write to the School Streets Team (10th Floor Front, Lynton House, 255-259 High Road, Ilford, IG1 1NY) to request a School Street at your local school or for your street to be included within an existing scheme.