Redbridge School Streets
Following the return to school, Redbridge School Streets are being enforced from Tuesday 1 September 2020, the start of the Autumn term
We have introduced Redbridge School Streets as part of our plans for a greener Redbridge. We want to:
reduce levels of air pollution around our schools
help protect children from traffic at the school gate
encourage more children to walk and cycle to school
Redbridge School Streets mean vehicle traffic is banned from travelling past schools at the schools' start and finish times during term time only.
Enforcement
Zones are identified with signs and enforced using automatic number plate recognition cameras.
Penalty Charge Notices (PCNs) will be issued for any vehicle that unlawfully enters the zone.
Redbridge School Streets details
Fairlop Primary School is located in Colvin Gardens, Ilford, IG6 2LH.
The vehicle prohibition operates on Colvin Gardens between the junction with Greenwood Gardens and its junction with Tomswood Hill. This is because the entrance to the school is located on Colvin Gardens.
The prohibition timings are between:
8:45am and 9:20am
3:00pm and 3:50pm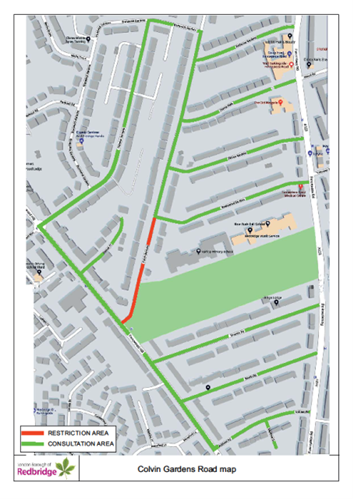 Saints Peter and Paul's Catholic Primary School is located in Gordon Road, Ilford, IG1 1SA.
Gordon Primary School is located in Golfe Road, Ilford, IG1 1SU.
The prohibition means that during term time, vehicular traffic (motorcycles, cars, vans and lorries) will be prohibited from driving along the following roads. This is because the entrances to the schools is located on Gordon Road and Golfe Road.
Gordon Road, between the junctions with Green Lane and Golfe Road
Golfe Road, between the junctions with Gordon Road and South Park Road
Winchester Road, between the junctions with Park Road and Gordon Road
Littlemoor Road, between the junctions with Cavenham Gardens and Golfe Road
The prohibition timings are between:
8:30am and 09:15am
2:45pm and 3:45pm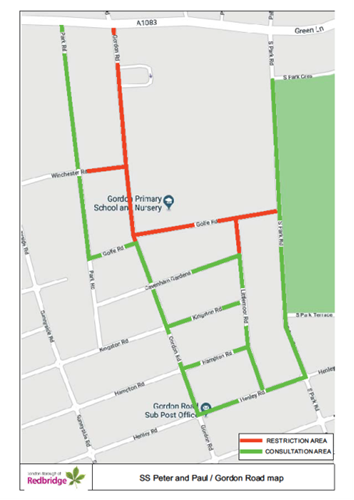 Exemptions
Residents and businesses that are located, or have their vehicle access located within the Redbridge school street can apply for a vehicle exemption.
Please note that electric or hybrid electric vehicles are not exempt from the Redbridge school street as they do not contribute towards reducing traffic at the school gates and their presence does not encourage more children to walk and cycle to school.
Contact
For more information about Redbridge School Streets please contact the team at schoolstreets@redbridge.gov.uk.
Why is this scheme being run?
The aim is to help eliminate the traffic hotspots around those schools, reduce children's exposure to air pollution and road accidents and encourage walking and cycling to school.
Why is this scheme only being run near three schools?
These are pilot projects to investigate the impact of Redbridge School Streets.
Won't this scheme just push more traffic to other roads?
The Council is working with each school to promote public transport, walking, cycling, scooting and other forms of active travel to reduce car traffic. We hope that parents and children who currently travel by car will consider changing the way that they travel to school. Those drivers that still wish to travel at school start and finish times will have to take a diversionary route. That will mean that all pupils attending the school will breath cleaner air at the school gates.   
What if a child needs to be transported to school in a vehicle for safeguarding and welfare reasons?
Arrangements are in place at each school to cover off any safeguarding requirements, including children having specific disabilities or Special Educational Needs, for car travel to school
What is the cost of an exemption permit?
There is no cost to residents who apply for a vehicle exemption. This is being provided for free by the Council.
How are local residents, businesses and organisations being informed of the scheme?
Letters have been sent to those directly affected by the vehicle prohibition i.e. those whose property, or vehicle access is within the Redbridge School Street.
The schools wrote to parents encouraging them to respond to the previous public consultation about the scheme and about the scheme implementation.
The Traffic Management Order for the scheme was advertised in the London Gazette and the Ilford Recorder.
There have been news releases issued to the press and the story has subsequently been reported in the local papers, both in print and online.
The council's social media pages have been signposting residents to information about the scheme.
On-street publicity has been created.
Our website has a dedicated page for Redbridge School Streets
Resident can also email enquiries directly to the Redbridge School Streets team:  schoolstreets@redbridge.gov.uk.  
What do contractors do i.e. deliveries that need to be made to houses, building works materials that need to be transported to houses being refurbished
Residents / Businesses will need to inform their suppliers about the vehicle restriction. When ordering online there is often a field to add any delivery restrictions, so that the delivery company is aware and can arrange their deliveries to avoid the restriction.
How do people get to and from work?
There will be no difference for residents living within a Redbridge School Street that have applied for a vehicle exemption. Once the exemption is granted they are free to access / leave their property at any time.
To apply for an exemption please fill out an exemption form
Other residents will make a short detour around the Redbridge School Street to complete their commute.
We hope that this change will make more people consider walking and cycling and using public transport instead of using their car.    
Will it be enforced over the Christmas holidays / bank holidays / school half terms etc?
The school clean air zones will only be enforced during school term time only. It will not be enforced during school holidays, on bank holidays or on election days to ensure that people can go and vote.