Spruce up your neighbourhood
On this page you will find ideas about how you can make your neighbourhood a cleaner and more vibrant place that everybody can take pride in.
Please note that you must contact us for permission before undertaking any of the activities listed below to ensure that we can put the correct measures in place.
Redbridge Big Bulb Giveaway and Planting Weekend, October 2020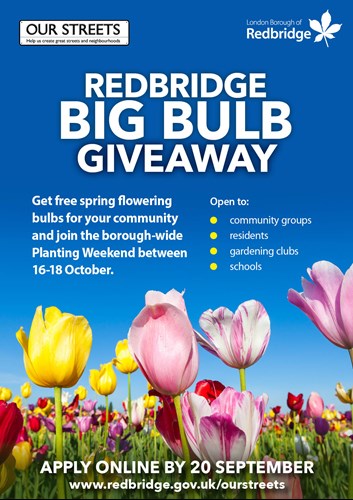 Get FREE spring flowering bulbs for your community and join the borough-wide Bulb Planting Weekend between Friday 16 and Sunday 18 October.

Following last year's success, Redbridge's Neighbourhood Team will be giving away spring bulbs to the community again this autumn. This is a great opportunity to get together and add more colour to your neighbourhood.
You can use the bulbs to plant in spaces that benefit the community such as public shrub beds and raised planters, within the grounds of schools, community and faith centres.
Community groups, residents, gardening clubs and schools can now request bulbs by completing the online form below.
Please note that the planting area must be in an area which can be enjoyed by the local community and must not be in the following locations: a private garden or land, Vision RCL parks and sites (we do not have the authority to approve planting on these sites), grass verges, grassed areas and tree pits (this can damage the tree roots). If you would like to plant on Council land that is not Highways (e.g. Housing sites), we will have to seek approval from the land owner following your application.
The deadline for requests is Sunday, 20 September 2020. The plants are available in limited amounts and will be given out on a first come first serve basis.
We have 40,000 bulbs in total to give away, including the following:
Daffodils
Dwarf size daffodils
Tulips
Crocuses
Snowdrops
Grape hyacinths
The bulbs will be delivered to the successful applicants in time for the Planting Weekend. Following the recent outbreak of the coronavirus in the UK we will put in place a number of measures, such as contact-free delivery to protect our staff and residents.
Community gardening
Do you live near a bare or unloved bit of land? Do you have an idea about how your community can bring it to life? Why not get together with family, friends and neighbours to start planting on your street or in your local neighbourhood?

1. Identify your garden and create your group
Identify the area you want to adopt as your garden, confirm your group and a lead gardener. Decide what sort of garden you would like and how it
will be used and maintained. You must agree to maintain the garden for a minimum of 12 months.
TIP: If you would like advice and ideas visit the Royal Horticultural Society website on www.rhs.org.uk - you can also register your community garden so locals can find you.

2. Adopt your garden
Complete the online application form. If your application is successful, your Neighbourhood Engagement and Education Officer will meet with you and ask you to sign an agreement. The Officer will provide you with instructions on how to access seed funding for your project.

3. Promote your garden
Engage with residents and businesses around you for support. You can post on local social media pages or post flyers to neighbours. Think about how you might want to promote your garden and how you can secure further funds. We can put you in touch with other gardening groups in the borough to exchange knowledge and ideas. 
4. Brief your group and start gardening 
Have a plan outlining when preparation, planting and maintenance will take place, as well as a plan for individual gardening sessions. Complete a risk assessment covering any health and safety issues. We will be able to provide a template for this. Ensure all gardeners understand the health and safety
checklist. Take lots of photos as your garden grows and blooms to track your progress.
5. Share your progress
Tell us how your garden is progressing, share and promote your success with us. We would love to share your success stories online and inspire others on the Our Streets enewsletter.

To adopt a public space for gardening complete the community gardening application form providing details about what your plans are and how they will be delivered. You must adopt the space for a minimum of 12 months. You may be eligible for seed funding to get you started, however, we would encourage you to apply for other sources of funding

You can find useful information about community gardening on the:
To share your community gardening stories contact your local Neighbourhood Engagement and Education Officer.
Community Litter Picking and The Great British September Clean
We are re-launching our support of community litter picking in time for the Great British September Clean 2020.
Thorough COVID-19 safety guidelines relating directly to litter picking are available from Keep Britain Tidy and we advise you to read them before embarking on any clean up activity.
Residents are welcome to litter pick in their area using their own equipment but we can now lend equipment too.
Due to COVID-19 all equipment will be collected from the WREN Building on Ley Street or delivered direct to you rather than through the libraries at this time. We're hoping that this will make community litter picking easy and accessible to residents and community groups.
We will issue a maximum of 15 litter pickers for larger groups at this time.
Please ensure that you send a request at least two weeks before your litter pick so we can make the relevant arrangements.
You will receive a confirmation email from the council to confirm when you will receive the equipment. This will contain information about where to drop off your rubbish as well as important health and safety information.
Tree pit planting
As part of our community gardening initiative residents are encouraged to adopt tree pits for planting. This is a fantastic opportunity to bring together neighbours and help your street bloom. Once adopted it is your responsibility to plant and maintain the tree pit.
If you have any enquiries about adopting a tree pit please contact cleansing.services@redbridge.gov.uk
Tree planting 
Redbridge celebrated National Tree Week between Monday 26 November and Saturday 8 December 2018 across schools and neighbourhoods. Residents joined us on the Lowe Hainault, Fields Park Crescent Chadwell Heath, Swindon Close Seven Kings and Wren Terrace, Tiptree Crescent. 
Trees For Cities carry out regular tree planting events in parks and schools. To get involved in their future events visit the Trees For Cities website.
The Council and Trees for Cities have secured a three year partnership to plant more trees and greenery across the Borough. Trees for Cities have delivered many projects over the years and are due to plant 15000 in the coming months. 
Find out about volunteering opportunities and keep up to date by subscribing to our enewsletter.
Subscribe to Our Streets enewsletter