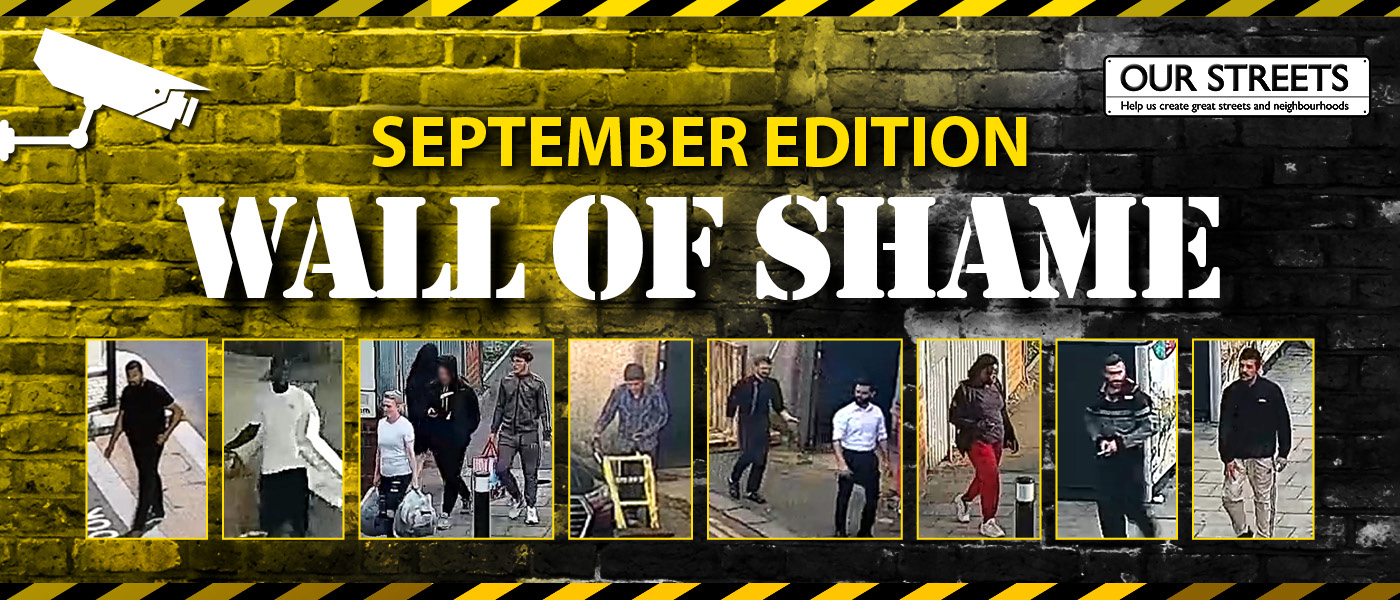 September Redbridge Wall of Shame: Help us find the grime crime offenders caught on camera trashing our borough
Published: 21 September 2023
Redbridge Council is continuing its crackdown on fly-tippers by calling on the community to help identify people caught on camera ditching their rubbish on the street. 
CCTV footage released for the September edition of Redbridge Wall of Shame shows 8 clips of people illegally dumping their rubbish in the borough.
In the footage the grime crime offenders can be seen leaving a large appliance, broken packaging, a wooden pallet, and shopping bags filled with unwanted items. Some are also seen leaving bags of waste on the street beside bins, which is also fly-tipping.
Redbridge local, Elisa Piccaro, is a keen supporter of Redbridge Wall of Shame and thinks everyone has a role to play in keeping Redbridge clean and tidy.  
The mum-of-one, from South Woodford, said: "It's our neighbourhood. We need to take care of it as a community. It's not just down to the Council. The problem is the people making the mess. There is so much education and information around getting rid of rubbish. Even if you just google it, lots of options come up so I don't understand why people are leaving their rubbish on the street. It's a really selfish thing to do."
The law-breakers face a £400 fixed penalty notice or prosecution if caught – both of which can be easily avoided by getting rid of rubbish legally and responsibly through a range of waste disposal services in the borough, including Redbridge Council's Bulky Waste Collection Service for large household items and appliances like fridges.
Head to Redbridge Wall of Shame to view the footage: https://wallofshame.redbridge.gov.uk/
If you can help identify any of the culprits caught on camera, please contact Redbridge Council on: Cleansing.Services@redbridge.gov.uk
Redbridge Wall of Shame forms part of the council's on-going work under it's Our Streets strategy to create a cleaner Redbridge. Taking a tough stance on grime crime, the council will fine or prosecute any individual or business caught dumping rubbish in the borough.
Enforcement action is also being coupled with other council led fly-tipping initiatives, including community engagement work, free online workshops on reducing and disposing of waste properly, and targeted fly-tipping operations.
The council also offers a Bulky Waste Collection Service entitling residents to a free collection every 12 months (maximum of 3 items). For more details, including costs for additional collections go to: www.redbridge.gov.uk/bins-waste-and-recycling/book-a-bulky-waste-or-large-item-collection/
If you spot a fly-tip in the borough you can easily report it online through the council's Report It page:  https://www.redbridge.gov.uk/report-it/
All fly tips made known to the council are recorded and investigated, with enforcement action being taken if evidence is found. The council aims to clear all recorded fly-tips on council land and the highway within 24 hours of it being reported.
(END)