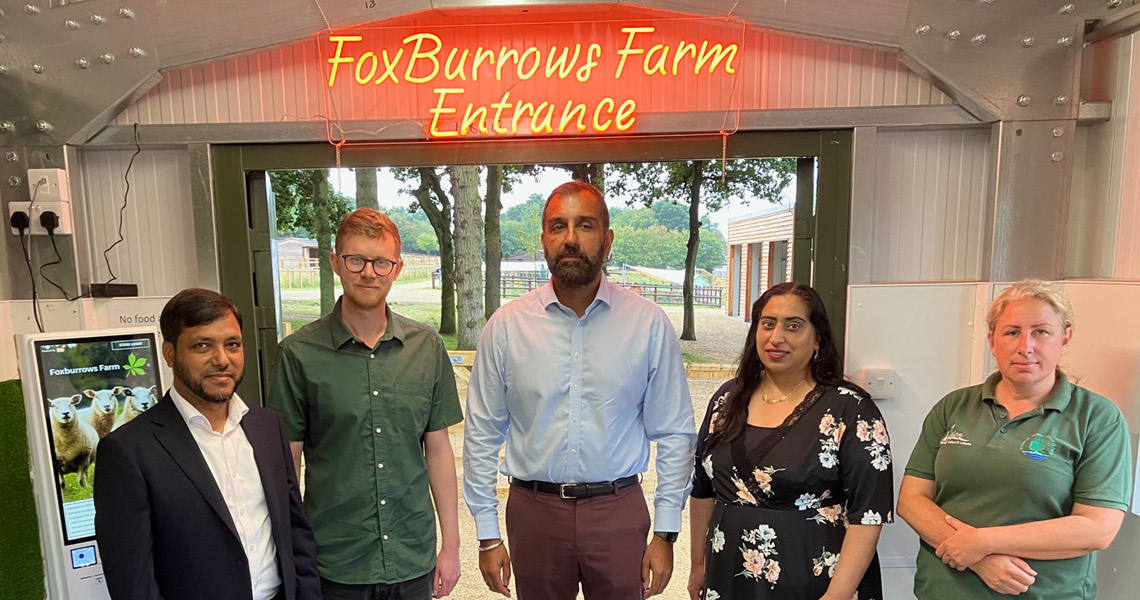 Foxburrows Farm open after major renovation
Published: 7 September 2023
Redbridge Council is delighted to announce that Foxburrows Farm in Hainault Forest is now open. 
Foxburrows Farm is the final attraction to reopen as part of the £7m Hainault Forest Restoration Project, thanks to funding from Redbridge Council, National Lottery Heritage Fund, and the Mayor of London.
The farm has welcomed new sheep, pigs, and goats to the existing family of shetland ponies, alpacas, geese, ducks, peafowl, and rabbits, all housed in the beautiful surroundings of Hainault Forest. Over the coming months, the collection of animals will expand as the farm continues to grow and improve.
The farm has benefited from a range of improvements, including:
a new display barn and animal shelters
accessible paths 
accessible hand washing facilities
family-friendly toilet facilities
a brand-new public realm space with seating to take in the magnificent views of the ancient forest
The Deputy Leader of Redbridge Council, Cllr Kam Rai, said: "We know how important the farm and the animals are to local people, and that's why we've invested in accessible paving, new interactive spaces, and additional furry friends - creating a perfect day out for all the family right in the heart of Hainault Forest.
"Our parks staff have been working incredibly hard to make improvements so even more people can enjoy the farm and meet the friendly animals. 
"With the current hot spell of weather we're experiencing, there has never been a better time for families to visit Hainault Forest to see all it has to offer. We only ask that you consider giving a small donation to support the running of the farm, and please take any litter away with you."
Chair of Vision Trustees, Martin Solder, said:  "We appreciate the support of our visitors who have waited so patiently for Foxburrows Farm to reopen. It's a rewarding time for all staff involved to finally be able to welcome visitors back to the farm now that all their hard work is completed. We hope families and children will love seeing the animals and the brand-new visitor attractions."
Hainault Forest is the perfect destination for an outdoor adventure for all the family to enjoy. Don't forget after all the exploring and excitement, you can relax in the family-friendly indoor interpretation space and enjoy something delicious to eat or drink in the 1856 Café.
Foxburrows Farm is nearest the second car park, adjacent to the new outdoor adventure play area and Woodland Trust Visitor Centre. Admission to the farm is free, although we ask everyone to make a small minimum donation of £1 per child and £2 per adult to support the ongoing day-to-day costs of running the farm. 
Your generous donations will go towards looking after the animals, food/bedding, vet costs and maintaining welfare facilities. Watch out for special events coming up throughout the year and sponsorship packages for our farm animals. More details will be available soon. For more information on Hainault Forest, including our opening times, please visit:  hainaultforest.org