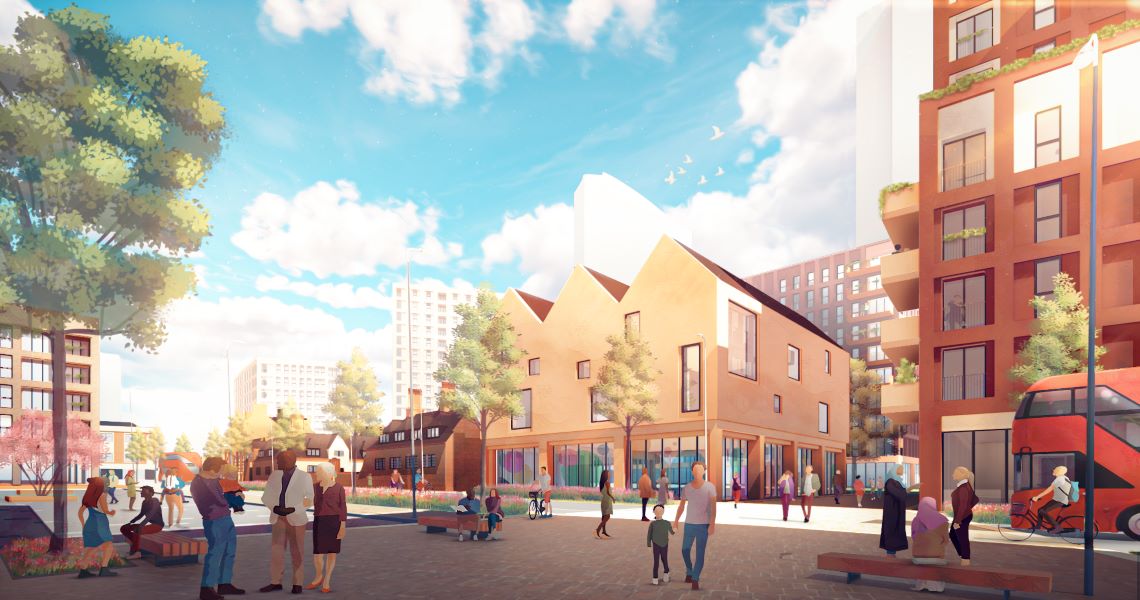 Redbridge selects delivery partner for ambitious regeneration of Ilford Western Gateway
Published: 22 September 2022
Countryside, the UK's leading mixed-tenure developer with 45 years of placemaking experience, has been selected by Redbridge Council to jointly deliver the regeneration of Ilford Western Gateway.
This town centre scheme will deliver approximately 1,000 homes to local residents – supporting the council's wider regeneration of Ilford town centre.
Ilford Western Gateway will also include 30,000sqft of non-residential space for the community, including a proposed parent-led nursery that will provide training opportunities as well as affordable childcare for residents.
Placemaking will be enhanced with a new landscaped community campus, creating a strong connection and easy access to the town's new cultural quarters. Particular attention will be given to reducing crime and anti-social behaviour in the area, with the partnership working together to create an around the clock economy.
The proposed development will also look to incorporate a reprovisioned larger and more user-friendly boxing gym, co-designed with award-winning organisation Box Up Crime which provides young people from all backgrounds with free boxing training, mentoring, career opportunities and access to positive role models.
These latest plans are a timely addition to the wider regeneration of Ilford town centre, now served by the newly opened Elizabeth Line – with plans to radically reshape Ilford West into a vibrant, metropolitan area moving one step closer.
Redbridge Council and Countryside will engage in a detailed consultation programme with local residents, landowners and business providers. This includes setting up a Youth Council and a Legacy Committee (Community Board), both with decision-making responsibilities to shape the design of the project. The Youth Council will also help encourage their peers to take ownership of their communities, helping to foster a community spirit and collaborative responsibility.
Work is anticipated to start on site in Spring 2024.
 Mark Baigent, Corporate Director of Regeneration and Culture, for Redbridge Council, said: "The selection and appointment of Countryside as Redbridge Council's partner for the Ilford Western Gateway project is a significant step forward in realising our ambitious vision for Ilford. We are delighted to announce this partnership and very excited about working with Countryside to finalise plans to deliver the next chapter in Ilford's growth story.
"The Ilford Western Gateway is currently Redbridge Council's largest and most ambitious regeneration initiative and will deliver wide-ranging social, economic, environmental, and cultural benefits to our residents and businesses, including 1,000 new affordable and private homes and 30,000sqft of non-residential space for community and commercial use generating millions of pounds annually. Over 1100 construction jobs and more than 300 new permanent jobs will be created by the development. This is in addition to huge benefits in health outcomes and safety through reduction in pollution and improvements to leisure and the environment through sustainable design.
"Ilford is rapidly fulfilling its potential as a vibrant and metropolitan town centre with the opening-up of an Elizabeth Line station, and this radical and exciting project will open up new opportunities and encourage new residents and businesses to our borough boosting our local economies, strengthening our communities, and delivering a long-term legacy of evolution and growth."
 Mike Woolliscroft, Group Co-Chief Executive, Countryside said: "We are thrilled to have been selected as the preferred bidder by the London Borough of Redbridge to deliver the regeneration of Ilford Western Gateway. As a partnerships-based business, our commitment to delivering high-quality, sustainable mixed-tenure communities is unwavering – we look forward to delivering much needed homes, alongside creating extensive community facilities in order to help support the Council's wider transformation of Ilford town centre. Socio-economic value is a key consideration for Ilford Western Gateway, and we will place a strong emphasis on infrastructure and job creation to ensure that we are supporting local business growth".