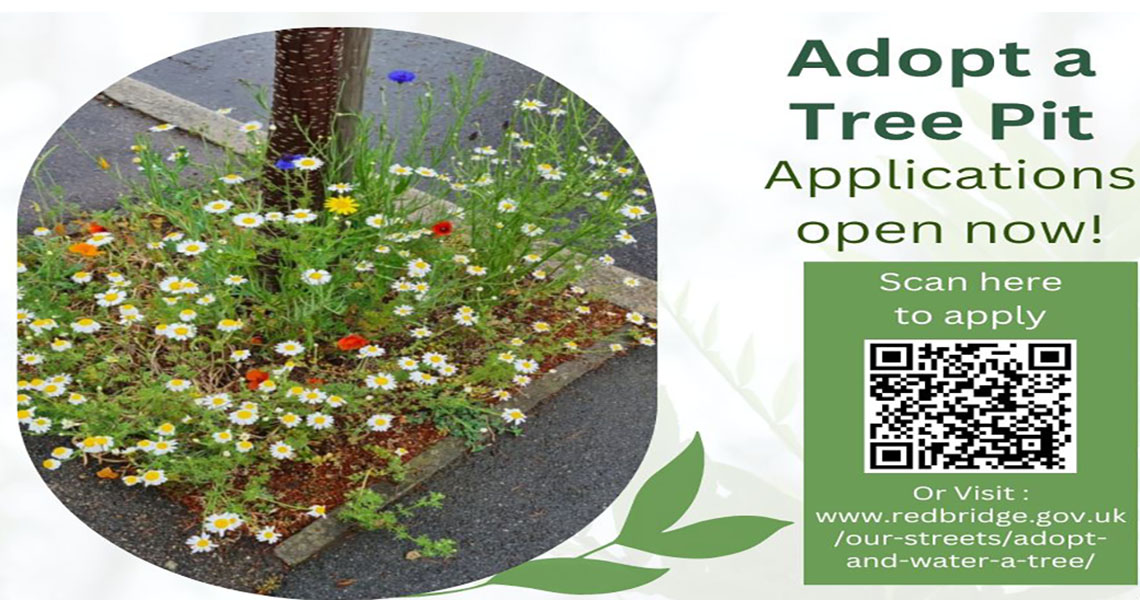 Redbridge's 'Adopt a Tree Pit' initiative back by popular demand – Applications now open!
Published: 26 October 2022
Redbridge's much loved 'Adopt a Tree Pit' is back following its success last year, which saw more than 1400 tree pits 'adopted' by local people - helping bring neighbourhoods into bloom.
Applications for this year are now open and communities across the borough are being invited to get involved with the popular green scheme.
'Adopt a Tree Pit' is part of Redbridge Council's community gardening initiative and gives local people the chance to show trees on their street some love and boost biodiversity in Redbridge.
By adopting a tree pit near your home, you can create your own mini garden on your doorstep by planting flower seeds. With regular love and care, you'll soon see your tree pit bloom to bring splashes of colour to your street.
Now in its fourth year, the boroughwide initiative is a fun and interactive way to bring neighbours together, make streets more attractive, and support local wildlife, including bees and birds.
Ajeet Sahota from Goodmayes adopted a tree pit on his street for the first time last year.
The 74-year-old got involved with the scheme after noticing his local tree pits were attracting litter and decided to brighten up the tree pit with flowers to discourage littering.
Mr Sahota said: "I have really enjoyed looking after my tree pit. It has made the road cleaner, more colourful and is making everyone happy. The whole street has been really supportive. People often stop to talk to me, and even help, when I'm out watering and looking after the tree pit. I've been encouraging others to adopt their own tree pit. I think it's a really good scheme and I'm really happy to be a part of it."
Redbridge Cabinet Member for Environment and Civic Pride Cllr Jo Blackman, said: "This initiative is another great example of the work taking place to create greener neighbourhoods, boost biodiversity and improve the borough's street scene.
"By adopting a tree pit you can help create attractive and colourful spaces on your street that can be enjoyed by all, and you'll be supporting local wildlife along the way -so get those applications in and help bring Redbridge's tree pits to bloom!"
Applications to adopt a tree pit must be made by midnight Sunday 18 December. For more details or to apply visit: https://www.redbridge.gov.uk/our-streets/adopt-and-water-a-tree/
Those applying to adopt a tree pit will receive a free packet of wildflower seeds, while stocks last– so get your application in early.
If you applied last year you will have to re-apply again this year as all adoptions are for a minimum of one year.
'Adopt a Tree Pit' is part of the council's boroughwide campaign for a greener Redbridge, and one of a number of projects led by the borough's Our Streets Strategy, which focuses on social action and working with local communities to keep Redbridge's street scene green, clean, safe and attractive.  For more information about the borough's work under 'Our Streets' visit: www.redbridge.gov.uk/our-streets/
 (END)