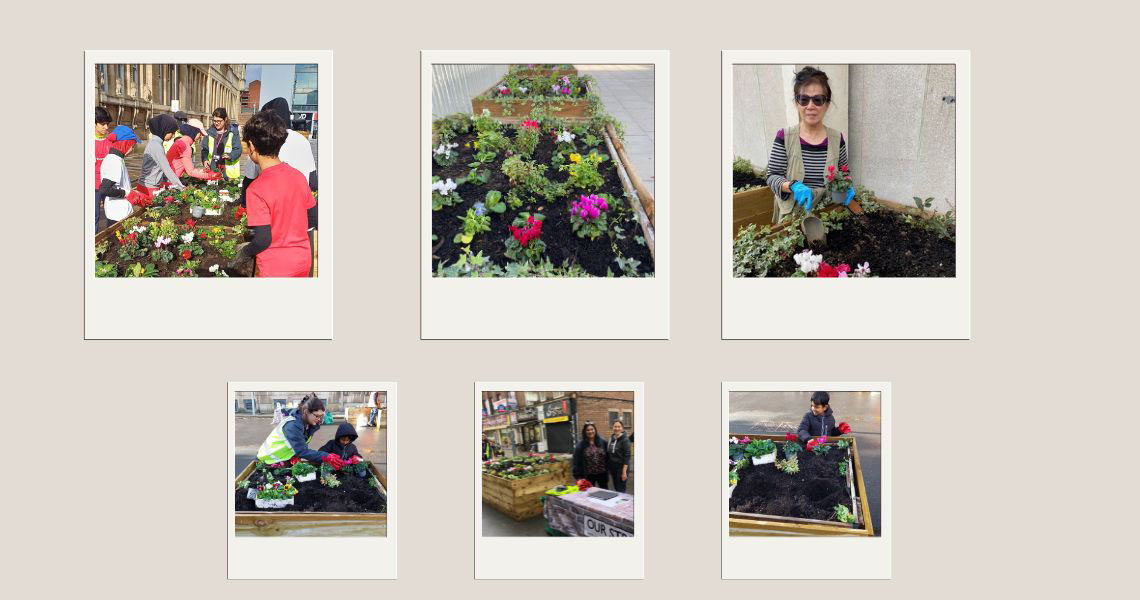 Local gardening enthusiasts team up to get the borough blooming in Redbridge's largest ever community planting event.
Published: 10 November 2023
Community spirit was blooming in Redbridge as hundreds of gardening enthusiasts of all ages and abilities came together to plant more than 1000 flowers across the borough – helping brighten up local neighbourhoods.
Nearly 450 local people took part in Redbridge's recent Community Planting Days, making it one of the largest community planting events on record for the borough.
The popular green scheme, run across four consecutive weekends, was led by Redbridge Council's Neighbourhoods Team to help boost biodiversity in the borough, teach new skills in the community and create attractive neighbourhoods.
The Team provided those taking part with hi-vis wear, gloves, and trowels, along with training on gardening basics for those new to it.
The fun-filled planting days, which were free to take part in, were held in Barkingside, Seven Kings, Wanstead, and Ilford, and led to green fingered locals filling a total of 64 planters across the borough.
Among the flowers planted were Pansy, Primrose, Polyanthus, and Cyclamen.
Redbridge local Vinoth Sekar spoke about the benefits of Community Planting Days for children after taking part in the event with his son Krithvik. 
Mr Sekar said: "I'm thankful to Redbridge Council for the community planting sessions, which were done in a very colourful, neat, and organized manner. My son enjoyed it a lot. It was very interactive and helped him learn about basic gardening. Gardening helps kids with their sensory development as they feel different textures of soil, seeds, flowers, and leaves. It also helps them to cultivate vegetables and fruits of their own. We are looking forward to similar events in future."
90% of those surveyed after the Planting Days said they had been inspired to get involved in more community events.
The survey also included positive feedback from those attending, with a variety of comments praising the event, saying: "I'd definitely come again - really enjoyed it!", "My kid really enjoyed planting. He said it was the best day ever", and "It was nice because it involved everyone".
Cabinet Member for Environment and Sustainability, Cllr Jo Blackman said: "Community gardening is a great way to bring local people together to help create vibrant, colourful neighbourhoods. Our planting days are always a big hit with local people and proof of the wonderful work that we can achieve as one community to create a greener and more biodiverse borough."
Community gardening is one of several eco-projects under the borough's Our Streets Strategy, which focuses on social action and working with local communities to keep Redbridge's street scene green, clean, safe, and attractive.  For more information go to: www.redbridge.gov.uk/our-streets/
(END)