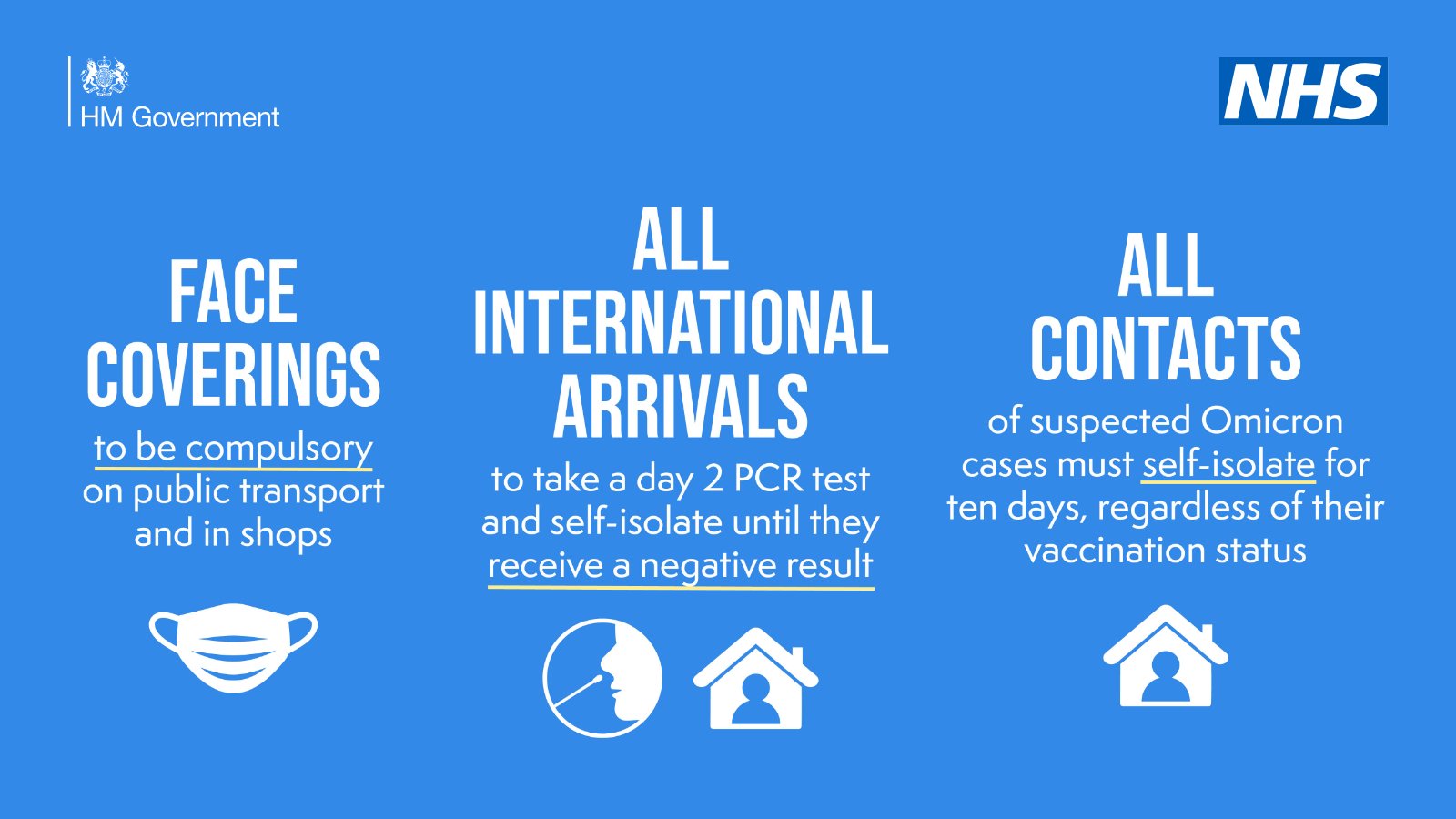 New COVID-19 variant: Protect yourself and those around you
Published: 30 November 2021
On Sunday 28 November the government announced new measures after cases of the COVID-19 Omicron variant were found in the UK. 
As well as these new measures, it is important to continue to get tested and vaccinated against the virus.
If you have COVID symptoms make sure to go and take a PCR test. 
Until you have got your test results back, please reduce your social contacts with people to avoid the risk of passing COVID on. 
Testing is still the best way to stop the spread and the vaccine has massively reduced the number of people becoming seriously ill from coronavirus.
We continue to work with our health partners to ensure people who live and work locally have access to both testing and vaccinations.
New Covid-19 measures in place are:
From Tuesday 30 November, face coverings are compulsory in shops, on public transport and in any indoor space where you will be in close proximity to others. 
All international arrivals to the UK must take a Day 2 PCR test and self-isolate until they receive a negative result.
All contacts of suspected Omicron cases must self-isolate for ten days, regardless of their vaccination status.
Stay safe – cases are rising
Confirmed COVID-19 cases are rising in Redbridge. There were 972 cases of people catching the virus in the borough in the seven days leading up to 23 November 2021.
To protect yourself and others:
Get vaccinated and take up your Covid-19 booster jab when offered
Social distance in crowded places 
Self-isolate when instructed to do so 
Test regularly 
Let fresh air in if you meet indoors 
Meeting outdoors is safer.
Book your COVID-19 vaccination
Don't risk remaining unprotected from COVID-19.  Everyone over 16 is now eligible to book their first or second dose of a COVID-19 vaccination. All children aged 12 to 15 are also being offered the first dose of a COVID-19 vaccine.
The COVID-19 booster vaccine is also available for people aged 40 and over, who have had a second dose of a vaccine at least six months ago.
Find the latest clinics in Redbridge and book your vaccination
Get tested regularly
By testing regularly, we can find out early who might have the virus to stop it from spreading into the community. 
You should take a rapid test whenever you are likely to experience increased risk, for example when spending time around others or when you are out and about in the community visiting shops or using services.
Find out how to get tested in Redbridge
Good ventilation reduces the risk
Good ventilation is one way of reducing the risk of COVID-19 transmission in your home or workplace. 
Coronavirus is spread through the air via large droplets and smaller particles. By opening windows regularly throughout the day, and allowing fresh air to enter, you can remove the particles that are lingering in the air so work colleagues and loved ones can't breathe them in.
Mental health advice and support
With Christmas and the holiday season fast approaching, we know these changes may increase anxiety for many.
If you need support with your mental health and wellbeing or someone to talk to, please call your GP.
You can also visit our wellbeing page for more advice on keeping healthy and well, and all the support available.
Visit our coronavirus information hub for more information, support and advice.