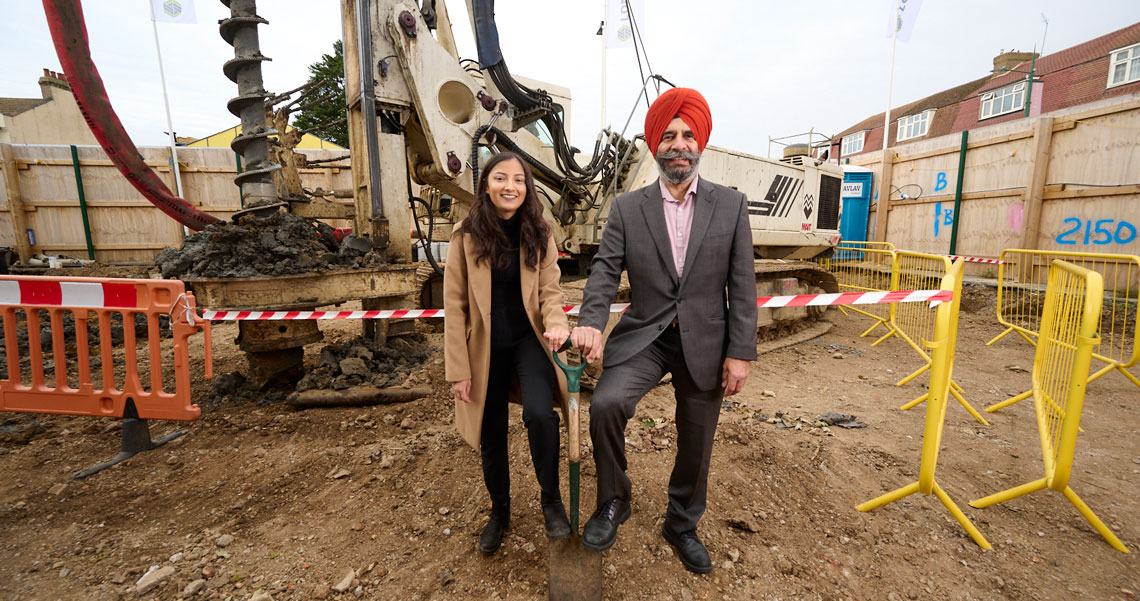 Building work begins at Norman road, Ilford
Published: 10 November 2021
Building work is now underway on the development of new affordable homes at Norman Road in Ilford, part of Redbridge Council's ambitious plans to create more affordable homes in the borough. 
Leader of Redbridge Council Cllr Jas Athwal and Cabinet Member for Housing and Homelessness, Cllr Vanisha Solanki were both on site this week as ground was officially broken and the first pylons laid, at the council-owned Norman Road site.
The scheme, which is due to be completed in autumn 2022, will create six new affordable homes consisting of five two-bedroom flats and a single one-bedroom flat.
Developer Longley will be creating apprenticeship positions through the scheme and making a contribution to local food banks.
Leader of Redbridge Council, Cllr Jas Athwal, said:
"London has borne the brunt of a nation-wide housing crisis for more than a decade. Added to this, a combination of the continued economic impact of the pandemic, government cuts to Universal Credit and rising living costs, has only made things tougher for hard-pressed families.
"This Labour administration has committed to building much-needed, high quality council homes in Redbridge so that local people can live here in the borough, safely and comfortably. Our Norman Road scheme is part of our wider plans to build 600 new affordable homes in the borough by 2022, and I'm delighted that construction is now underway." 
Redbridge Council's Cabinet Member for Housing and Homelessness, Cllr Vanisha Solanki, said:
"We are committed to making sure they are affordable, high quality homes available for local people in Redbridge. Schemes like this one at Norman Road don't just create much needed new homes, they also provide a boost to the local economy creating jobs, apprenticeships and business for local suppliers. I am looking forward to welcoming families in to their new homes when the keys are handed over to them next year."
Earlier this year residents moved in to 33 new council homes at Marlyon Road in Hainault. A further 48 new affordable homes are set to be added to Marlyon Road as part of phase 2 of the development.
To find out more about the council's home building programme, visit www.redbridge.gov.uk/housing/council-home-building-programme/