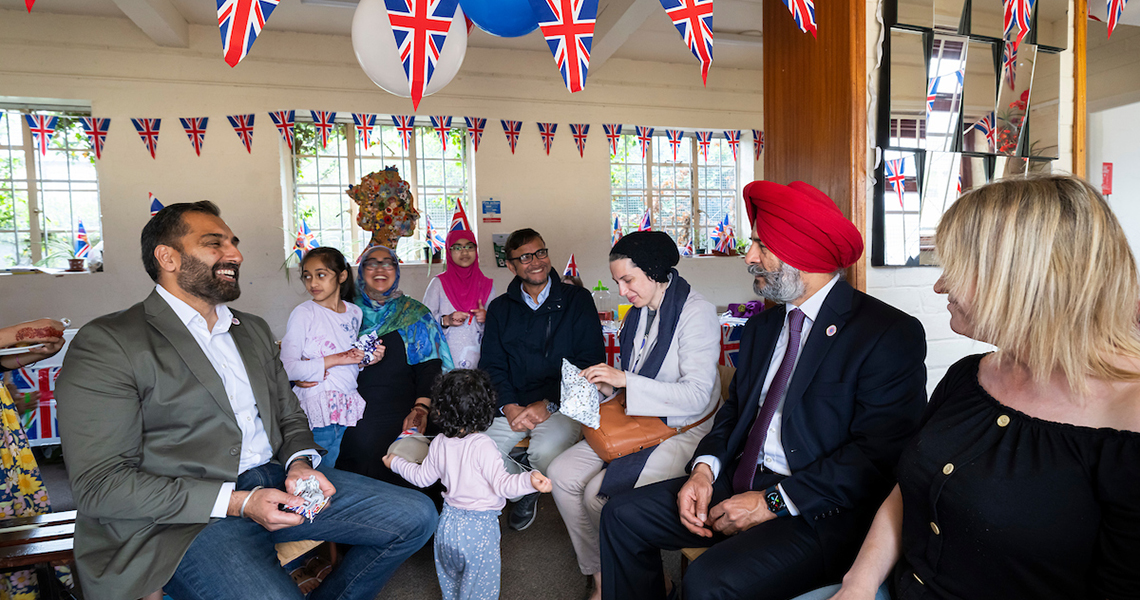 Redbridge parties in style to welcome King Charles III
Published: 12 May 2023
An estimated 20,000 local people joined street parties and local events across Redbridge to celebrate the coronation of King Charles III over the bank holiday weekend.
Despite the unpredictable weather over the weekend, nearly 100 street parties were staged around the borough, where neighbours celebrated the historic occasion with music, performances, delicious food and drink. 
Two huge community events also took place over the bank holiday, with the InIlford entertainment extravaganza on Saturday drawing crowds of thousands with live performances, a zip line through the town centre and two Big Coronation Lunch sittings, serving over 300 people. On Sunday, the entertainment moved to Wanstead, where local people enjoyed the sunshine at a Coronation Festival on Christchurch Green.
The Leader of Redbridge Council, Cllr Jas Athwal, who visited several street parties across the borough to join the celebrations, said: "It was wonderful to join so many of my neighbours celebrating the coronation across our borough. 
"There is such a strong sense of community spirit all across Redbridge. At the street parties, I heard so many inspiring stories of roads forming WhatsApp groups to help their neighbours during the pandemic—these acts of kindness led to blossoming communities and close friendships, culminating in creating these community events. 
"As a council, we want to continue to support local people to build communities and organise celebrations, so we're looking into supporting a programme of annual summer street parties so neighbours can meet each other, children can play in their streets, and we can all enjoy the benefits of living in close-knit, caring communities."