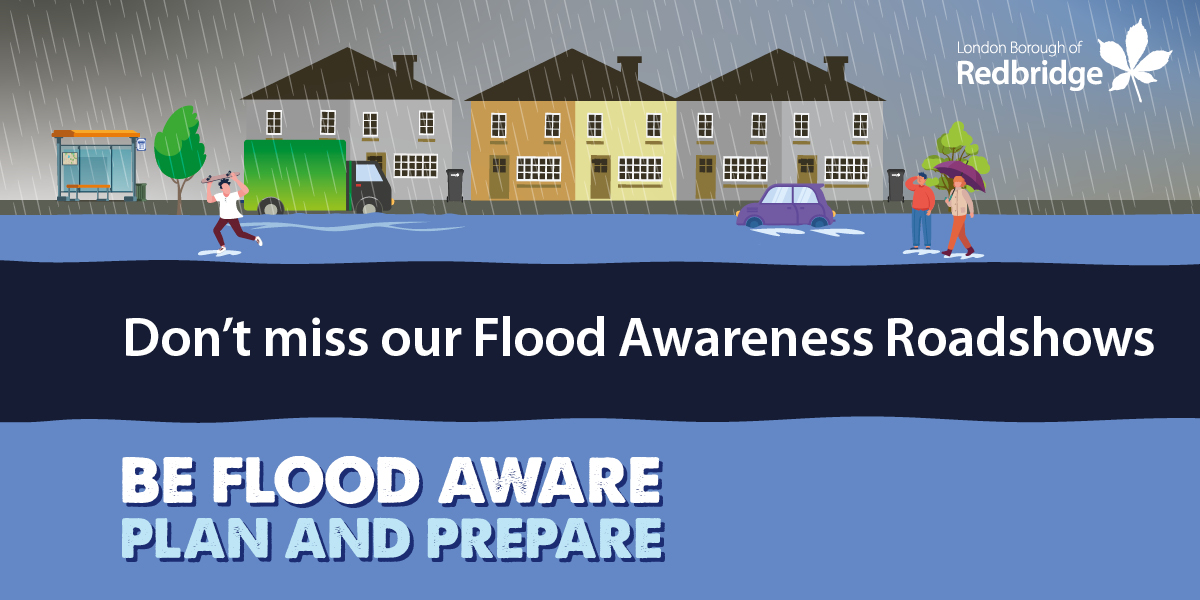 Find out how to protect your home from flooding with Redbridge's Flood Awareness Roadshows
Published: 25 May 2023
A series of Flood Awareness Roadshows are being run in Redbridge offering local people information and advice on how to protect their homes from flash flooding in the borough.
The community-based Flood Awareness Roadshows are being led by Redbridge Council throughout June and the first week of July, with the Council's Highways Team and partner organisations including the Environment Agency and Thames Water, offering interactive sessions and advice on flood defence measures for local homes.
Local people are invited to join the event to ask any questions and:  
Discover how the council is helping protect local homes in areas prone to flooding
Watch demos and view examples of anti-flooding devices for the home, and what you can do to help reduce flooding in your area
Find out about local schemes aimed at reducing flood risks in the borough
Meet and hear from partner organisations working with the council on local flood alleviation schemes
Receive a free handy Council leaflet packed with information on staying flood aware, how to protect your home and what to do in a flooding emergency, along with lots of other useful advice.
To attend, simply turn up to any of the roadshows listed below. No booking required:
| | | |
| --- | --- | --- |
| Date | Time | Location |
| Tuesday 6 June | 5pm-7.30pm | Westwood Recreation Ground, IG3 8SE |
| Tuesday 13 June | 5pm-7.30pm | Outside Fullwell Cross Leisure Centre, G6 1PP |
| Tuesday 20 June | 5pm-7.30pm | Christchurch Green by Woodbine Place, E11 2RH |
| Tuesday 27 June | 5pm-7.30pm | Snakes Lane West, opposite Woodford Station, IG8 0HL |
| Tuesday 4 July | 5pm-7.30pm | Atherton Road, junction with Roundaway Road, IG5 0PQ |
Cabinet Member for Environment and Civic Pride, Cllr Jo Blackman, said: "Redbridge is seeing the impact of climate change with more frequent bouts of flooding from torrential rain. The roadshows are a great way to find out more about what the Council is doing to tackle flooding in Redbridge, including working with partner organisations. It's also an opportunity to find out what you can do to help reduce flood risks in the borough and protect your own property. The interactive sessions are packed with advice and information, so do pop along."
With incidents of flash flooding occurring more frequently across the country as a consequence of climate change, and following flooding incidents that have impacted local neighbourhoods, Redbridge Council is investing in a range of measures to tackle flooding across the borough.
Head to the roadshows to find out more on the measures below:
Rain Gardens:
Rain gardens help reduce flooding by absorbing rainwater, and draining it away slowly to help stop sewer systems becoming overwhelmed. Several have already been created in Clayhall and Wanstead, with more planned for across the borough.
Partnerships:
The Council is working closely with partner agencies, including Thames Water and the Environment Agency, taking a collaborative approach towards reducing flood risks in the borough. 
As part of joint working, Thames Water is ensuring their sewer networks remain blockage free. They have also upgraded a waste-water pump in Clayhall to avoid foul sewer flooding.
The council also partnered with the Environment Agency to complete works in Hurstleigh Gardens, Clayhall, to protect over 200 homes in the area previously exposed to flooding.
The Environment Agency is also proceeding with a flood defence scheme for River Roding, helping alleviate flood risks to over 2000 homes in the borough.
Westwood Recreation Ground:
A major flood alleviation scheme is currently underway at Westwood Recreation ground, Seven Kings, which was previously affected by flooding. Works include removing silt from the lake and creating extra capacity to hold flood water.
Gully Sensors:
Gully sensors are being used across flooding hotspots within the borough to provide the Council with real time data showing how blocked a drain is. The innovative flood defence technology enables potential blockages to be identified early. River sensors are also in place to monitor and proactively respond to potential flooding from the Seven Kings Water River.
Head to Redbridge Council's dedicated flood information web page for further advice and information:  https://www.redbridge.gov.uk/flooding
(END)