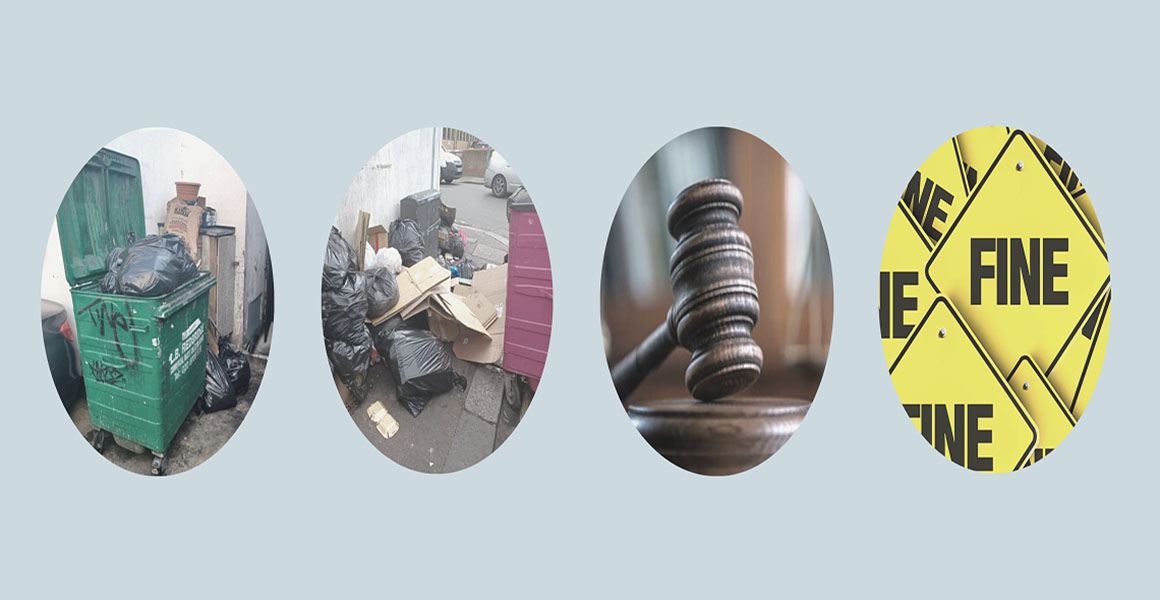 Court fines on the menu for two Redbridge restaurants caught making a mess in the borough
Published: 4 May 2023
Two Ilford based restaurants who repeatedly failed to store their commercial waste properly, leaving rubbish spilling on to the street, have been successfully prosecuted by Redbridge Council.
Enish, a Nigerian restaurant and bar on the High Road, and Salamis, a Turkish restaurant on Cranbrook Road, were both known to the council following on-going issues relating to the proper storage of their commercial waste.
The restaurants had been placed on the council's watchlist after being issued Section 47 legal notices under the Environmental Protection Act 1990 (EPA), which makes specific requirements as to how commercial waste should be stored.
During compliance checks, Redbridge Enforcement Officers discovered commercial waste bins belonging to the businesses open and overflowing with rubbish, in breach of their legal notice. In relation to Enish, it was noted that multiple bags of food and restaurant waste were regularly left exposed on the street in Thompson Close, Ilford.
Court action was taken against each restaurant separately, and more than £7000 in court fines was issued in total following the two successful prosecutions.
Redbridge Cabinet Member for Environment and Civic Pride Cllr Jo Blackman, said: "We all have a duty to keep our borough clean and tidy, and this includes businesses. The failure to correctly store commercial waste presents a threat to the environment and public health, as well as being an eyesore. The majority of our local businesses act responsibly and store their commercial waste properly. For any who aren't doing this, these prosecutions should serve as a strong warning that Redbridge Council will continue taking tough action against those businesses who refuse to act responsibly and legally when disposing of their waste."
Court results
Enish:
Toluwalopemi Komolafe, Company Director of I E Foods Ltd. (trading as Enish), attended Barkingside Magistrates Court on Tuesday 11 April, 2023 and pleaded guilty to all 6 counts of breaching the EPA notice. She was fined and ordered to pay Victims Surcharge and Council costs - all totalling £6,645. Komolafe, aged 28, told the Court that since being summonsed, she had made staff changes and added an extra commercial waste bin to the three already contracted by the business. 
Salamis:
Restaurant owner and company director, Remzi Savas, aged 41, was summonsed to court on 6 charges of failing to comply with the EPA Notice. Appearing at Barkingside Magistrates Court on Tuesday 6 December, 2022, Savas pleaded 'Not Guilty' to all charges.  The matter was adjourned and went to trial on Tuesday 11 April 2023 where Redbridge Enforcement Officers gave evidence. During the trial, Savas admitted to the facts of one of the offences, and the judge accepted that matter as a 'Guilty' plea. Savas gave evidence on his own behalf. and at the conclusion of the trial, the judge found the remaining 5 charges proved against Savas. He was fined, as well as ordered to pay court and council costs – all totalling £1,160
Find out more about waste disposal, waste reduction and recycling in Redbridge on: https://www.redbridge.gov.uk/bins-waste-and-recycling/
(END)