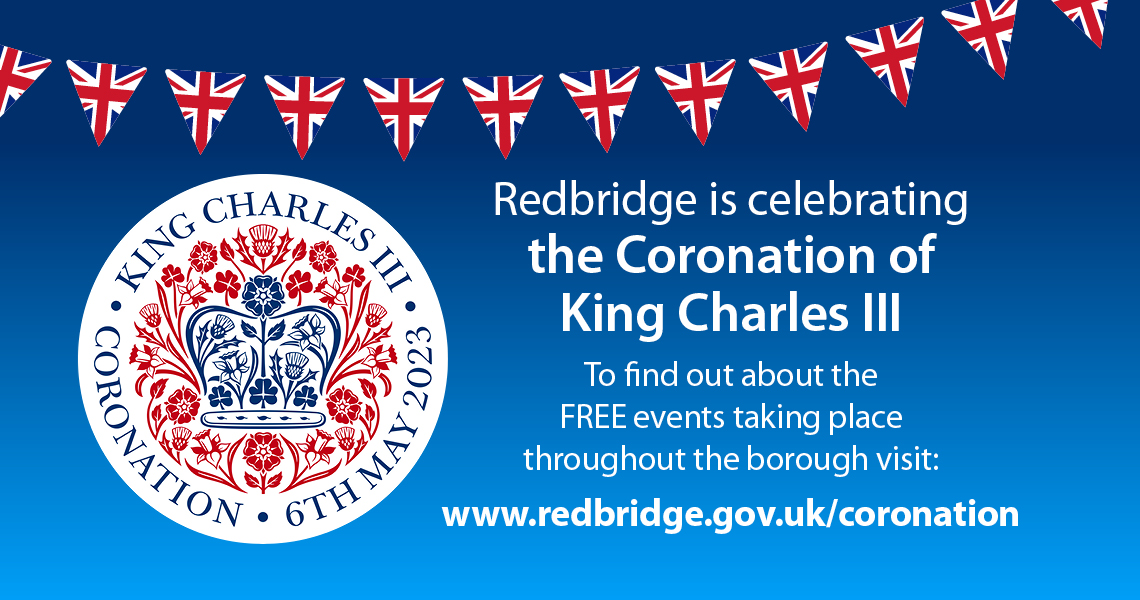 Celebrate the coronation of King Charles III in Redbridge
Published: 5 May 2023
This weekend Redbridge is celebrating the coronation of our new sovereign, King Charles III.
With almost 100 local street parties taking place and events everywhere from Loxford, to Wanstead, there's something for all the family to enjoy over the special bank holiday weekend.
Cllr Jas Athwal, Leader of Redbridge Council
"The coronation is our chance to be a part of an incredibly rare historic event. As our new sovereign is crowned at Westminster Abbey, neighbours from across Redbridge will be coming together to celebrate as one community. I'm looking forward to joining street parties over the weekend and taking part in the incredible inIlord celebration event in Ilford town centre on Saturday. I hope to see as many of my neighbours as possible our enjoying this historic occasion."
If you're planning to celebrate this weekend why not join one of out local events:
InIlford Coronation Celebration
The InIlford Coronation celebration event promises to be one of the year's most exciting events taking place in honour of the coronation of King Charles III
Join us in Ilford town centre on Saturday 6 May from 12pm to 7pm for live music, climbing activities, fair rides, talent show competitions, zip line experiences and food and drink stalls. Find out more.
Coronation Big Tea Table
Book a free space for family and friends at the big coronation tea table on Ilford High Road for the inIlford Coronation Event. Only 100 spaces are available for two seating's at 1 pm and 3 pm. Book now.
The King's Garden
Join the Our Streets team on Ilford High Road this Saturday from 2pm - 5pm to celebrate the Coronation. Talk to them about ways you can improve your neighbourhood, no matter how big or small, and see how they can support you.
Their stall has something for the whole family including games, giveaways, a seed swap, litter picker lends and more.
Coronation Craft Fun
Join Barkingside Art Club in the Ilford Exchange shopping centre on level 3, the Loft, as we celebrate the coronation of King Charles III with a fun workshop. Book now to secure a space between 12pm and 4pm on Saturday 6 of May.
Wanstead Coronation Festival
Local people are invited to celebrate the coronation of King Charles III and Queen Camilla at a festival on Christ Church Green on 7 May from 11am to 6pm. Find out more.
Friends of Loxford event
Friends of Loxford are celebrating The Kings Coronation at Loxford Park Pavilion on Saturday 6 May 11am to 2pm. Enjoy family fun with lots of games for adults and children. Bring a picnic.
Big Help Out with Guide Dogs
To mark His Majesty The King's Coronation, thousands of organisations across the country including Guide Dogs are getting together to give us all the chance to help out in our own local communities. No matter what you are good at or what activity interests you, there'll be something to suit helping hands of all shapes and sizes!
Bring a friend and join for a chat and cake. Discover upcoming volunteering opportunities and how to join the amazing Guide Dogs family. At 11:30am there will be a dog demonstration- something not to miss!
Location: St Paul's Church Hall, Chigwell Road, Woodford Bridge, IG8 8BT
Date and Time: Wednesday 10 May 2023 from 10:30am to 1:30pm
Help us to do something amazing. Join in. Lend a hand. Make a change. For more information, please contact local Volunteering Coordinator at Phoebe.Coles@guidedogs.org.uk
Visit our Coronation website to find out more ways to celebrate this weekend.