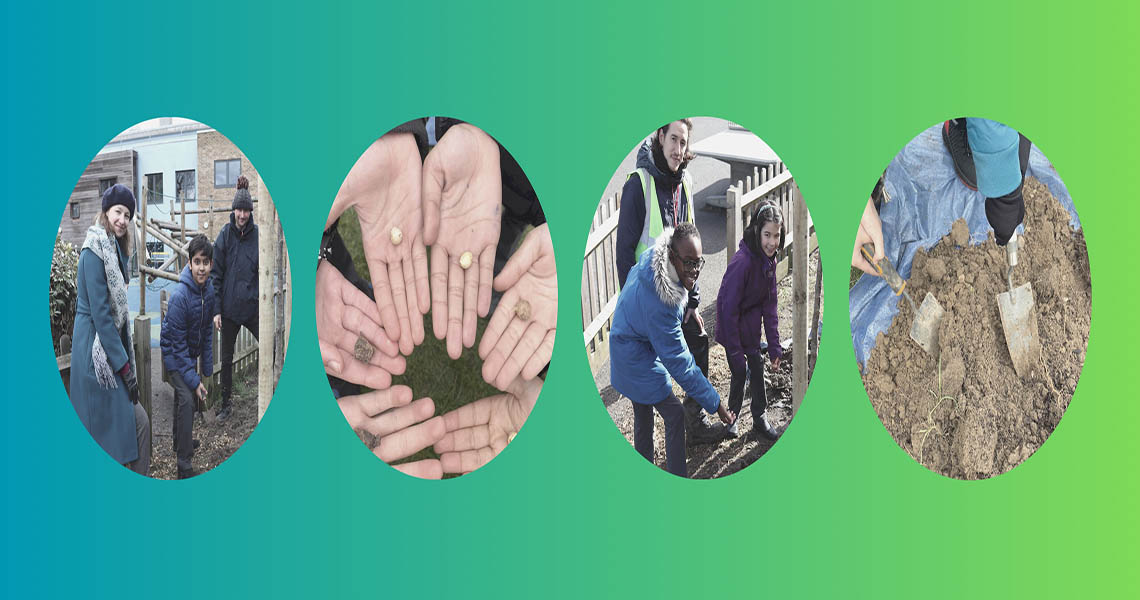 Tree planting initiative takes root in Redbridge thanks to local school children
Published: 16 March 2023
Local school children have teamed up with Redbridge Council for a special environmental project to help make the borough greener.
More than 1,340 green fingered students are taking part in the Council's School's Tree Planting initiative this year, which will see pupils help plant 71 new trees in school sites across the borough.
The initiative gives school children hands-on experience in planting and caring for trees, while learning about the importance of trees and greenery in helping tackle climate change.
It is also part of efforts to increase tree coverage in Redbridge and supports the council's wider tree planting programme which will see just over 6,000 trees being planted in the borough by the end of April alone.
The project is being run across nine Redbridge schools, with planting sessions being held at each throughout March. 
Schools involved in the project are:
Mayespark Primary School
Woodbridge High School
Churchfields Junior School
William Torbitt Primary School
Cranbrook Primary School
Ilford County High School
South Park Primary School
St Augustine's Catholic Primary
Coppice Primary School
Churchfields Junior School, in South Woodford was one of the schools that recently held a planting session at their site under the project.
Ready to dig deep, more than 390 children from the school grabbed spades and got stuck into to plant 10 trees on their school grounds - helping boost the borough's green canopy cover.
During the event, the eco-minded pupils learnt about the important environmental and health benefits trees bring, including helping clean up the air we breathe, provide shade and create natural habitats for wildlife.
Among the trees planted at the school were Apple, Plum and Pear trees to create and also expand existing orchards.
Year 5 student Idris, who took part in the planting session at the school, said: "I think it was fun to plant a tree – it makes me think about how nice it is that a small tree like that will grow into something really big. I think it was special too because the trees will be new habitats for insects and birds and help the ecosystem here." 
And it wasn't just the school children who got involved. Among those lending a hand at Churchfields School's planting session was Cllr Jo Blackman, Redbridge Cabinet Member for Environment and Civic Pride.
Cllr Blackman said: "It's great to see our local children so passionate about creating a greener borough. Our School's Tree Planting initiative is a great example of how we can work with our children and young people to tackle climate change and empower them to play an active part in shaping a greener future."
James Easter, Deputy Head Teacher at the school, added: "Everywhere looks better with more trees – so we immediately accepted the offer of Redbridge Council's Schools Tree Planting project. The Council's officers visited and helped to identify a space for 10 trees of around 3 metres each, beside the playground; it was just a plain grassy bank before. The day provided an opportunity for every child to help with planting and to learn about the numerous benefits of planting more trees." 
The Schools Tree Planting initiative is an extension of the Council's on-going work with local communities to tackle the climate emergency, improve air quality and create a greener, and more biodiverse borough to live in. Find out more: https://www.redbridge.gov.uk/about-the-council/climate-change/
Redbridge Council maintains 128 hectares of woodland in Redbridge, in addition to more than 40,000 trees on council sites across the borough.
For more information relating to the maintenance of council owned trees visit:
https://www.redbridge.gov.uk/our-streets/council-trees/
https://www.redbridge.gov.uk/our-streets/adopt-and-water-a-tree/
(END)