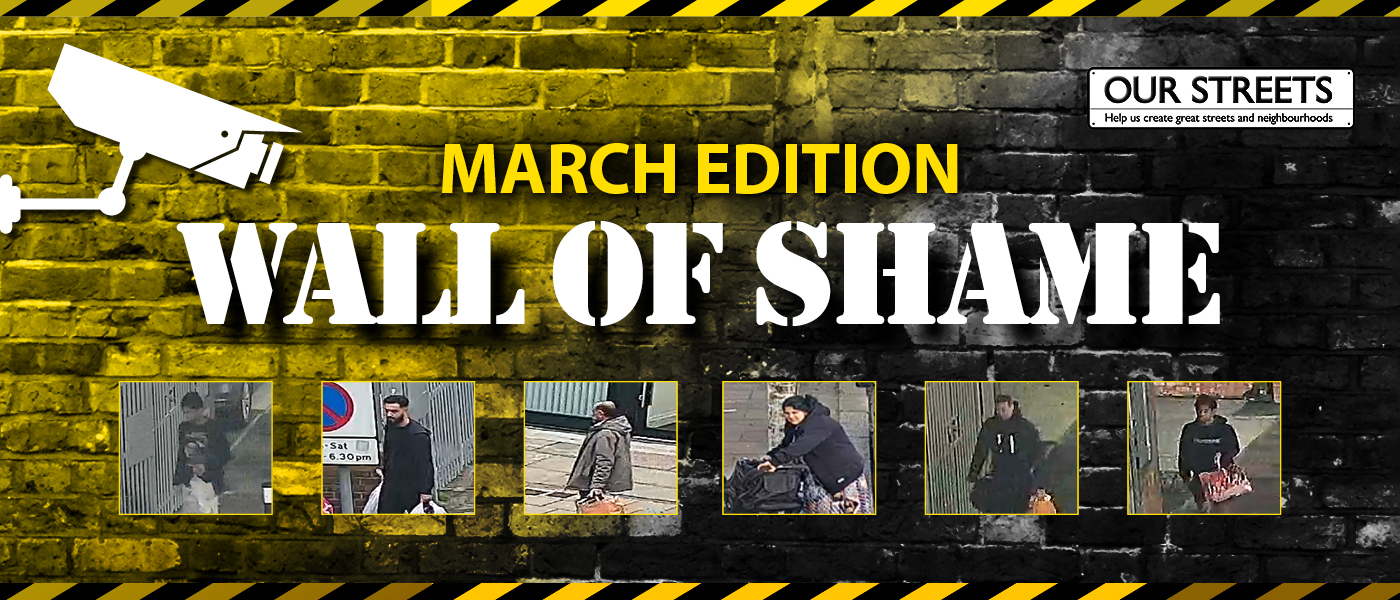 Redbridge Wall of Shame celebrates one year anniversary
Published: 9 March 2023
Since launching a year ago Redbridge Wall of Shame has gone on to become a powerful community resource that has sparked local people to come forward to identify grime crime offenders in the borough.
Each month the Wall of Shame releases footage of people caught on camera committing environmental crimes in Redbridge, and viewers are encouraged to report anyone they can identify from the clips.
With over 32,000 views so far and growing, local people have been coming forward over the last year to help catch the offenders, resulting in several culprits being identified and issued with fines of up to £400 in the majority of cases.
Among the footage shared so far are clips of graffiti and littering offences, as well as fly-tippers selfishly dumping rubbish on the street including a baby bath, sofa, pram, and pots of paint, despite there being several services in the borough that could be accessed to dispose of these items responsibly and legally.
Over the last year Redbridge Wall of Shame has also helped reduce fly-tipping incidents in hotspot locations. The initiative saw a positive impact on Dane Road and Ley Street. Since being featured on Wall of Shame both Ilford locations have seen a drastic reduction in fly-tipping incidents.
The Council's Neighbourhood Team have also been connecting with the community around Ley Street following footage of fly-tipping incidents there, and have held community drop-in sessions to highlight the effects of fly-tipping, and share information on how to dispose of rubbish legally and responsibly in the borough, as well as how to report a fly-tip.
The latest March edition of Redbridge Wall of Shame features six clips of people selfishly discarding rubbish on the street - creating an eyesore in the local community with their mess.
In the footage the lawbreakers, who face a £400 fixed penalty notice if caught, can be seen leaving rubbish on a residential street by a tree, and by bins, which is also fly-tipping.
Head to Redbridge Wall of Shame to view footage from the March edition: https://wallofshame.redbridge.gov.uk/
If you can help identify any of the culprits, please contact Redbridge Council on: Cleansing.Services@redbridge.gov.uk
Redbridge Cabinet Member for Environment and Civic Pride Cllr Jo Blackman, said: "Fly-tipping is a blight on our borough and on our community. We're doing all we can as a council to crack down on the offenders but we know we make the biggest difference when we work together with the community. Since launching a year ago, our Redbridge Wall of Shame has been empowering local people to help tackle fly-tipping and we've seen some really positive results. By working together, we can stop people dumping their rubbish in Redbridge and evading justice."
Redbridge Wall of Shame forms part of the council's ongoing work to create a cleaner Redbridge, which includes fining or prosecuting any individual or business caught illegally discarding their rubbish on the borough's streets.
Enforcement action is also coupled with other council led fly-tipping initiatives, including community engagement work, free online workshops on reducing and disposing of waste properly, and targeted fly-tipping operations.
The council also offers a Bulky Waste Collection Service entitling residents to a free collection every 12 months (maximum of three items). For more details, including costs for additional collections go to: www.redbridge.gov.uk/bins-waste-and-recycling/book-a-bulky-waste-or-large-item-collection/
Residents can easily report any fly-tips they spot in the borough online through the council's Report It page:  https://www.redbridge.gov.uk/report-it/
All fly tips made known to the council are recorded and investigated, with enforcement action being taken if evidence is found. The council aims to clear all recorded fly-tips on council land and the highway within 24 hours of it being reported.
(END)