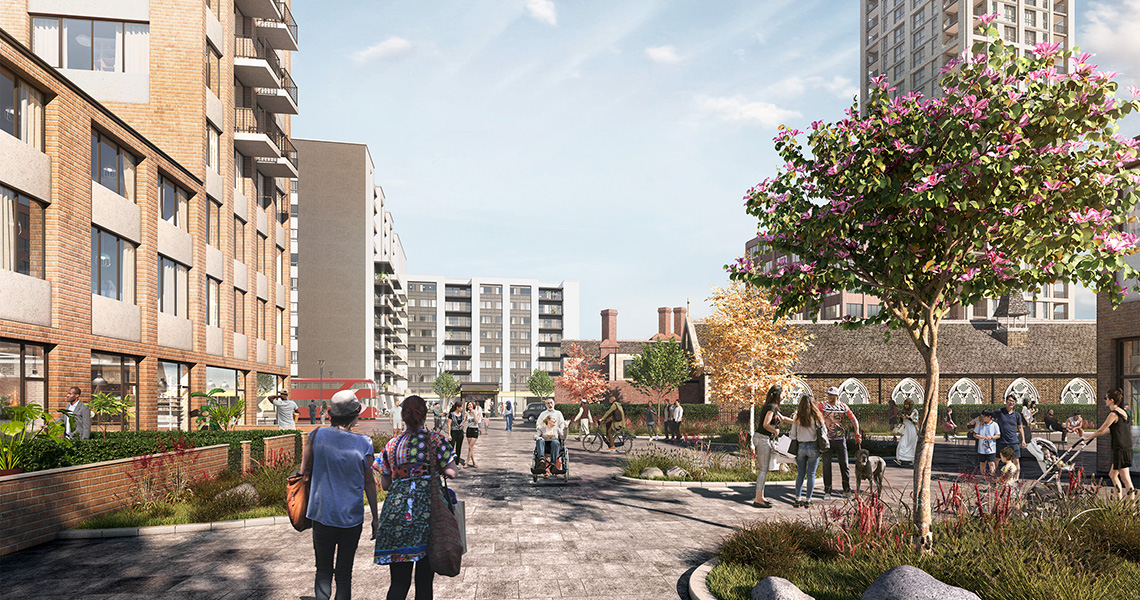 Plans for Ilford Western Gateway get the green light
Published: 19 March 2021
Exciting regeneration plans for Ilford Town Centre have reached another significant milestone.
Cabinet Members recently approved the progression of plans to develop, improve and greenify the Ilford Western Gateway, the area between Ilford Hill Flyover and Ilford Station. 
The Ilford Western Gateway plans aim to redefine the arrival into Ilford, establish a garden quarter, and create a public realm that rebalances the currently car-dominated environment. The garden quarter will include pedestrianised town squares, walking and cycling routes, and an array of trees and shrubs to help improve air quality.
The Western Gateway plans will see the construction of up to 900 new homes with excellent amenities and services, well-connected and attractive and green spaces, and 800sqm of commercial and community spaces, so local shops, restaurants, and community groups can make the most of the regenerated area.
The Ilford Western Gateway will herald the much-needed redevelopment of the existing Ilford gyratory system to reduce pollution and provide a safer, greener, more accessible route into Ilford Town Centre. The Ilford Western Gateway will seek to capitalise on Crossrail's Elizabeth line's arrival and is an essential element of the council's overall regeneration programme for Ilford, complementing the existing work currently being delivered.
This includes the Ilford Town Centre Transformation Project. This multi-million-pound project has seen significant street improvements and Ilford High Road's transformation into a modern metropolitan town centre. At the same time, construction on Mercato Metropolitano - a sustainable covered food market for the community – is firmly underway and due to open later this year. Mercato Metropolitano is a vital part of the new cultural quarter, which has included the opening of Space artist studios and gallery in the town.
The Leader of Redbridge Council, Cllr Jas Athwal, said: "We're on the cusp of creating a revitalised town centre for local people to enjoy. Our vision is to inspire positive change by creating a healthier, more sustainable Ilford that's ready to thrive. What's essential is that we recreate a neighbourhood experience accessible to cyclists and pedestrians and provides a seamless connection to the rest of Ilford Town Centre.
"The Ilford Western Gateway will make the town centre greener and much more accessible, whether by foot, cycle, or via Crossrail. It will also create up to 2,000 jobs by constructing new homes, and flexible community and commercial spaces at ground level and better links with heritage buildings in the area."
"Work to transform the Ilford Gyratory will not only make the town centre safer and more accessible for pedestrians and cyclists but also improve bus routes by expanding bus lanes and creating a more straightforward circuit for bus drivers."
Members approved officers' recommendations to begin consulting on a spatial framework. This masterplan will essentially set out the Western Gateway's public spaces first approach to development.
In addition, members also approved the recommendation to appoint a joint development partner with a strong background in urban placemaking and management. The successful bidder will have a role in the long-term management of new homes.