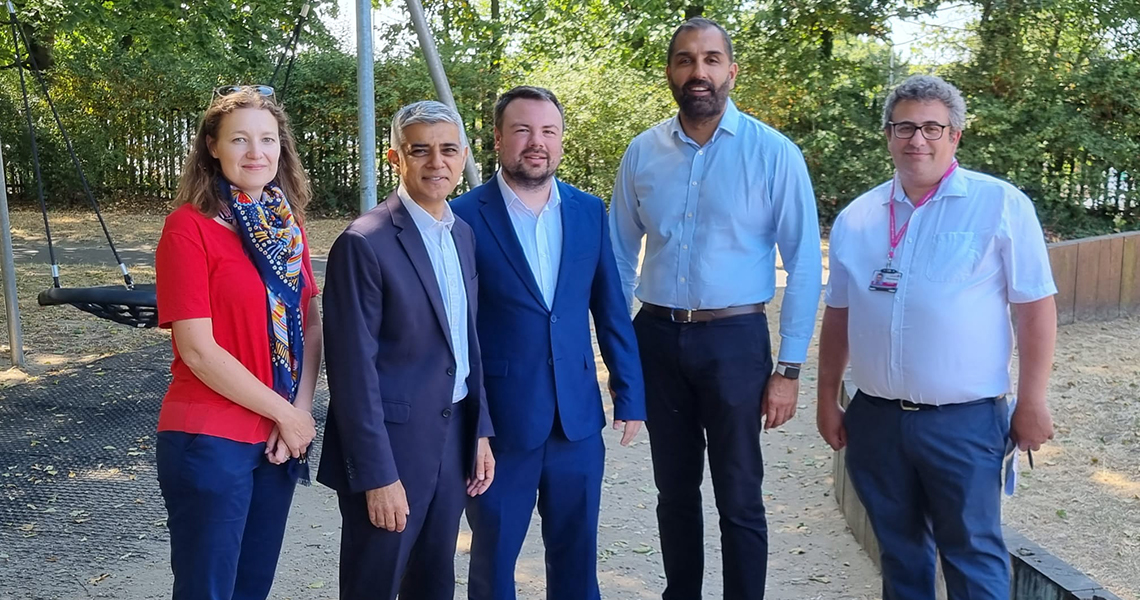 Mayor of London visits Redbridge as part of air pollution crackdown
Published: 4 August 2022
On Friday (29 July), the Mayor of London, Sadiq Khan, visited Elmhurst Gardens in Woodford to view the new air quality monitor secured by local campaigner Lydia Fraser-Ward.
Deputy Leader Cllr Kam Rai joined the Mayor, Cabinet Member for Civic Pride and the Environment, Cllr Jo Blackman, local Churchfields Councillors Lloyd Duddridge, Rosa Gomez and pupils from Churchfields Primary School.
Lydia ran a campaign with residents and Councillors to support the installation of a Breathe London AQ Node funded by the Greater London Authority (GLA) in Elmhurst Park. The Breathe London nodes feed into a network of real-time online access monitors across London. There are currently 3 Breathe London nodes in Redbridge.
Lydia said, "I spent a lot of time in Elmhurst Gardens with my three-year-old son Ripley during the lockdowns, and as we're so close to the North Circular, I was worried about air pollution and how it might be affecting his health.
 So I set up a branch of Mums for Lungs in Redbridge and met many other local parents who were also concerned about air pollution in our area.
 Getting this air quality monitor is fantastic, but this is just the start; we want to raise awareness about the risks of air pollution and encourage more people to do their bit to help reduce it in our neighbourhood. This could be either through reducing non-essential car journeys, car-pooling to school or walking, cycling or taking public transport to work where they can. It all makes a difference and helps to improve the health of everyone in our borough."
 In addition to the GLA-funded air quality node, Redbridge Council has installed different air quality monitors in Elmhurst Gardens, Gardner Close and Ley Street and is committed to rolling our air monitors across the borough.
Deputy Leader of Redbridge Council, Cllr Kam Rai, who attended the event in Elmhurst Gardens, said, "We want local children to have the best possible start in life. That's why we've committed to tackling air pollution so they can breathe clean air and develop healthy lungs.
As well as installing air pollution monitors, we're creating clean air zones around schools, making it easier to cycle locally and installing Electric Vehicle charging points to reduce reliance on petrol cars. There is more to do, but we're working hard with local people like Lydia to make our borough cleaner and greener to benefit local families now and for future generations."