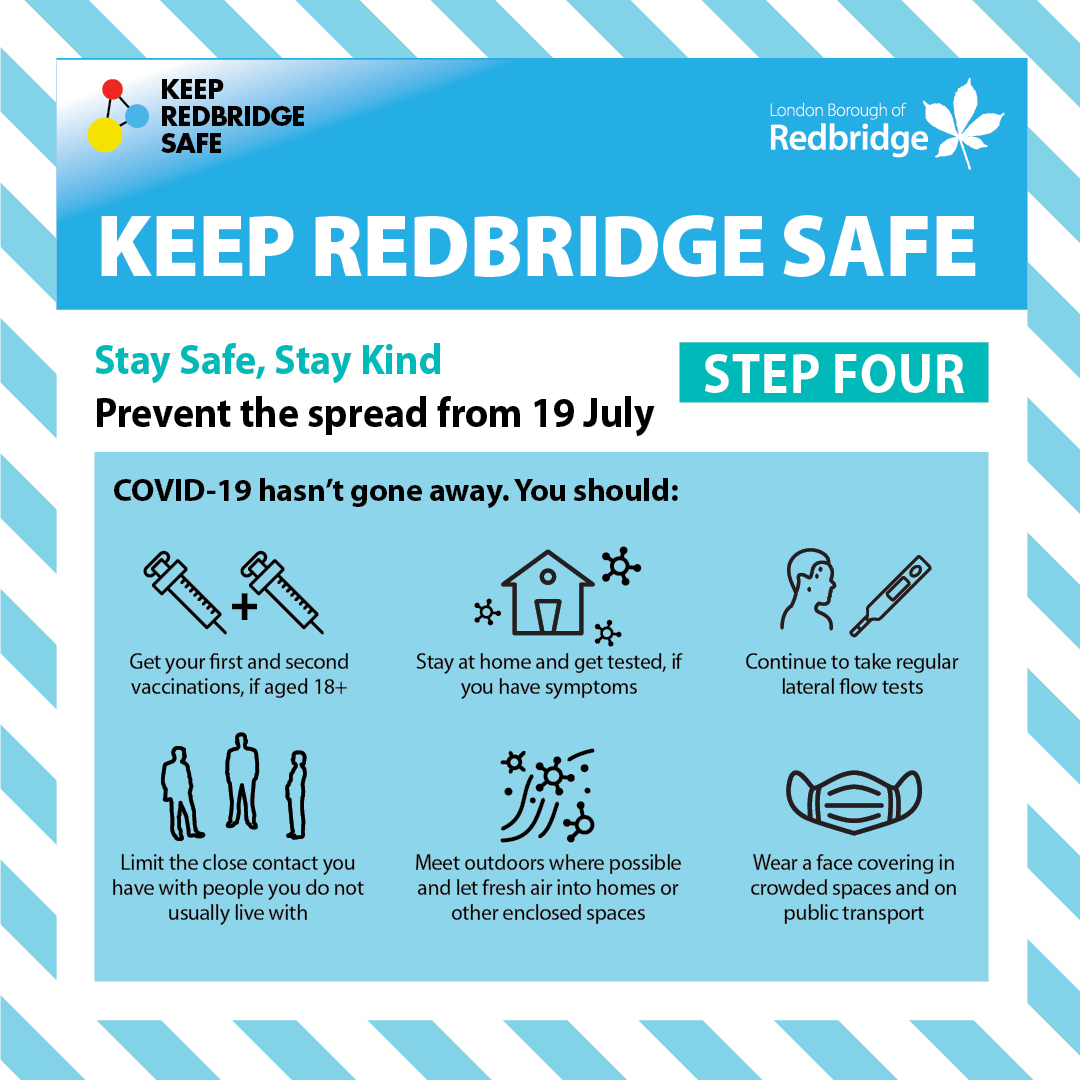 Residents reminded to stay kind, and stay safe from Monday 19 July
Published: 19 July 2021
Redbridge residents are being asked to stay kind, stay safe, and act cautiously, as England moves into step four of the roadmap out of lockdown on Monday 19 July.
Wearing face coverings on public transport and in busy areas, remembering to wash your hands or use hand sanitiser when out and about, and keeping your distance in busy places remain vital behaviours to keep everyone safe, with confirmed cases of COVID-19 remaining high.
Meeting outside as much as possible, keeping windows open if meeting indoors, getting two doses of vaccine as soon as possible and getting free rapid tests twice per week is also essential to stop the spread.
Everyone aged 18+ is now eligible for the vaccines, with the NHS advises waiting between 8 and 12 weeks to receive each dose.
Cllr Jas Athwal, Leader of Redbridge Council said:

"COVID hasn't gone away and is likely to remain part of our lives for the foreseeable future. This is not the end of the road, but the next stage of our response to the virus.

"It's certainly not a return to full normality. Cases remain high and it's still possible to catch and spread the virus among your loved ones – who may be more vulnerable than you.
"To keep our friends, family members and neighbours safe we all need to take responsibility and keep being careful."
Cllr Mark Santos, Lead Member for Health at Redbridge Council said: 

"We owe it everyone who has got us through this last year with the pandemic – shop workers, NHS and TfL staff among them – to protect their safety by continuing to wear masks on public transport and in crowded spaces. Clinically vulnerable people have also had an incredibly difficult time and I know people will want to support them. The best way to do this is to wear your mask in crowded spaces."
He added: "The changes from Monday 19 July will understandably create feelings of anxiety among many. There is support available through the NHS COVID-19 hub and Every Mind Matters. If you feel you need more support, you can contact your GP."
It's now quicker and easier than ever for residents to get vaccinated. A walk-in clinic is taking place at Redbridge Town Hall from 7.30 to 8.30 pm on Saturday 17 July, with pre-booked appointments also available from 4 pm – 7 pm.
There are also pop-up community clinics across the borough. You can also book first or second vaccinations at Mayors Pharmacy, King George Hospital Pharmacy, or Sir James Hawkey Hall.
To book your vaccination appointment call freephone 0800 038 59 29. No proof of address, immigration status or NHS number is required – just confirmation of age.
For dates, times and more information about getting vaccinated, information about getting tested and further support visit www.redbridge.gov.uk/coronavirus