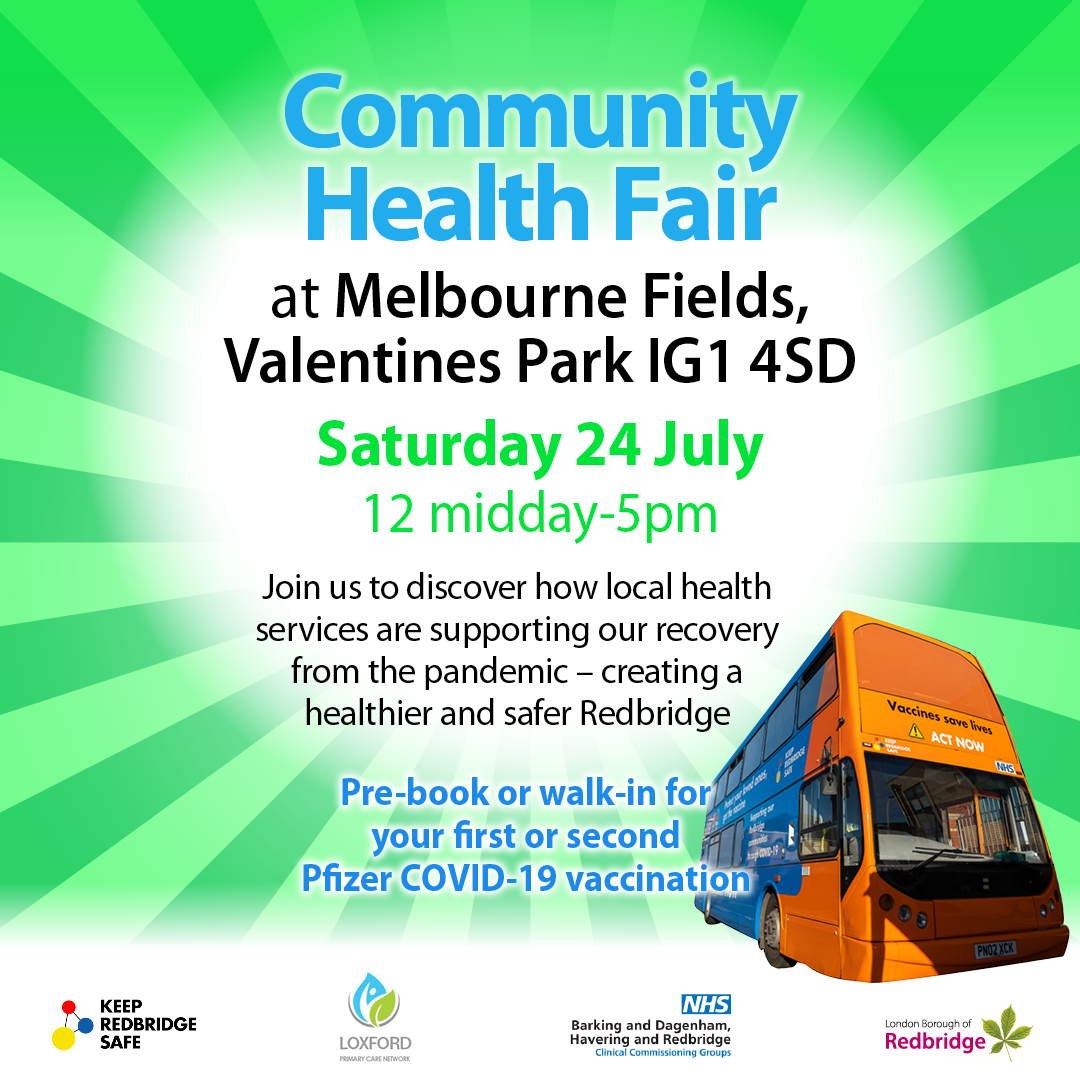 Community Health Fair to offer walk-in vaccinations at Valentines Park on Saturday
Published: 19 July 2021
Residents can walk-in and get their first or second Pfizer COVID-19 vaccination at a Community Health Fair taking place at Melbourne Fields, Valentines Park on Saturday 24 July.
The Fair has been organised to support residents who may have struggled to access specific health services during the pandemic and is timed to follow England moving to step 4 of the roadmap out of lockdown this week.
It will be open between midday and 5pm and has been organised in partnership between Redbridge Council, Loxford Primary Care Network and Redbridge CCG.
Visitors will be able to speak to representatives from a range of health services, and can also learn more about Community Hubs (Gants Hill) and Community Safety initiatives taking place in the borough.
Cabinet Member for Health and Social, Cllr Mark Santos said:

"In the past year, we have learnt about the importance of looking at all aspects of our health. This event provides a real opportunity for our residents to get information and speak to experts on a broad range of health and well-being issues.

"We want to support people from all of our communities so we can make Redbridge a healthier borough for all. This Saturday's event is a perfect opportunity to begin this engagement."
Cabinet Member for Community Safety and Crime, Cllr Khayer Chowdhury said:

"As restrictions are lifted, we must act upon lessons learnt during the Covid-19 pandemic. Officers from across the community safety partnership from Fire, Police, Council and voluntary services look forward to engaging with residents to offer their services and hear how we can make Redbridge a safer borough for all.

"Residents will also get an opportunity to meet with members of the Community Crime Commission Board to feed their views and opinions directly into those conducting the ambitious local crime review."
The Redbridge Vaccination Bus will be on-site throughout the event, offering walk-in first or second Pfizer jabs and pre-booked appointments. To book your vaccination at the Fair, call the freephone line 0800 038 59 29 between 8am-8pm any day this week.
If you have an older relative, friend or loved one who has yet to have their vaccination, please invite them to join you.
The NHS is advising having your second dose of the COVID vaccine 8 to 12 weeks after the first dose.