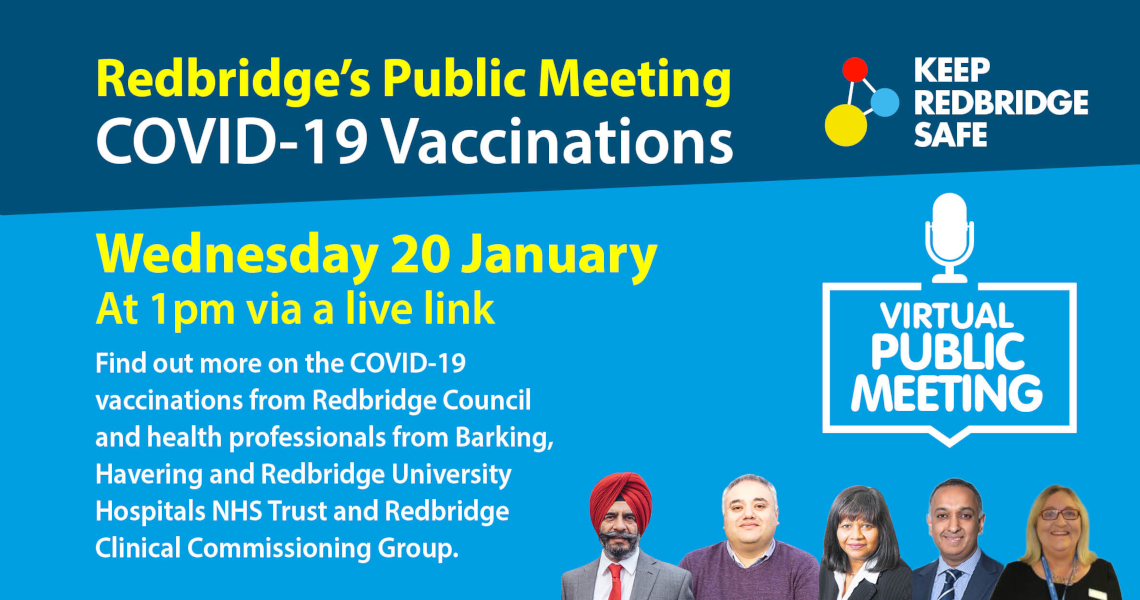 Redbridge's Public Meeting about COVID-19 Vaccinations
Published: 14 January 2021
Join the virtual meeting on 20 January at 1pm 

Redbridge residents are invited to attend a virtual public meeting to learn more about the Covid-19 vaccinations and get their questions answered.
The meeting is being organised by Redbridge Council and the panel will include the Leader of Redbridge Council, Cllr Jas Athwal and health professionals from Barking, Havering and Redbridge University Trust (BHRUT) and Redbridge Clinical Commissioning Group (CCG).
Taking place on Wednesday 20 January at 1pm via a live Microsoft Teams link, panel members will be discussing:
How residents can get the COVID-19 Vaccination
Who is part of the priority group and why
How the vaccines work, and how we know they are safe
More about both the Pfizer/BioNTech and Oxford/AstraZeneca COVID-19 vaccines
There will also be a live Q&A.

Leader of Redbridge Council, Councillor Jas Athwal, said: "Local people understandably have lots of questions about the COVID-19 vaccination programme, and this meeting is an opportunity to have those questions answered not just by the council and public health experts, but those who work in our health system. The authorisation and roll out of the vaccines is fantastic news, but this is a marathon not a sprint, and the vaccination programme needs to work hand-in-glove with testing for target groups. Throughout this process we all need to keep following the government Covid-19 rules and playing our part to stop the spread of the virus. 
I hope this meeting will help to debunk some of the myths around the vaccine and reassure local people about what is happening, when and why."
Cllr Athwal is hosting the meeting and will be joined by Cllr Mark Santos, Cabinet Member for Adult Social Care and Health, Redbridge Council Director of Public Health at Redbridge Council, Gladys Xavier, and two external health professionals – Redbridge CCG Chair, Dr Anil Mehta, and BHRUT Chief Medical Officer Dr Magda Smith.
Dr Anil Mehta, Chair of Redbridge CCG and a GP in the borough, added: "NHS teams have been working hard over just a few short weeks to deliver the vaccine in hospital hubs, local GP-led services and care homes, at the same time as providing care to all those who need it and the rising number of Covid cases.
"Our NHS staff are doing an incredible job to deliver what it is the largest vaccination programme in our history, at the same time as continuing to be there for everyone who needs care. But we all know that the public have an important part to play to help us do this. I encourage local residents to come along, listen and ask questions. Please help us to help you."