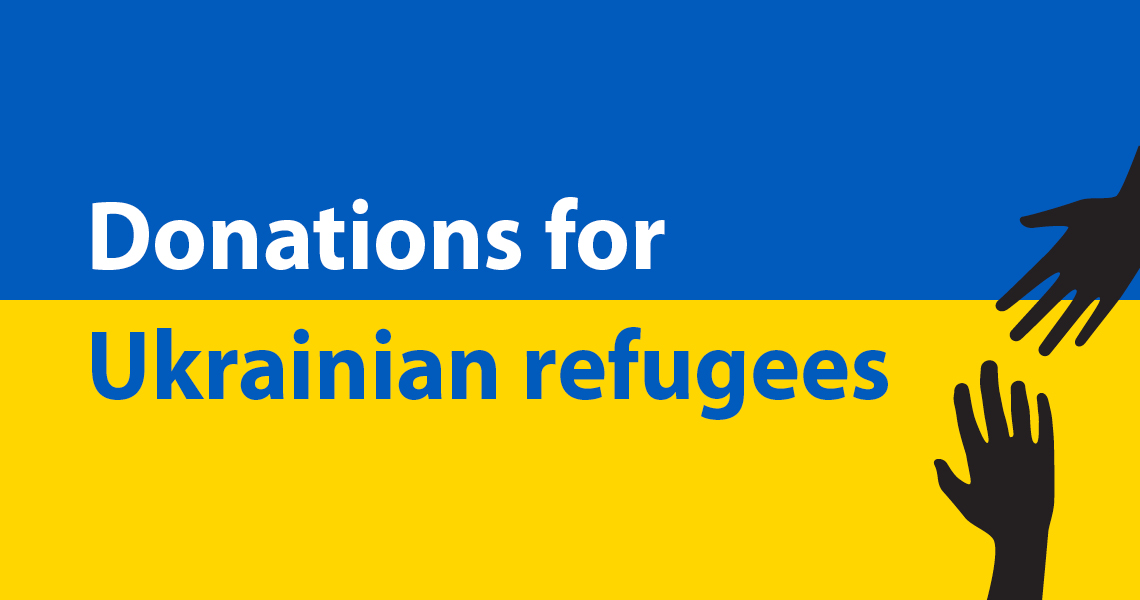 Redbridge Council organises donation drive for Ukraine
Published: 1 March 2022
Update: Thursday, 3 March 2022, 12.30pm
Following an overwhelming response to our urgent donation appeal to help the people of Ukraine, we are closing the site at Woodford Baptist Church. Thank you for all your donations.
There  is another open in East London if you have items you wish to donate:
-Unit 9A Rippleside Commercial Estate, Barking, Essex, IG11 0RJ. Open from 8am to 6pm. Call Lyubomyr - 07810111110 (please note this site is not taking any second-hand clothes.)
Find out how you can help those affected by the Ukraine crisis. 
-ends-
 Redbridge Council has partnered with Reconnect, local faith groups, and Redbridge community organisations to run an urgent donation drive for the people of Ukraine. 
Redbridge residents wishing to support those impacted by the crisis in Ukraine can donate essential items at Woodford Baptist Church. Items can be donated at Woodford Baptist Church (32 George Lane, South Woodford, E18 1LW) between 11am - 7pm on Wednesday, 2 March and Thursday, 3 March. 
Reconnect, a registered charity, provide food, transport, other community endeavours and activities to support vulnerable communities. They have registered volunteers with the Romanian Embassy, who will be transporting all items collected in Redbridge on Friday, 4 March, in a vehicle that will arrive in Romania two to three days later. 
Redbridge Council asks that only good quality donations of specific items (listed below) be donated: 
bedsheets and bedding 
blankets
children's clothes
first aid kits
nappies
sleeping bags
toiletries and sanitary products.
towels
wet wipes
The Leader of Redbridge Council, Cllr Jas Athwal, said: "In Redbridge, we have a long and proud history of supporting those in need. This week our communities have come together, with the support of the Council, to help the people of Ukraine as they face the horrors of war. 
"Essential items are desperately needed by refugees fleeing violence in Ukraine, and so we have launched this urgent appeal, knowing the generosity of our neighbours across Redbridge and the compassion our local communities feel towards the people of Ukraine. Now, in their time of need, Redbridge is standing with Ukraine."
Carmen Jitanu from Reconnect said: "We're only too pleased to play our part in helping those who have had to leave their homeland for fear of their lives. We would ask Redbridge residents to please donate the essential items listed to the people of Ukraine who are undoubtedly in their darkest hour."
Reverend Jonathan Somerville, from Woodford Baptist Church, said: "We are honoured to be able to host this collection for those fleeing the unfolding horror of war in Ukraine. The images on our TV screens compel us to pray for peace and act in a demonstration of shared humanity and compassion. We hope that in some small way, the people of Ukraine will know they are not alone and that the world is responding to them in their hour of greatest need."