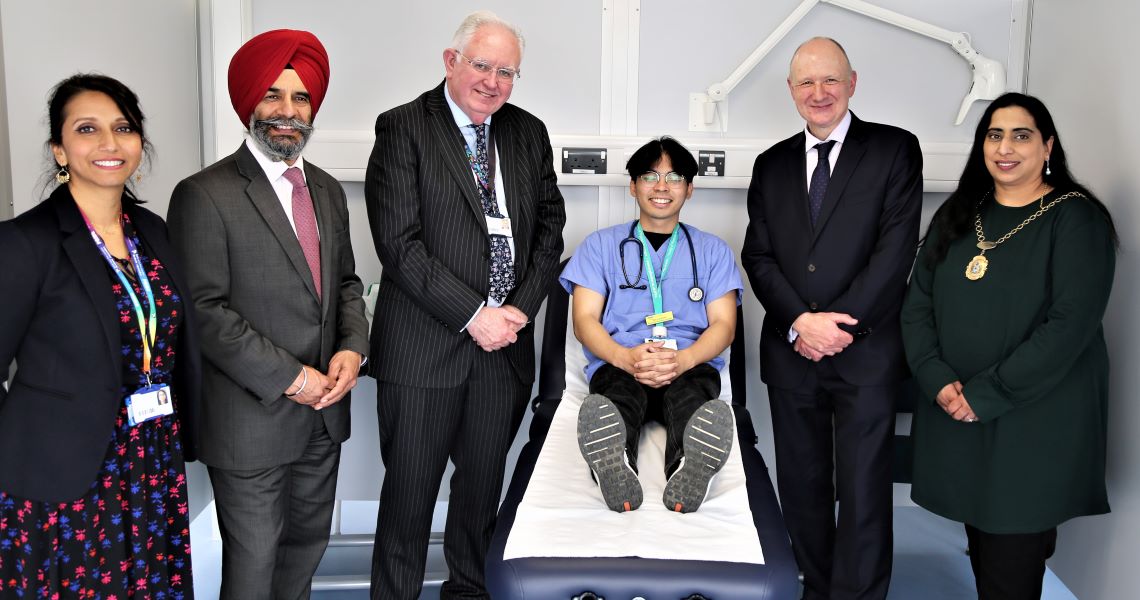 New Queen Mary University Ilford campus opens to students
Published: 4 May 2023
The Redbridge Queen Mary University of London Medical School campus has officially opened with students already working towards their degrees in the heart of Ilford.  
An opening ceremony was held on Tuesday 2 May to celebrate, with students showcasing clinical demonstrations to invited guests including Council Leader Cllr Jas Athwal, President and Principal of Queen Mary University of London, Professor Colin Bailey, and Vice-Principal, Professor Stephanie Marshall. 
The Leader of Redbridge Council, Cllr Jas Athwal said:
"A good education can transform lives. Redbridge is home to exceptional schools and colleges and now, thanks to our partnership with Queen Mary University of London, a new world class university in the heart of Ilford.
Now local people can achieve their dreams and meet their aspirations right on our doorstep in Ilford. We're incredibly proud to partner with Queen Mary and look forward to seeing the opportunities the new Ilford Medical School Campus will create for local families, students, and our local area."
Queen Mary University of London is ranked among the best universities in the country and is one of 24 leading UK universities who make up the prestigious Russell Group. 
 The new medical campus is in the heart of Ilford, in Lynton House, and opens up opportunities for young people to achieve their dreams closer to home. The creation of the new campus is part of Redbridge Council's ambition to make the borough the perfect place to live, work, and raise a family by expanding opportunities to learn locally.  
Professor Arunthathi Mahendran, Queen Mary's Director of the Institute of Health Science and Education, said:
"I'm an Ilford girl, I grew up just a stone's throw away from here, in the midst of a strong and supportive Jewish, Gujarati and Punjabi community.  Today, that community has given way to a different vibrant and dynamic community.  But the hopes, the aspirations, and the dreams this local community has, are the same ones my parents and grandparents had.  
Our vision at Queen Mary is 'opportunity for all', whatever your background or life circumstances. Our mission is to provide the most inclusive education of its kind, anywhere in the world, therefore we want to engage the local community with our Medical School so local people can access medical education and healthcare training.
In Lynton House we are reimagining how to teach and learn Medicine whatever your background. If you have a strong work ethic, talent, ability and drive then what you need is the opportunity to achieve your potential. At Queen Mary, we are about providing that opportunity. This splendid learning space at Lynton House, is a testament to that vision."
Redbridge is already a hub for education excellence with 95% of our schools rated "Good" or "Outstanding" by Ofsted, and the only "Outstanding" Adult Education Institute in the country. Now, with an internationally recognised University on our doorstep, Ilford can provide an all-round educational journey from childhood to adulthood.