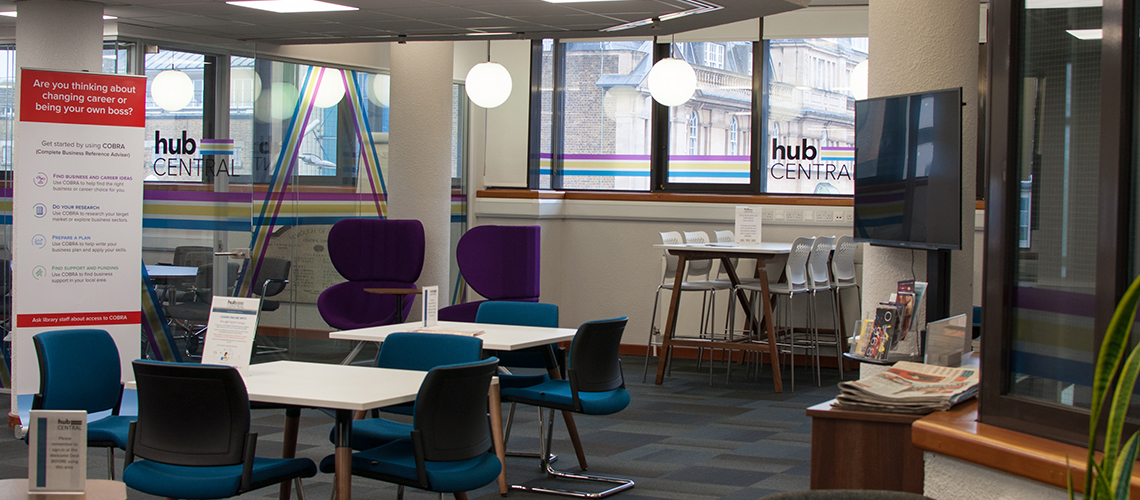 Hub Central: Business and Employment Skills Support
Suspended Services: In line with current government guidelines, all Hub Central events, workshops and networking is suspended until further notice. We are offering some business development webinars, for more information visit our Hub Central Workshop and Events page. Work Redbridge & the Business Advisor will be available via email and for telephone appointments. Have a question for the Hub Central Team? Call 020 8708 2414 Mon-Fri 10am-4pm.
Vision Redbridge Culture and Leisure have previously delivered the Enterprise Desk programme for new and existing micro, small and medium businesses in partnership with Work Redbridge which has informed the development of this permanent facility.
Hub Central is open on the second floor of Redbridge Central Library.
Our Business, Employment and Skills Hub will continue to offer an exclusive co-working space, 1-2-1 business advice, a range of workshops, training and networking events and library and online resources including books, journals and the COBRA business database.
What's on offer
We offer a range of resources including:
An Exclusive Co-working space with FREE Wi-Fi and business hosts available to help with enquiries
Partnership working with local organisations helping residents learn new skills
A regular programme of workshops and training delivered by a range of providers as well as networking events including talks from industry leaders 
 Workshops and Events
Looking to start a business or would like support to help your business grow? Our Business Adviser based in Hub Central can provide one to one support with starting and growing your business.
Book a 45 minute one to one appointment and find out about the wide range of support that is available to help businesses start, stay and grow in Redbridge.
The Hub Central blog
Our blog is now live! The Hub Central blog is a platform for anyone who wants to share their current business or start up or lifestyle venture and will act as a platform to enhance their brand and themselves as a business person or entrepreneur. 
News and Updates
A booking fee of £2 is chargeable on some of our free workshops.
Opening times
Hub Central is located on the second floor of Redbridge Central Library and opening times are:
Monday to Friday, 9:30am to 8pm
Saturday, 10am to 5pm
Sunday, closed
Contact us
Follow us on
 We do not take telephone enquiries and encourage you to visit us at Redbridge Central Library.