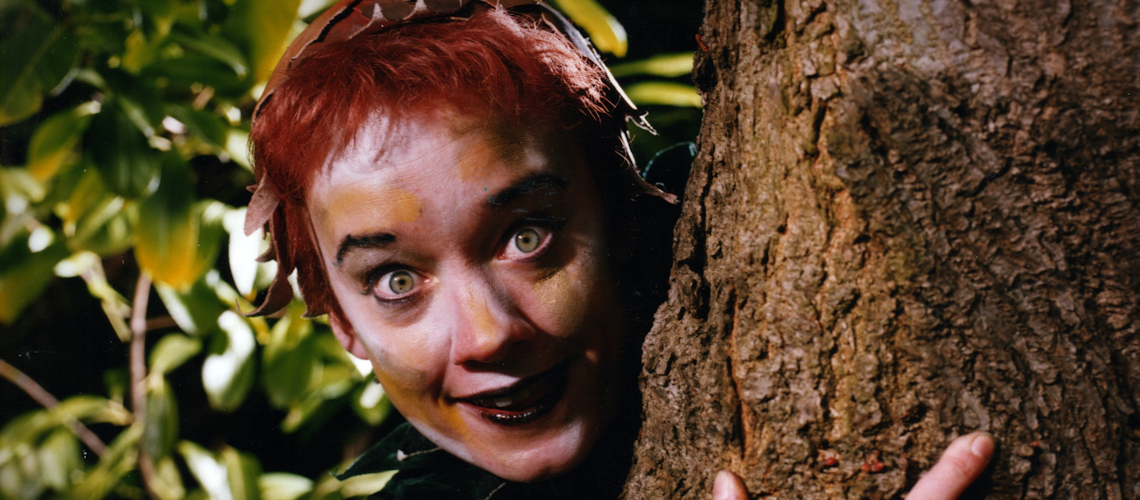 Redbridge Theatre
The Vision Culture team organise spectacular outdoor theatre performances. There isn't a better way to spend an afternoon than with the family, sitting outside enjoying the glorious weather and being entertained by fabulous performers! 
For more information about outdoor theatre, please email our culture team on culture@visionrcl.org.uk 
Outdoor Theatre
Oddsocks Presents: 
A Midsummer Night's Dream
Sunday 23 June, 6pm
Join Oddsocks Productions as they return to celebrate their 30th Anniversary year with yet another high-energy, feel-good, family theatre show. This summer the company invite you to join them for a festival of music, magic and mayhem as they bring that Shakespearean favourite "A Midsummer Night's Dream", to life as you have never seen it before.
Every year Oddsocks delight audiences with their inspired approach to Shakespeare's plays and their trademark interactive style. "A Midsummer Night's Dream" with it's easy-to-follow storyline and hilarious characters is perfect for the Oddsocks treatment and will be a memorable production.
Four young lovers run away to a summer festival in the woods to escape the stress of parental expectations at home. Before long they unwittingly find themselves the subjects of tricks, played on them with hilarious results. Add to that a troupe of amateur actors hired to play at the festival and you have the perfect recipe for an evening of hilarious family entertainment.
If there's one show you see this summer, make it this one!
Venue:  Valentines Mansion & Gardens, Valentines Park, Emerson Road entrance, Ilford IG1 4XA
Ticket prices: 
Adult £14 (in advance) / £16 (on the day)
 Concession/Child - £10.50 (in advance) / £12.50 (on the day)
 Family Ticket (2 Adults & 2 Children or 1 Adult & 3 Children only) - £40 (in advance) / £45 (on the day)
Book your tickets via eventbrite
What age do children have to be to qualify for the child price?
The child price is for children aged 3 to 16 years.
Can children under three still attend?
We are happy for small children to attend, however, we ask that you are considerate to other spectators and if your child is becoming restless please move to the back so the rest of the audience is not disturbed. Your co-operation with this is much appreciated.
What is a concession?
Concessions are given to full time students, Senior Citizens over 60 years and Leisure Pass Holders.
What time shall I get there if I need to collect tickets on the door?
Get there 20 minutes before the performance is due to start.
Can I get there early?
We recommend that you get there half an hour before to get a good spot.
Is there seating provided?
There is limited seating provided, however, we welcome spectators to bring their own picnic blankets and deck chairs.  People with picnic blankets can sit at the front and people with deck chairs should sit behind so they do not obstruct anyones' view. There is no pre allocated seating.
Can I bring a picnic?
You are more than welcome to bring a picnic, please you bag up all your rubbish which can be disposed of at the end of the performance.
Can I get a refund once I've booked my tickets in advance?
No refunds will be given unless the show is cancelled by Vision Redbridge Culture & Leisure.
What happens if it rains?
The show will go on, so please be prepared to bring your raincoats (preferably with a hood) and wellies!  If you need to use an umbrella we would ask that you stand at the back so you do not obstruct anyone's view sitting behind you.
What time does the park close?
Around the time of the Oddsocks performance, the Valentines Park will close at 9.30pm. You may wish to bring a small torch as lighting is limited within the park.
What is the nearest entrance?
Valentines Mansion & Gardens entrance, Emerson Road.
Is there disabled access and parking?
The disabled access and parking are in Valentines Mansion and Gardens car park, Emerson Road.
Where can I park?
There is limited pay and display parking in Valentines Mansion and Gardens car park, Emerson Road. Car parking charges are as follows:
up to 1 hour £1
1 to 2 hours £1.60
all day £3.60
Please note that there are no longer cash payments taken at parking meters and instead customers should use the RingGo payment system. Customers can pay using a credit or debit card over the phone or online or via the smartphone app.
There are parking meters in the roads surrounding the Park which you may use.
How do I get there?
Tube - Gants Hill Underground Station (Central Line). 5 minutes walk.
Rail - Ilford National Rail, direct line from Liverpool Street Station.
Bus - Take bus routes 396, 128, 179, 123, 296, 167 from Gants Hill Underground Station and 128, 296, 150, 396, 167 from Ilford National Rail to stop "Valentines Mansion and Park".
Cycle - Cycle to the mansion through Valentines Park. Cycle racks are provided at the mansion.
Road - Easily accessible from the A406 (junction for A12) and the M25 (junction 27 for M11, and follow on to the A406 East). Limited car parking is available at the mansion.
---
Kenneth More Theatre
The Kenneth More Theatre was officially opened on 3 January 1975.
Since the doors opened the Theatre has prided itself on serving the local community by offering a variety of professional and amateur productions. Its programme is diverse, and throughout the majority of the year, each week sees a different production being staged.
It is renowned within the Borough for its annual pantomime, a festive treat for families which generally runs from mid-December to mid-January.
For more information on what's on and coming soon at the Theatre please visit the Kenneth More Theatre's website
Keep up to date with upcoming theatre and sign up to our Do More enewsletter