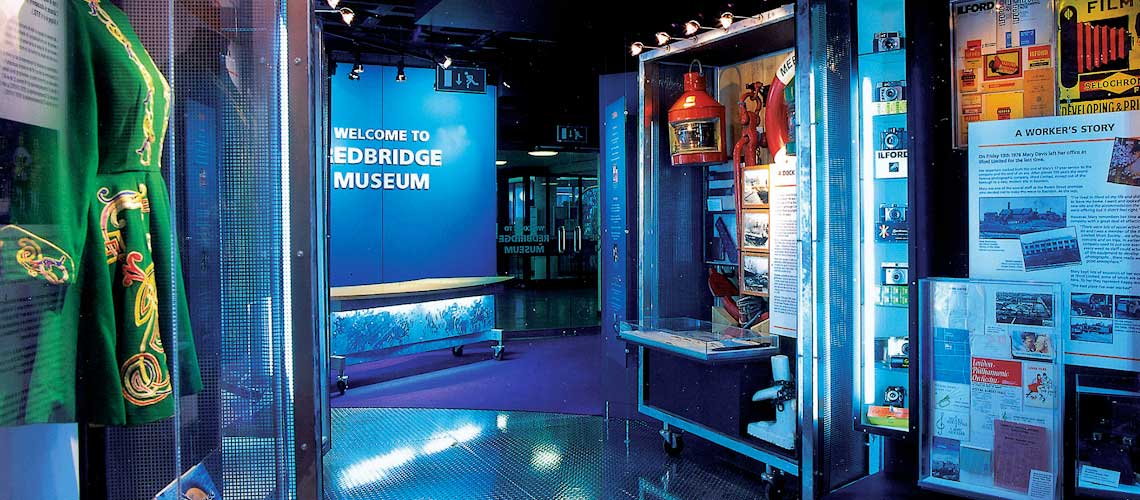 Redbridge Museum
Redbridge Museum explores the many different people, places and events which make up the history of our Borough.
What's in the Museum?
Moving Stories Meet some of the people who have lived and worked in Redbridge between 1940 and today
The March of Bricks and Mortar Discover how Redbridge grew from a number of villages to a modern suburb between 1900 and 1939
Rural Redbridge Find out what life was like in the local area in the 1800s
Time Zone Explore over 150,000 years of local history through interactive displays
Find out more on what you can find in the Museum (PDF 719KB)
Visit Exploring 20th Century London to find out more about some of the items in Redbridge Museum's collection.
Since opening in 2000, we have worked with hundreds of local people, produced more than 70 exhibitions and displays, attracted more than 200,000 visitors, held over 600 family activities, and taught 33,518 school pupils. Find out more about how we work in partnership with local groups and individuals
What's on?
Wonder Women: 100 Years of Women's Lives in Redbridge
Tuesday 13 November 2018 to Saturday 27 April 2019
To celebrate 100 years since the first women in the UK won the right to vote, this exhibition explores the lives of women in Ilford, Wanstead and Woodford over the past century.
From the days of 'mistress and servant' to the varied lives of today's diverse communities, this exhibition tells the story of local women in their own words.
Beginning with the Suffragette campaign to gain the vote and the impacts of two world wars, the displays uncover the changing pattern of work, community, culture, education, family life and sisterhood.
Featuring new films about women's lives today alongside a wealth of historic objects, photographs and oral histories, this is a unique chance to meet Redbridge's very own 'Wonder Women'.
This exhibition is in partnership with Woodford County High School.
Redbridge Museum is a partner in www.snappingthestiletto.com
Derek B: The Woodford Rapper
Tuesday 2 October to Saturday 29 December 2018
In this new small display, Redbridge Museum celebrates the life of rapper and local Woodford boy, Derek B.
Derek shot to fame in the late 1980s as one of the first black British rappers to make it big in the UK.
On display for the first time are photographs, albums and music from his life, lent by his family and friends. This includes his Silver Record celebrating 60,000 album sales, on loan from the Black Cultural Archives.
Ilford Football Club Heritage Project - can you help?
Redbridge Museum is working with Ilford F.C on an exciting new project about the history of the club. Founded in 1881, Ilford F.C have been one of the most successful amateur clubs in the country.
We would love to hear from anyone with Ilford F.C items or memories. The project will lead to a major exhibition, book and new website, supported by an award from the Heritage Lottery Fund.
Please contact Michael Foley, Ilford F.C Chairman or redbridge.museum@visionrcl.org.uk, 0208 708 2317.
Redbridge and the First World War
Redbridge Museum is commemorating the centenary of the First World War through a new website and book about the impacts of the First World War on Redbridge. Both are fully illustrated and feature extensive new research not previously published. Copies can be purchased from Redbridge Museum and most Redbridge libraries. 
Visit the Redbridge and the First World War website 
Events
Friday 2 November
2pm-3pm
Goodmayes Library
Local Historian Linda Rhodes will be talking about the sinister side of the history in and around Chadwell Heath. Find out about the deeds committed by murderers, robbers and highwaymen.
This is a FREE event. Please book in advance by clicking the button below.
Tuesday 6 November
11.30am-12.30pm
South Woodford Library & Gym
Have you ever thought about tracing your family history but don't know where to start? Come along to this session to find out how to use the online resources available at libraries.
This is a FREE event. Please book in advance by clicking the button below.
Wednesday 21 November
2pm-4pm
Redbridge Heritage Centre, 2nd floor, Redbridge Central Library
Redbridge Heritage Centre will be celebrating Explore Your Archives Week. Come along and look at items not usually on display from our vast collection of archives. See maps, photographs, and other information related to leisure pursuits in Redbridge.
Drop-in session, no need to book
Schools
The Museum & Heritage Service delivers a wide range of free education sessions based around the national curriculum. These educational sessions can take place at the Museum or at Valentines Mansion. To find out more about what you and your group can gain from a visit to Redbridge Museum watch this short film.
All sessions include handling a wide range of real artefacts, fun activities and exploring the displays. Groups can use historic archives, maps and photographs to learn about the history of their local area and school.
The Museum can also deliver INSET sessions for teachers, assemblies, and support for school projects.
View our schools programme at Redbridge Museum (PDF 1MB)
View our schools programme at Valentines Mansion & Gardens (PDF 1MB)
or contact us for more information or to book a session.
Sign up to our e-newsletter
Sign up to receive our quarterly e-newsletter for teachers. Get updates about new and current programmes, special events and what's new to support your teaching.
Complete this form to sign up to the e-newsletter
Visitor information
Location
Redbridge Museum
2nd Floor, Redbridge Central Library
Clements Road
Ilford
IG1 1EA
View Redbridge Museum on a map
Contact details
Telephone: 020 8708 2317
Email: redbridge.museum@visionrcl.org.uk
Opening times
Tuesday to Friday: 10am to 5pm
Saturday: 10am to 4pm
CLOSED Monday and Sunday
Free entry
Find out more