Play streets
What are play streets?
Residents close off their streets to through traffic for a few hours weekly or monthly so that children can play out more safely and neighbours come together – making streets friendlier and more fun for all.
Redbridge Council has successfully piloted the scheme with residents in five neighbourhoods in summer 2018.
As a resident, community group or school you will be able to apply throughout the year.  This will enable you to run a play street weekly, fortnightly or monthly.  It is important that you think ahead and apply by the relevant deadline if you would like to start running your play street at a specific time of year. Information about deadlines can be found below.
Play streets meet-up
To learn more register for our upcoming information meet-up on Eventbrite which takes place on Thursday 28 February from 7.30pm to 9 pm at Costa Coffee, 24 Cranbrook Road, Ilford, IG1 4DL. This will be an opportunity for you to network with play street organisers and interested locals, learn more about the application process and ask any questions. Drop-ins are also welcome. Costa is offering 10% off hot drinks.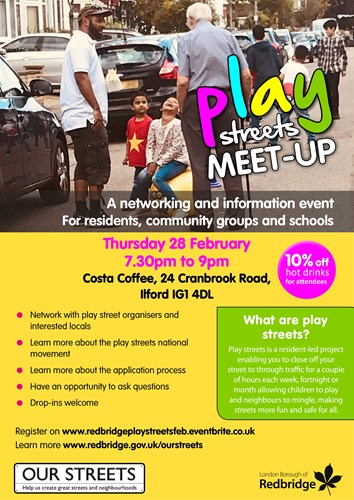 To receive the latest updates about play streets and other community and environmental initiatives visit the Our Streets webpage and subscribe to the monthly Our Streets enewsletter 
Apply to run a play street
Before completing this application form please read every section of this web page. The information is here to help you but we are happy to talk you through anything you might be unsure of. To arrange an informal phone conversation contact your local Neighbourhood Engagement and Education Officer.
Please note that the deadline for the next round of applications is Wednesday 1 May 2019. This will enable you to run a play street from June to August 2019 onwards for up to 12 months at which point your application will be reviewed.
Play streets is a growing national movement encouraging informal playing out. Some of the benefits include:
improving children's health and wellbeing
building stronger communities and a sense of belonging
encouraging more active citizens
changing culture around children's freedom
Play streets have been running successfully in places like Hackney and Bristol and our pilot scheme here in a Redbridge has been a great success. Here is a comment from one organiser in Barkingside:
"In this day and age, we rarely see children playing on the streets, they rarely get out and converse with neighbours. Play streets is a wonderful, informal way of allowing this to happen in a safe and manageable way. It was such an enjoyable, multi-cultural and multi-generational event and really helped build a community spirit that we would not have otherwise seen."
Read more about the benefits of playing out.