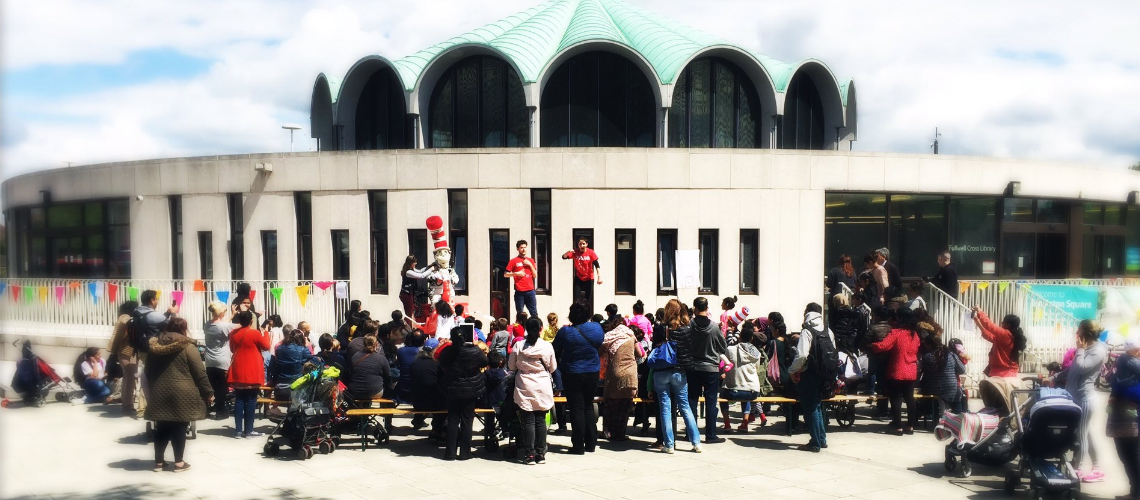 Ken Aston Square
As part of the Better Barkingside initiative, we have commissioned Vision RCL to create a year-long programme of cultural activities for local families.  Events will take place in the newly developed Ken Aston Square at the Leisure Centre and Library area of Barkingside.
All the events are free unless stated otherwise. No need to book just turn up.  
St. George's Day Celebrations - Saturday 20 April
Meet the Goblin Queen and the Dragon!
It's your once in a lifetime chance for an extraordinary encounter with a goblin queen and her huge and ancient dragon! Let go of reality and enter the world of fairy tale and myth as you become involved in goblin mischief and are entranced by the enchanting, smoke breathing, true to life puppet dragon.   
The mystical duo are on a mission to discover why the dragon's eggs are no longer hatching. The goblin queen may tether her beast to you as she makes her investigations or you may be chosen to actually sit on and incubate one of the dragon's eggs! Oh and in case you are wondering the Dragon is called KIRINYA!
A fantastic opportunity to have your picture taken with the Goblin Queen and the Dragon.
Times: 11am to 11.30am, 1pm to 1.30pm and 3pm to 3.30pm
Arts and Crafts in the library
Join us in Fullwell Cross Library for St. George's Day themed arts and crafts, face painting and a trail!
Times:
11am to midday and 2pm to 3pm (Crafts)
10am to 4pm (Face painting - donations will apply)
11am to 3pm (St. George's Trail in Children's Library)
If you're a local choir that would like to get involved please contact the Culture Team on culture@visionrcl.org.uk