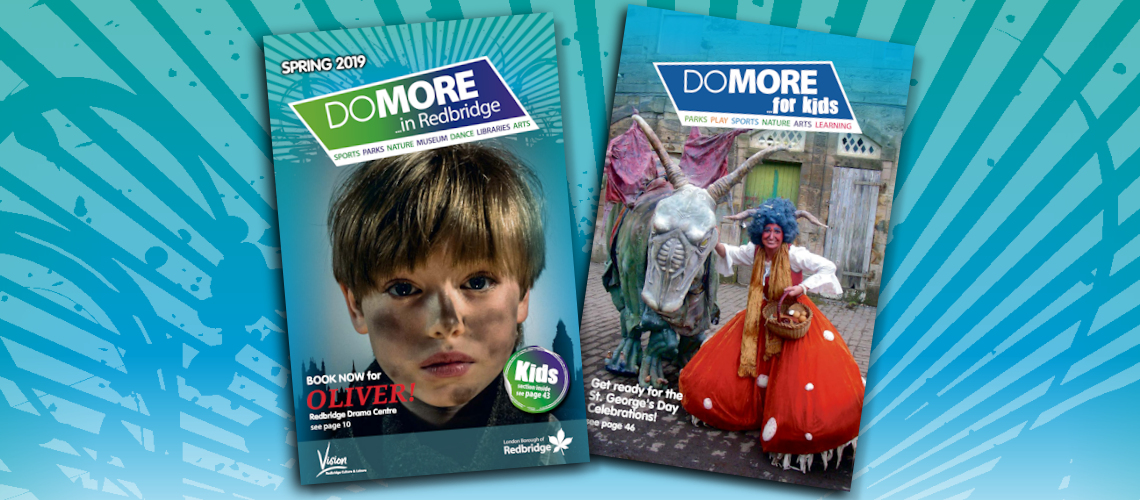 Do more in Redbridge
Do More Guide
All our leisure and library events and activities are published in our Do More Guide. This guide is published on a quarterly basis. All Redbridge households should receive this through their letterbox along with Redbridge Life at the beginning of March, June, September and December. 
Do More Guide Spring 2019
You can also pick up a free copy from Redbridge Libraries or Council offices. 
If you don't live in Redbridge and you would like to receive a copy of the latest Do More Guide please fill in our online form. 
Sign up to receive the Do More Guide
Advertise in the Do More Guide
Do you run events or activities? Would you like to reach all the households in Redbridge?
Then ask us about advertising in the Summer issue, out Monday 3 June from just £225 for eighth of a page.
Deadline to advertise in the summer issue is Wednesday 17 April. For more information email leisure.info@visionrcl.org.uk
How do you score Do More?
The Do More guide has been dropping through your letterboxes for 7 years now!
But how many of you still hang on to your paper copy or are you searching for things to do online?
With more and more of events and activities to be found online via our website and social media channels, what are your thoughts on Do More going green and going digital? Any comments good or bad we would really like to hear from you, please email leisure.info@visionrcl.org.uk 
Enewsletter
Receive a monthly enewsletter showing the latest events and activities in Redbridge.
subscribe to our Do More monthly enewsletter
Social media
Check out our social media pages for exclusive live content and connect with us: