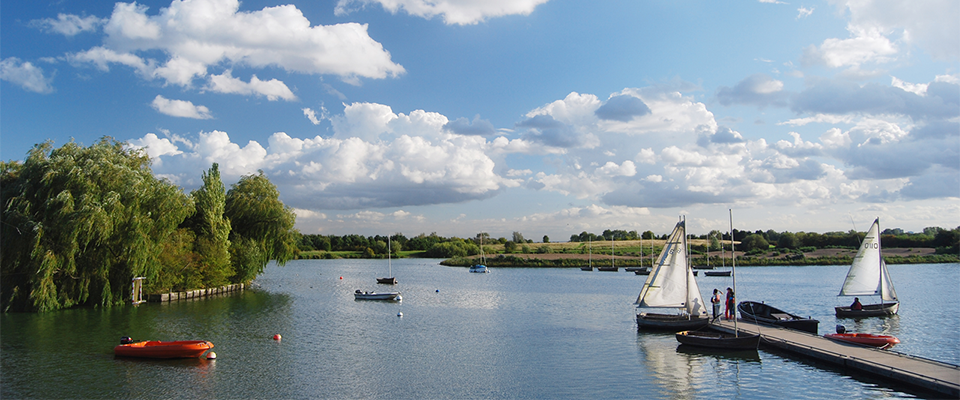 Fairlop Waters Country Park
Enjoy a walk through the country park year-round, or why not try watersports such as sailing, rowing and windsurfing.  
About Fairlop Waters 
Fairlop Waters is the largest country park and leisure facility in Redbridge. It is easily accessible from the M25, via the A12. It is a short walk from Fairlop and Barkingside stations, both on the Central Line. 
There are accessible pathways for all to enjoy a walk through the country park year round, as well as a network of natural routes allowing you to get closer to the wildlife.
The large lake provides a location for watersports such as sailing, rowing and windsurfing. 
For those a little adventurous, there is Fairlop Skyrun suitable for all ages, the largest boulder park in the UK as well as a large natural play area for younger visitors.
Boulder park 
Come and try out the UK's largest boulder park located beside the lake at Fairlop Waters Country Park.
The Boulder Park consists of nine individual boulders which are constructed of sprayed and carved concrete and vary in heights and shapes to cater for all abilities, from novice to expert. They are all designed for solo climbing and are a great place to practice bouldering and traversing skills.
Fairlop Waters Boulder Park leaflet
Outdoor Activity Centre
Want to learn how to sail, canoe or paddleboard? You can join sessions on a paid-as-you-go basis or an all-inclusive annual membership. Courses are run regularly throughout the year.  
https://visionrcl.org.uk/centre/fairlop-outdoor-activity-centre/
Fairlop Rowing Club
Fairlop Rowing Club has a junior and adult section that train three times a week. The club accepts new members that have previous rowing experience or have completed a 'Learn to Row' course.
If you are interested visit the Fairlop Rowing Club website
Fairlop Skyrun
Fairlop Skyrun is an amazing facility offering high and low ropes courses as well as a climbing wall and adventure tower.
All sessions are taken by qualified instructors as safety is important. 
All users must be minimum of 1.5m tall to participate on the high ropes course without direct adult supervision on the course. Users between the height of 1m and 1.5m must be accompanied by a responsible adult, aged 18 years or older and must be directly supervised on the course at all times.
Find out more and book Fairlop Skyrun 
Owls Play Centre 
Owls Play Centre is a fun and adventurous indoor play area for children up to 12 years old.  The indoor play area is multi-tiered with dedicated play zones for babies, toddlers and juniors providing a safe and secure environment for children. The center is also available to hire for parties!   
Learn more about Owls on the Vision website
The Boathouse
The Boathouse at Fairlop Waters Country Park is 
With stunning views out onto the lake, drop into The Boathouse and buy refreshments and take a much needed rest. It's open throughout the week for visitors. 
Venue hire   
There are two rooms you can hire for meetings and functions as well as a licensed bar and restaurant.  Fairlop Waters Country Park is also an approved licensed venue for weddings and civil ceremonies. The country park is managed by Vision Redbridge Culture & Leisure.