Community surge testing
Latest update on community surge testing:  Thanks to an amazing community response, we have now completed testing for the South African variant of Covid-19 in Loxford and Clementswood. We have tested 5,000 people who live or work in these wards and completed this ahead of schedule, meaning we can provide results to Public Health England more quickly. This means we can act sooner on those results if we need to. Our Community Testing Team have received a lot of support from residents during our door-to-door testing service. Thank you to everyone who took the test and to all our residents in their efforts to #KeepRedbridgeSafe. 

We are working with Public Health England (PHE) and the Department of Health and Social Care to carry out a localised testing programme in Loxford and Clementswood, Redbridge. PHE recently found a case of the variant of the virus, first identified in South Africa, in this area of the borough.  There doesn't appear to be any links to travel. There is no evidence to suggest that this variant is any more severe than others.
But to suppress any spread of this variant, from Friday 26 February, we will be carrying out extra Covid-19 testing for anyone living or working in the affected area marked on the map below. Those tests will then be sent for analysis at a laboratory so we can see if there are any more cases of this particular variant of the virus in the area.
People without symptoms can take one of these Covid-19 tests by:
Going to our mobile testing unit at Jubliee Gardens, Ilford Lane, between 9am and 3pm. This option is only for people who don't have symptoms and live or work in the affected area. You do not have to book, but you may have to queue.
Using a home test kit delivered in the affected area by our door-to-door testing team. The team, who will be wearing PPE and have Redbridge ID, will deliver and collect the tests for free. So, if you do not have a specific reason to leave the house, or you are shielding, you can wait for your test to be delivered to your home.
If you have symptoms, please book a test at one of our permanent test sites in the usual way.
You will only need to take one test, but we urge every single person over the age of 16 to take one and, if you test positive, to self-isolate with everyone in your home to stop the spread of the virus.
Please note the latest government guidance. The best way to stop the spread of COVID-19 is to stay at home. If you do leave your home for one of the reasons permitted in the government guidelines, keep your distance, wash your hands and cover your nose and mouth.
Ian, Consultant of Public Health at Redbridge Council, explains in the video below what will be happening in the new surge testing area. 
Questions you may have
When was this variant first identified in these areas? 
It takes a few weeks between a positive test and a random sample being fully tested in a lab. The infection likely happened in January and the latest data can be found on the variants under investigation government website page. 
What areas are you testing?  
We will be concentrating our testing efforts in parts of Loxford and Clementswood where the new variant has been detected. Details can be viewed on the map below.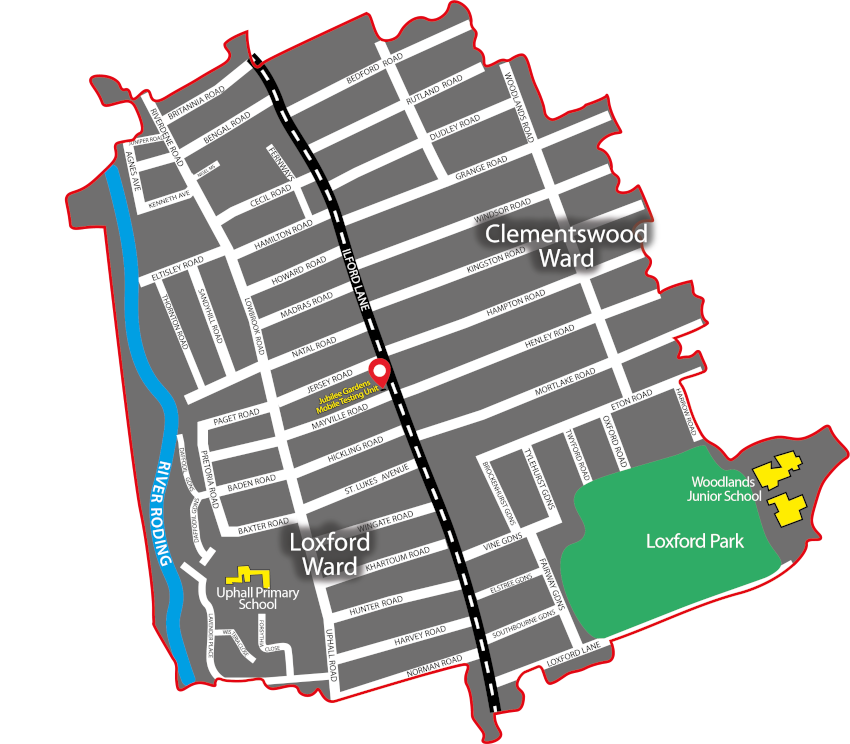 How can I get tested?
People who do not have symptoms and are not shielding can get tested by visiting a walk-through mobile testing unit for people without symptoms at Jubilee Gardens, Ilford lane from 9am to 3pm.   
Council staff will be offering door-to-door PCR home testing in the affected areas for anyone over the age of 16 regardless of whether they have symptoms or not.  Once the tests have been taken the kits will be collected by Council staff and sent off for analysis in a laboratory. The tests, delivery and collection service are all free.
Will standard PCR tests identify this variant?
Yes.
Why aren't you using community test sites/lateral flow 'rapid' tests?
Lateral flow is currently out of scope as we need PCR tests to carry out genomic sequencing.
How long will this last?
This targeted testing surge is planned to last for two weeks.
Should I take part in the localised testing programme if I tested positive (Lateral Flow or PCR) for COVID-19 recently?
The national guidance is not to re-test if you have tested positive for COVID-19 in the last 90 days, unless you develop symptoms. This is because the PCR test is very sensitive and can pick up old infection beyond the infectious period. However, if you wish to participate in the local testing programme and have a further positive result you will need to follow the advice given by Test and Trace.
We are in a nearby postcode, can we get tested?
We are focusing testing on those areas where we know we have confirmed cases of the variant. But anyone in the local area who is concerned of course can get a test. 
What if I have been in one of these areas recently?
Everyone should continue to follow the national guidance and book a PCR test if they develop symptoms.
Do I need to be tested/have regular tests if I have been in contact with people who live in this area?
No. If you have symptoms of COVID-19 you should isolate for 10 days and book a test as soon as possible. If you are a close contact of a positive COVID-19 case you should be contacted by NHS Test and Trace and should isolate for 10 days from the date you were last in contact with the positive case.
I'm an employer in one of the areas, should I keep my workforce home?
People should continue to follow the national lockdown rules and remember 'hands, face, space'. For testing to detect the new variant, a mobile testing unit at Jubilee Gardens, Ilford Lane, will be deployed, which can be used by those who are unable to work from home. It is important that residents in new variant testing areas remain at home if possible and follow lockdown rules, therefore home testing kits will also be provided by Council staff. 
If I am having regular lateral flow (rapid) tests for work, should I take part in local surge testing?
Yes. If you do not have symptoms and live or work in one of the eligible postcode areas you are strongly advised to take part. The localised testing programme allows public health agencies to carry out an important process called genomic sequencing which helps to monitor and understand the evolution of new COVID-19 variants and respond accordingly.
I am an essential worker, can I go to work whilst awaiting my results?
Yes. If you develop symptoms you must self-isolate.
What about testing in schools? And will they close?
We are offering testing to everyone aged 16 and over to those living and working in the area specified in the map above.
At present, schools and colleges remain open to Vulnerable Children / Critical Worker Children and nurseries remain open. There are no instructions for education settings to close in areas where new variants have been identified.
Is this testing being offered in schools?
The test is offered to residents 16 years and over to residents who live or work in the area specified above. This is not a schools-based initiative. Existing testing will continue in educational settings.
Do the current vaccines work against the variant originating in South Africa?
PHE are continuing efforts to understand the effect of the variants on vaccine efficacy and there is currently no evidence to suggest that vaccines will be ineffective.
What if I need information in another language?
Our door-to-door staff speak different languages including Urdu, Gujarati and Hindi and should be able to assist with the test. Staff will also have translated flyers with information on surge testing and frequently asked questions in several languages including Urdu, Gujarati, Hindi, Romanian, Punjabi and Bengali.
How will I receive my results?
You'll usually get a text or email with your result when it's ready. It may take up to 3 days. Please don't call your GP as they will not have access to these results. Call the coronavirus testing call centre on 119 if you do not receive your result within 3 days.
Has the stay-at-home guidance changed in these areas?
No. The same national restrictions continue to apply in these areas. 
Is there any financial support for those who are required to self-isolate?
Yes. For anyone who tests positive and has to self-isolate, they may be eligible for a support grant of £500 from the government financial support available during self-isolation.
Is there any wellbeing support for those who are required to self-isolate?
Yes. We provide support and advice on our health and wellbeing page.