Royal fanfare in Redbridge for the coronation
Category: News Item
Published: 24 May 2023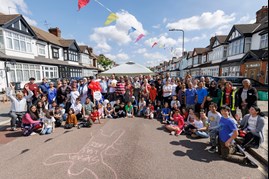 Earlier this month the country celebrated the coronation of His Majesty King Charles III. It was a monumental event, and for many of us this is the first coronation that we have been witness to.
The coronation was a truly historic event, symbolising the continuity of our nation's traditions and values. It was a time for us all to come together to celebrate our shared heritage, and to reaffirm our commitment to the values that have made our country what it is today. In Redbridge our community is made up of people from all walks of life, from different cultures, religions, and backgrounds, and it is this diversity that makes our borough such a vibrant and unique place to live.
Over the coronation bank holiday weekend Redbridge hosted almost 100 street parties across the borough, the second highest number of street parties for any London borough, showing the strength of our local community spirit and the strong relationships between neighbours.  I had the great pleasure of travelling across Redbridge joining different street parties, I only wish I could have attended every single event. It was so wonderful to see so many people from across Redbridge out together in what was both a celebration of the coronation and also a celebration of our borough.
The past year has been incredibly difficult for many of our neighbours across Redbridge with the cost of living crisis and inflation having significant impacts on people's lives. Through these challenges, our Redbridge community has always come together to provide support. Events like the street parties this weekend were another example of the amazing community spirit and unity of our borough and I have no doubt that they provided a much-appreciated boost for everyone who attended.
The incredible community spirit and efforts of organisers that went to in to creating such a special events has inspired us to look into ways our council can support annual street parties across the borough. Keep your eye out for further information from us later this year.
In the meantime, I would also like to encourage you to continue the community spirit with a Play Street. Play streets allow you to close your road for two hours a month and get to know your neighbours better, play in a safe and car free environment. You can apply direct at the play streets.  For more information or an informal chat visit the our street pages.  Please apply by 2 June 2023.
Once again, I would like to thank street party organisers for their hard work and dedication in organising such fantastic events, and everyone in across our communities who make this borough the incredible place that it is.