Book a bulky waste or large item collection
Disposal guidance for damaged upholstered furniture
Following direction from the Environment Agency, the collection and disposal of upholstered furniture (a chair or other seat covered with cloth and filled with a soft substance) will be changing. The reason for the change in collection and disposal of these soft furnishings is due to the presence of Persistent Organic Pollutants (POPs).
As a result, damaged upholstered furniture will need to be collected separately from other furniture. They will be sent for incineration, rather than recycling, due to the potential of POPs leaching into the environment.
See below a list of examples of upholstered furniture:
Sofas, sofa beds and Armchairs
Home office chairs
Upholstered kitchen and dining room chairs
Leather chairs
Futons and pouffes
Upholstered stools and footstools
Beanbags
Floor and sofa cushions
Should the furniture be in good condition (not damaged in any way, torn or badly stained) and still have the fire retardancy label attached (see below), please consider offering them for reuse. There are dedicated containers at the Chigwell Road and Gerpins Lane Reuse and Recycling Centres (RRCs) for pieces of furniture that could be used by someone else. The staff at the RRCs can check the item for you first, to see if it should be set aside for reuse.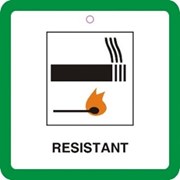 Bulky Waste 
From time to time, you may have large items you no longer want or need. Your regular rubbish collection cannot take these items.
Please check our reuse and recycling centre page for full information and eligibility. 
Working and good quality items
Good quality, second-hand furniture and electrical appliances are useful and welcome to others. Many local charities will collect items in good clean working order and upholstered furniture with a fire safety certificate. If you have reusable items, please contact a charity or organisation who will accept items for free or you can take it to the tip. For links and contact details, please visit our reuse page.
Re-use and recycle
Before you dispose of your bulky items, please consider other options such as reuse and recycling. Outlets such as TCL will gladly take your items for free. All details areon the TCL website 
Bulky waste disposal
We offer a bulky waste service to all residents. The best way to book a collection is online, but you can also book by calling our customer services.
If you choose to use an alternative waste removal service please remember that you are responsible for ensuring that your waste is collected by a licensed waste carrier.
If you're not sure where to find a licensed waste carrier you can visit the Environment Agency, or Love Junk websites, who can help you find a licensed waste carrier operating locally. 
Items we collect
We collect large household items for example beds, sofas, tables and chairs, cookers and garden furniture. Find out more on our bulky waste guidance page.
Before you book a collection consider if you can give your item away. 
Booking
if you need a bulky waste collection more than once within 12 months, you will be charged for collection.
All residents are entitled to receive one free collection every 12 months (maximum of 3 items).
If you require collection of additional items, then this will be chargeable at a cost of £13.00 per item (maximum of 3 items per booking) payable at the time of booking.
You can make additional bookings for more items.
Free collections are not available for:
commercial premises

business premises

the removal of builder's waste
Reschedule, cancel or amend your booking
You can cancel, reschedule or make amendments to your booking if you give at least 2 working days notice. If you give less notice you will not be refunded and will have to rebook the appointment and pay the fee again.
Log into your account to reschedule/cancel/amend
Missed collection
If you feel your collection has been missed, call 020 8554 5000 or email cleansing.services@redbridge.gov.uk quoting the reference number.
Collection
process
On the day of collection, your items must be left in clear view in your front garden or in the communal bin area if you live in a flat.
If you do not leave your items out as instructed they may not be collected and your payment will not be refunded.
If you do live in a communal area (block of flats etc), please do not put out your items until the night before the day of collection, or before 6am on the the day of collection.
We will only collect:
the items booked for collection which have been left in the agreed location from 6am on the day of collection
items that are safe without nails protruding and sharp edges, glass items should be taped together and covered. If our team deem any item unsafe to collect, they will not be taken.
secured items - items should be bundled together to enable tone person to collect them and black bags must be double bagged
Please make sure:
gates are left unlocked, dogs are kept inside the property and parked cars do not obstruct items
items that can get heavy when wet e.g. soft furnishings and mattresses, should be kept dry to ensure that the collection crew can remove them. However they must still be presented at the collection point on day of collection. It is your responsibility to ensure they are kept dry as the crews may not collect if too heavy or awkward to remove.
all food should be removed from fridge/freezers and the doors should be taped shut
items such as carpets or broken furniture must be rolled, securely tied or bundled together and doors taped shut