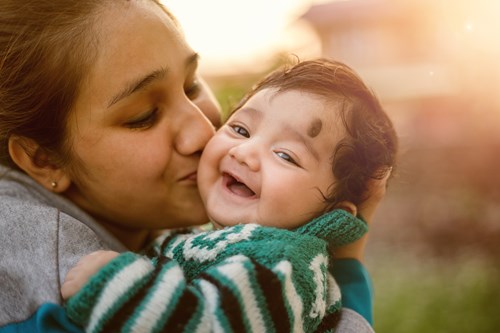 Children come into foster care from many different situations and with different needs. There are many different roles provided by foster carers and you can find out what each one involves below. You may wish to be approved for several of the below and can discuss this throughout your assessment:
Short term fostering
Most of the time children are placed with carers with the intention to rehabilitate them with their families as soon as possible. A child placed in short term care may be as a result of a parent's illness or an inability to cope at the time due to difficulties and pressures they are currently experiencing.
Social workers will be working with the family to try and assist the family to ensure that the family can be together again. You as a foster parent will play a key role in this as you will provide contact, giving the child the opportunity to see their family on a regular basis. Contact may be at your home or at a venue agreed by the child's social worker. A short term placement can be anything up to 2 years.
Long term fostering
If it has been decided that it is not appropriate for a child/ children to be returned to their family, a longer term placement is required.
In most cases, the child/children will still have arranged contact with their family however the frequency and arrangements will be determined by the child's social worker. 
A permanent home for a fostered child will give them stability and make them feel that they are part of a family. This will give them the opportunity they need to grow and to develop to achieve their full potential. The expectation is that the child becomes a member of your family beyond their childhood years.
Fostering teenagers
Teenage years can be a difficult time for all young people as they try to become more independent and make sense of their world. For young people who have gone through particularly distressing and traumatic events during their childhood, it can be a very unsettling time. This is a critical stage in a young person's life and they need appropriate support and guidance. Without this support and guidance, there is a risk that they may display behaviour and enter into anti-social lifestyles that could seriously affect their future.
We are looking for foster parents who can be tolerant, patient and flexible but who can also set clear and consistent boundaries, so young people know where they stand and what is expected of them. You need to 'actively' listen, and help the young person make sense of their world. You will let them know they've got someone who they can talk to who really cares about them.
Foster parents for teenagers need particular skills to carry out what can be a very varied and challenging job, and receive a higher level of payment in return.
Fostering disabled children
Disability affects children, some are very mild and others are more severe. Disabled children ranging from babies to teenagers may be placed with foster parents. 
Sometimes their parents may feel unable to care for them and these children often need to be placed in long-term foster care. For other families with disabled children, there might be a need for the child to be placed regularly with foster parents for a few days each week, or each month, to help support the family, enabling them to take a break.
Supporting both the family of a disabled child as well as the child can be hugely rewarding and is often referred to as respite foster care.
Fostering sibling groups
Leaving your family to live with a foster parent is a daunting enough experience for any child or young person, but when it also means that you have to be separated from your brothers and sisters, then the experience is all the more upsetting and unsettling. This is why we are always keen to actively recruit foster parents who can help us to keep brothers and sisters together in one foster family.
Caring for sibling groups requires flexible, energetic, organised carers with good support from family and friends and of course plenty of space at home.
Parent and baby fostering
Sometimes concerns are identified about a parent's ability to provide 'good enough' care for their baby. In such circumstances, foster parents may be asked to provide a foster placement for both the parent and the baby.
These can be challenging, but rewarding placements where foster parents support a young person to care for their baby, by teaching them how to parent and care safely for their child in your own home.
Emergency fostering
Some carers offer emergency care, which may mean a child is placed with them out of office hours by the Emergency Duty Team, occasionally in the middle of the night. Emergency foster care is most frequently used in a crisis situation. Plans will be made regarding the child's situation on the next working day.
Respite fostering
A respite foster placement can offer support to a family at crisis point or to a foster carer who needs to have a break. Respite foster placements might be for a weekend or a week in the holidays but can last up to 21 days. If you are only able to offer limited periods of time to fostering, then being a respite foster carer could be a good option.
Get in touch
if you're free now, why not give us a call on 0208 708 6068
email us on fostering@redbridge.gov.uk 
leave your details on the form at the top of the page and we'll give you a call and go from there.  Alternatively,