Redbridge Mayor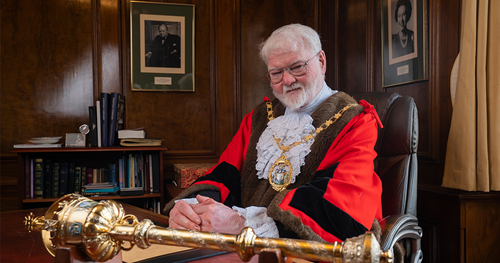 Redbridge has elected Councillor Roy Emmett to the position of Mayor for 2021-2022.
Cllr Roy Emmett was nominated as Mayor at the virtual Annual Council meeting held on the 29th April 2021. 
Mayor's Ceremony


Cllr Emmett worked in construction and security before retiring.  He first became involved in local affairs in the 1970s as a school governor (serving on four schools and one youth centre) for a total of some twenty-five years before being elected to Redbridge Council between 1994 – 2002, firstly for Loxford Ward and then Fairlop Ward. 
He was elected to serve for Hainault Ward in 2014 and again in 2018.  He has served on a number of committees, including Highways, Housing, and Public Protection.
He has been a trustee, followed by being the Chair of Trustees, at HAIL, an organisation supporting over 200 people with Learning Disability to lead independent lives in North and East London, and is currently a trustee with Citizens' Advice Redbridge.   
This year he has chosen to support Redbridge Carers' Support Service.  Their Young Adult Carers Project aims to support young adult carers, facing exclusion and disadvantage because of their caring role, to make an effective transition to functioning adulthood. Their goal is to support young adult carers to access education, employment, volunteering or training opportunities to attend to their own development needs and have a voice in Redbridge and beyond.
Cllr Emmett takes over from Councillor Zulfiqar Hussain who has served as Redbridge Mayor for an unprecedented two years after taking the position in 2019.
Donations
If you or your organisation wishes to make a donation to the Mayor's Charity Appeal, please make cheques payable to 'The Mayor's Appeal" and send to Mayor's Office, Redbridge Town Hall, 128-142 High Road, Ilford, Essex, IG1 1DD
Payments can be also be made direct to the Mayor's Appeal account quoting the details below:
Bank:
Sort code:
Account name:
Account number:
Reference:

HSBC
40-25-27
The Mayor's Appeal
22198479
Your name
Your donation will be gratefully accepted.
Invitations to the Mayor
The civic protocol requires that the Mayor, as the First citizen of the Borough, considers each invitation request to determine whether or not they, or the Deputy Mayor, are able to accept the invitation.
Completing this form does not confirm the attendance of the Mayor/ Deputy Mayor.
Confirmation will be sent to all successful applications.
To support your application please complete this form as fully as possible and return it to us at least 14 days before the function.
Virtual invitations
Due to the impact of COVID-19 and the need for us all to comply with the latest Government guidance, we will need to carefully consider any requests for the Mayor to visit in person.   
If you feel that your event can comply with the latest Government guidance on gatherings and social distancing and you would like to request a Mayoral visit, please complete the request form on this page.  You will be asked to include a risk assessment setting out the action you will be taking to comply with the Government guidance, for example, signage and cleansing measures.
The Mayor's Office will not usually accept events that will lead to unnecessary social gatherings, or those where the attendees will be particularly vulnerable, such as care homes.
Your form and risk assessment will be reviewed by the Mayor's Office who will contact you as soon as possible.
The Mayor is happy to join virtual or on-line events so please do get in touch.