Redbridge Mayor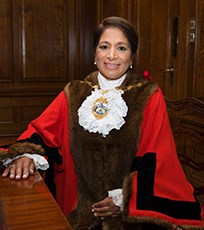 Our new Mayor for the municipal year 2018 to 2019 is Councillor Debbie Kaur-Thiara who was selected at the Annual Council meeting on Thursday 24 May 2018.
Cllr Kaur-Thiara has lived in the London Borough of Redbridge her entire life here, attending school and later raising her family in the borough.
She enjoyed a career in the civil service for over 30 years as a Senior Policy Adviser, but has always been passionate about giving children a great start in life and so decided to set up her own children's nursery.
A Ward Councillor for Aldborough since 2011, she has campaigned with residents for step free access at Newbury Park Station for the disabled and vulnerable and to save King George Hospital A&E.
The new Mayor has also helped the community by volunteering for a drugs line charity and a door-to-door library service.
Cllr Kaur-Thiara's focus during the year will be to promote children's services available in the Borough.
Councillor Kaur-Thiara will be supported in her Mayoral Year by Mayoress/Consort Sabrina Lakham.  Her Deputy will be Councillor Taifur Rashid, Member for Loxford Ward and her consort will be Harunur Rashid.
Mayor's charities 2018 to 2019
The Mayor's chosen charity is ELHAP. This is a magical and unique charity, based in Roding Lane, Woodford Bridge, providing adventure play opportunities to disabled and disadvantaged children, young people and adults. Since 1976, they have supported tens of thousands of disabled children from across North East London and Essex.
ELHAP runs holiday play schemes and term time Saturday Clubs throughout the year. They also run an Orchard Project which focuses on nature, horticulture, arts, and work based skills for those young people who may not "fit in" to college environments; and a Transition Project for disabled young people moving on from Children's Services.  
Donations
If you or your organisation wishes to make a donation to the Mayor's Charity Appeal, please make cheques payable to 'The Mayor's Appeal" and send to Mayor's Office, Redbridge Town Hall, 128-142 High Road, Ilford, Essex, IG1 1DD
Payments can be also be made direct to the Mayor's Appeal account quoting the details below:
Bank:
Sort code:
Account name:
Account number:
Reference:
HSBC
40-25-27
The Mayor's Appeal
22198479
Your name
Your donation will be gratefully accepted.