Redbridge Mayor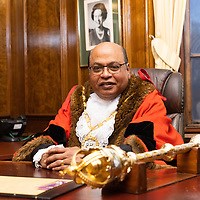 Redbridge has elected Councillor Thavathuray Jeyaranjan to the position of Mayor for 2022 to 2023. Cllr Jeyaranjan takes over as Mayor from Cllr Roy Emmett.
About Cllr Jeyaranjan
Cllr Jeyaranjan came to the UK in 1981 to study. After completing a Higher National Diploma in Mechanical Engineering at Coventry College, he went to study for a degree in Building Services Engineering at South Bank University, London.
Whilst in the process of completing his education, the political situation in Sri Lanka took a dramatic turn leading to civil war in which people of Tamil minority were viciously targeted. Cllr Jeyaranjan therefore decided to stay in the UK where he found work with Transport for London and held a job as an engineer in various capacities.
Around this time, many people of Tamil minority in Sri Lanka left the country to seek safety overseas. A considerable number arrived in the UK. Cllr Jeyaranjan was actively involved in supporting the new arrivals from Sri Lanka. He encouraged the local community to help and the Member of Parliament at that time in organising support for these people.
Cllr Jeyaranjan has lived in Redbridge since 1989 and has been actively involved in community projects and local politics ever since. He will be supporting 2 charities during his Mayoral year - One Place East and the King George and Queens Hospitals Charity.
Donations to the Mayor's Appeal
If you or your organisation wishes to make a donation to the Mayor's Charity Appeal, please make cheques payable to 'The Mayor's Appeal" and send to Mayor's Office, Redbridge Town Hall, 128-142 High Road, Ilford, Essex, IG1 1DD
Payments can be also be made direct to the Mayor's Appeal account quoting the details below:
Bank:
Sort code:
Account name:
Account number:
Reference:

HSBC
40-25-27
The Mayor's Appeal
22198479
Your name
Your donation will be gratefully accepted.
Invitations to the Mayor
The civic protocol requires that the Mayor, as the First citizen of the Borough, considers each invitation request to determine whether or not they, or the Deputy Mayor, are able to accept the invitation.
Completing this form does not confirm the attendance of the Mayor/ Deputy Mayor.
Confirmation will be sent to all successful applications.
To support your application, please complete this form as fully as possible and return it to us at least 14 days before the function.