Census 2021
What is the census?
The ONS is responsible for planning and running the census. The census is a once-in-a-decade survey that gives us the most accurate estimate of all the people and households in England and Wales. The information you give helps decide how services are planned and funded in your local area. This could mean things like doctors' surgeries, housing or new bus routes.
It asks questions about you and your household to build a picture of all of us. It looks at who we are and how we live. There's no other survey that gives as much information about our society and future needs.
When is it happening?
Census day is March 21. However, households will receive a letter in the post in early March, giving them details of how to take part in the mandatory survey. They will also receive a unique access code, inviting them to complete the survey online, although paper questionnaires are available on request.
Why should I take part?
The census helps us understand what our society needs now and what it will likely need in the future. The information it collects helps with decisions on the planning and funding of services in your area. This could include schools, doctors' surgeries, emergency services or even local support groups.
Charities also use census information to help get the funding they need. Businesses use it to decide where to set up, which creates job opportunities.
How long will it take?
The census will take around 10 minutes per person to complete. It's easy to do and can be done on any device, including a computer, laptop, tablet or mobile phone.
What if I don't speak English or Welsh?
Translation booklets are available to download. If your language is not represented, please contact the customer contact centre on 0800 141 2021.
How can I get help to complete my questionnaire?
The help pages at census.gov.uk explain how you can get help. These include general guidance, language assistance and a wide range of accessible formats including video and audio guides (English and Welsh). You can also phone the contact centre on 0800 141 2021 or visit one of our Census Support Centres (CSCs) offering assistance.
What happens if I don't complete my questionnaire?
Everyone will have up to 4 weeks to complete their census. However, failing to do so means you could face prosecution, a hefty fine (up to £1000) and a criminal record.
Please visit census.gov.uk for more information, and any questions you have, about the census.
Census Support Centres (CSCs) 
Step Up Community Educational Trust Limited – Ilford Community, Eton Road, IG1 2UE, 0203 774 7760 
Bright Star Training and Development Ltd – 194 High Road Leytonstone, E11 3HU, 077 2821 1878
One Place East (Ilford) – 98-100 Ilford Lane, Ilford, IG1 2LD, 0208 925 2435
Barking Learning Centre (Barking Library) – 2 Town Square Barking Learning Centre, Barking, IG11 &NB, 0208 724 8725
Make Change Associates – St Francis Hall, Hawkwood Crescent, London, E4 7PJ, 0207 118 0199

To support the digital inclusion initiative a local support offer will be made available courtesy of the Good Things Foundation. Above are the names and location of CSCs that have been setup in Redbridge and neighbouring boroughs. CSCs will offer face to face support to those who need it, or provide remote support, in areas where COVID-19 restrictions limit the access or availability of a face to face service. Please note that due to the uncertainty surrounding COVID-19 restrictions this may impact the local local support offer.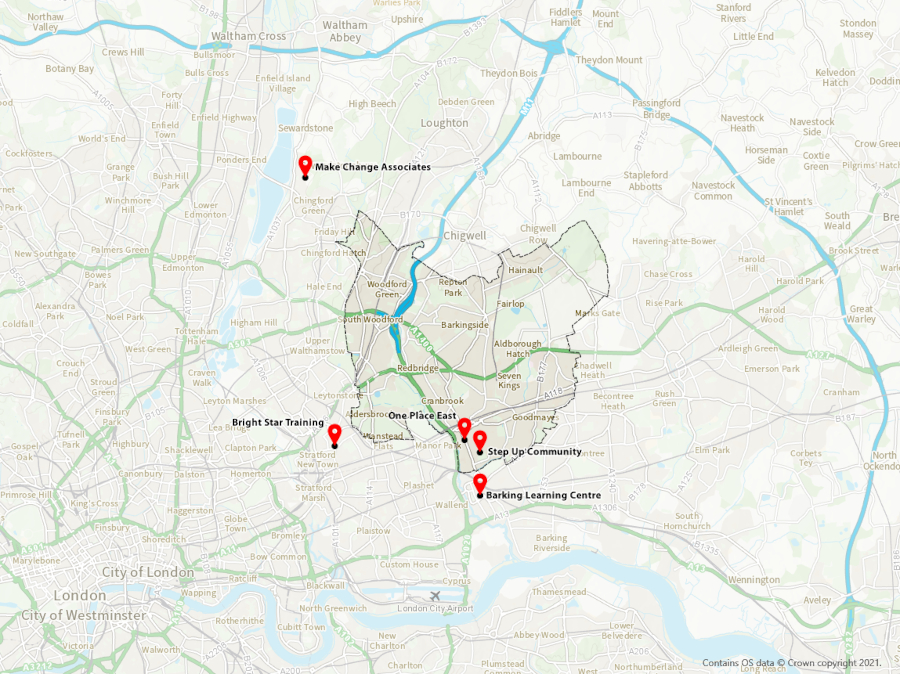 What Happens next?
Sunday March 21 marked the day that millions of people across England and Wales completed key questions about themselves and their households to ensure local services in every community are informed by the best information possible.
However, for those who have not yet submitted their online or paper questionnaires or have maybe misplaced their invitation letter, there is lots of help available at census.gov.uk.
Field officers will soon start calling at households who have not completed their census. They will follow social distancing and COVID-safe guidelines, supporting people to take part.
Census officers will work through the day to make contact with residents but will not call before 09:00 or after 20:00
Census officers will carry an ID card with their photograph and name
Census officers will be equipped with PPE
Census officers will never ask for money or bank details
Census officers will never need to enter someone's home
Census officers will have census leaflets and paper questionnaires with them
If the householder is still concerned, they can ring the contact centre for further advice:
England 0800 141 2021
Wales 0800 169 2021
They'll be operating much like a postal or food delivery visit.