Community Hubs
Community Hubs
We are working in partnership with local people to shape and co-design five state-of-the art Community Hubs across the borough, as well as a central Civic Hub in Ilford. The Community Hubs will bring together different facilities across the borough to improve the quality and accessibility of services for residents. This includes council services such as libraries, with GP surgeries or children's centres, and providing a place where residents can come together and run their own activities.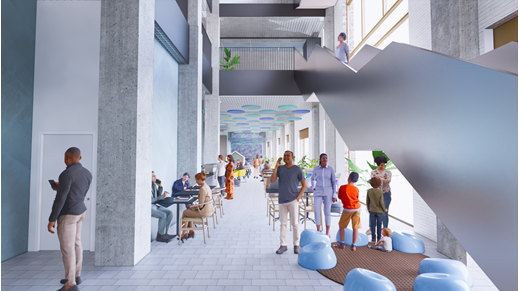 The location of the five purpose-built Community Hubs are Seven Kings, Gants Hill, Hainault, Woodford and Wanstead, in addition to the Civic Hub in Ilford. The hubs will be tailored to local needs and will be cross-subsidised through the building of homes on each site. The partnership working has already seen local people take part in co-design sessions, research projects and community gatherings to discuss local issues.
Check out our  Community Hubs online engagement website for the latest on the programme, how to get involved, current community projects and past documents about the wider programme, and the Seven Kings, Gants Hill and Hainault Hubs. 
Seven Kings Community Hub
The Seven Kings Community Hub planning is underway. Working closely with local people proposals have been developed for how different services will be integrated, like GP surgeries, a large modern library and a place for residents to run community activities.
Around 1000 residents have so far shaped the Seven Kings Hub, getting involved in co-design workshops, surveys and community gatherings to discuss their needs and local issues. Residents are taking forward local projects and want your involvement as well.
Located in the Seven Kings car park, the Hub will serve residents from across the Seven Kings area, including the wards of Seven Kings, Chadwell, Goodmayes, Mayfield and Newbury.
Visit our Seven Kings Community Hub webpage to get involved and find out more information.
Gants Hill Community Hub
The Gants Hill Community Hub site will feature a new building containing a library, services and facilities for community members to host their own events, as well as green spaces.
Local people have been working hand-in-hand with Redbridge Council on the early stages of planning for the Gants Hill Community Hub site situated on Cranbrook Road. They have helped appoint architects, developed 'design principles' for the plans and led a research project with the local community to understand how they want to shape its future.
Work with us in future co-design phases to decide:
What services and facilities the Hub will offer
How it should look and feel
The Hub will serve residents from across the Gants Hill area, including the wards of Aldborough, Barkingside, Clayhall, Cranbrook, Fullwell and Valentines.
For the latest information and how to get involved, visit our Gants Hill Community Hub page.