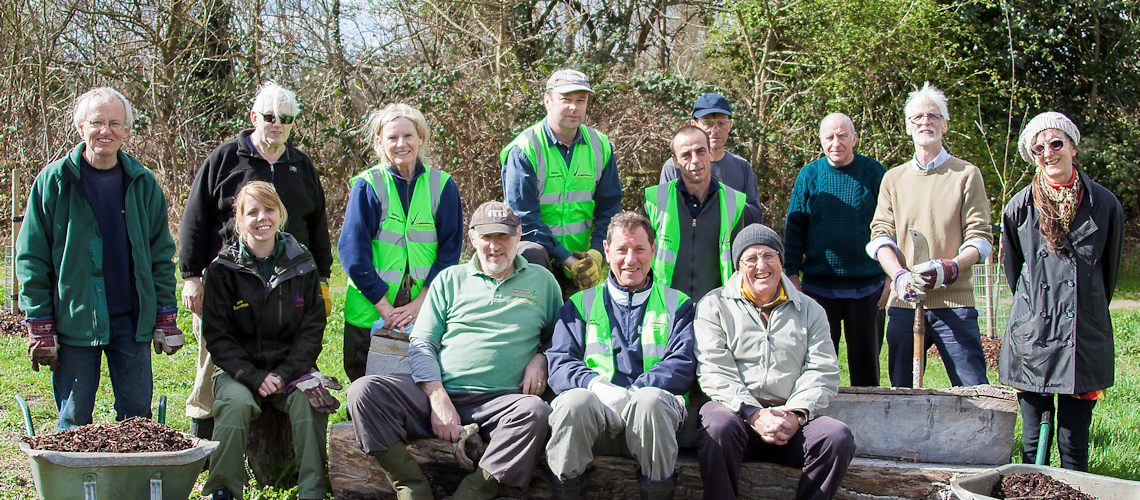 Nature Conservation Workdays and Events
If you have some spare time on your hands and would like to enjoy the great outdoors, then why not help us to keep our parks and opens spaces smart? It's a great way to exercise, meet new friends and help the environment, all at the same time. For more information call 020 8559 2316 or email nature.conservation@visionrcl.org.uk
Walks, Talks and Events
Talks
Come along to these RSPB talks with special guest speakers.
Time: 8pm to 10pm
Venue: Grinwell Room, St. Mary's Chuch, 207 High Road, South Woodford E18 2PA
Free parking after 6:30pm on the High Road, or Derby Road car park (a short walk from the church)
Price: £4.50 non-members / £4 RSPB and Wren Group members/ children FREE
Contact: To find out more email nelondonrspb@yahoo.co.uk or visit the RSPB website.
Date
Talk and Guest speaker
Tuesday 14 May

The Dinosaur-Bird Controversy
Are birds feathered dinosaurs? Mike Howgate introduces us to this murky dispute, which has recently become a great deal clearer
Walks
Every Tuesday (until 28 May)
Valentines Birders run free weekly walks at Valentines Park.
Open to all, from knowledgeable birders, young families or those simply wanting to go for a walk and keep fit with a friendly crowd. Easy walking on hard surfaces, suitable for prams and mobility scooters. Please note walks will not take place if it's very wet or windy.
Times: 9:30am to 11:30am
Venue/meeting point: Valentines Park. Meet at Valentines Mansion, Emerson Road, Ilford IG1 4XA
Enquiries: Mike 07973 724069 / rspb.havering@gmail.com
Practical Conservation Workdays
All of the workdays take place at 10am to 2:30pm, unless otherwise stated.
Date and time
Activity
Meeting Point
30 April
10am to 1pm

Roding Valley Park Action Day
Help us maintain paths along the river, improving accessibility and removing litter.

Wooden archway entrance to Roding Valley Park on Chigwell Road, near to Charlie Brown's roundabout E18 1NN

7 May

Claybury Park Pond Restoration
We'll be removing invasive Floating Pennywort from the pond, litter picking, and removing bramble that's locking
the ditch.

Claybury Park entrance on Ravensbourne Gardens, near junction with Wedmore Avenue IG5 0XF

14 May
10am to 1pm

Claybury Park Butterfly Survey
We'll conduct a butterfly survey to monitor the abundance and variety of butterflies species present within the habitats of Claybury Park.

Limited spaces, booking essential. Please email for availability nature.conservation@visionrcl.org.uk

21 May

Roding Valley Park Himalayan Balsam Bashing
Join us as we work to halt the spread of invasive Himalayan Balsam by removing it from the banks of the River Roding.

James Leal Centre, Ray Park, Snakes Lane East, Woodford Green IG8 7JQ

28 May
10am to 1pm

Roding Valley Park Action Day
Help us maintain paths along the river, improving accessibility and removing litter.

 

Roding Valley Park entrance at the end of Lechmere Avenue, Woodford Green
IG8 8QG

4 June

Claybury Park Nature Trail Maintenance
We'll be working to tidy up the woodland, cutting back vegetation from the paths and installing new waymarkers.

Claybury Park entrance on Ravensbourne Gardens, near junction with Wedmore Avenue, IG5 0XF

11 June

Roding Valley Dragonfly Survey
We'll be joined by Alice Wickman, Water for Wildlife Project Officer at London Wildlife Trust, as we survey the northern stretch of the River Roding for dragonflies and damselflies.

Limited spaces, booking essential. Please email for availability nature.conservation@visionrcl.org.uk
Date and time
Activity
Meeting Point
25 April

Roding Valley Park Dartnalls Field Maintenance


We'll be clearing back vegetation from the embankment to allow the wildflowers to flourish, litter picking, and re-staining the signage.


Dartnalls Field gate, Chigwell Road, opposite Beaumaris Drive, Woodford Green IG8 8PB

2 May

Woodland Condition Assessment Training


We'll be joined by Ecologist Denis Vickers as he demonstrates what indicators to look for when conducting a Woodland Condition Assessment.


Limited spaces, booking essential. Please email for availability nature.conservation@visionrcl.org.uk

9 May
10am to 1pm

Hainault Forest and Meadow Butterfly Survey


We'll conduct a butterfly survey to monitor the abundance and variety of butterflies species present within the habitats of Hainault Forest Country Park.


Limited spaces, booking essential. Please email for availability nature.conservation@visionrcl.org.uk

16 May
10am to 1pm

Claybury Action Day


Help us to maintain the pathways and improve the site by removing litter.


Claybury Park entrance on The Glade, opposite Wensleydale Avenue IG5 0NQ

23 May

Roding Valley Park Himalayan Balsam Bashing


Join us as we work to halt the spread of invasive Himalayan Balsam by removing it from the banks of the River Roding.


Roding Valley Park Orchard gate on Roding Lane South, near to junction with Whitney Avenue IG4 5PP

30 May
10am to 1pm

Seven Kings Park Butterfly Survey


We'll conduct a butterfly survey to monitor the abundance and variety of butterflies species present within the habitats of Seven Kings Park.


Limited spaces, booking essential. Please email for availability nature.conservation@visionrcl.org.uk

6 June

Hurstleigh Gardens Workday


We'll be cutting back vegetation and removing litter from the woodland paths to ensure ongoing accessibility.


Hurstleigh Gardens Open Space, junction of Fullwell Avenue and Hurstleigh Gardens IG5 0RQ

13 June
10am to 1pm

Roding Valley Park Action Day


Help us maintain paths along the river, improving accessibility and removing litter.


Wooden archway entrance to Roding Valley Park on Chigwell Road, near to Charlie Brown's roundabout E18 1NN