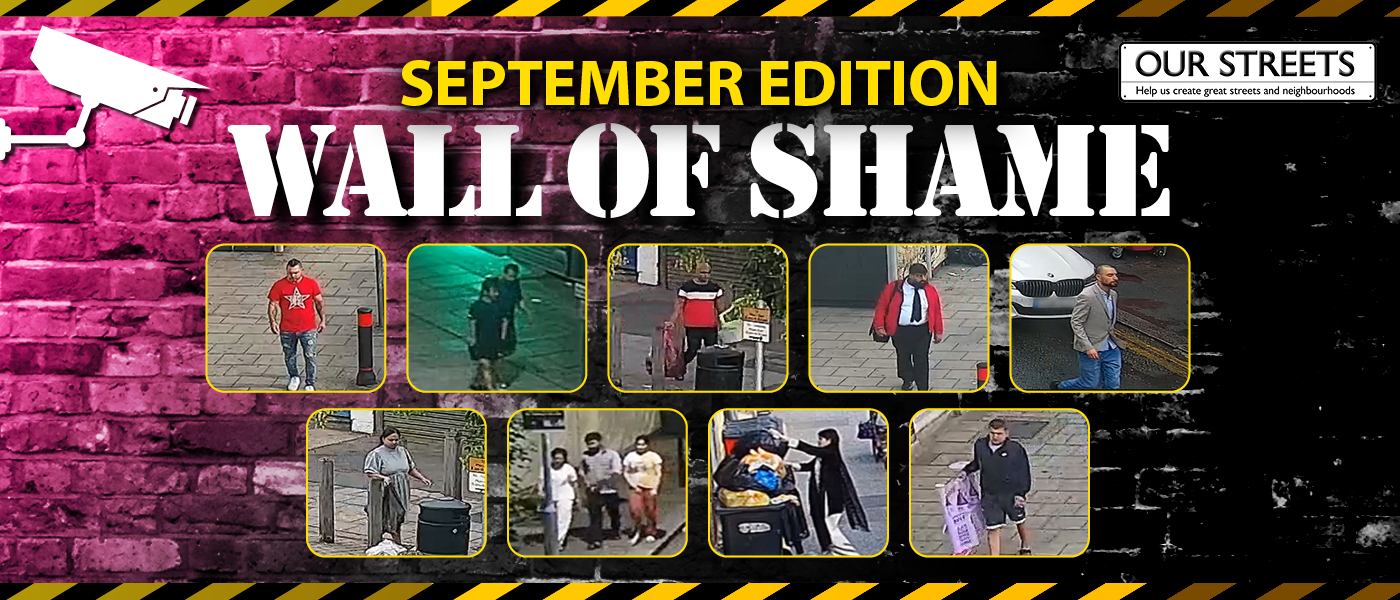 Redbridge Wall of Shame is catching grime crime offenders and helping deter fly-tippers
Published: 19 September 2022
Since its launch earlier this year, Redbridge Wall of Shame has led to the identification of several grime crime offenders and helped reduce fly-tipping in previous hotspot locations.
Redbridge Wall of Shame has become a powerful resource in the fight against fly-tipping, empowering local people to help bring fly-tippers to justice by reporting anyone they can identify from clips showing people dumping rubbish on the street.
Over the last six months since launching, on average an offender a month has been identified from the Wall of Shame and issued with £400 fines as a result of public tip-offs from those who viewed the clips.
The initiative has also seen a positive impact in two Ilford locations. Dudley Road and Ley Street previously regularly featured on the Wall of Shame as hotspots for people dumping rubbish, both have seen a reduction in fly-tipping following their appearances on the Wall of Shame.
The latest September edition of Redbridge Wall of Shame features a trio shamelessly dumping a sofa on the street, and others discarding bags of rubbish and other items including parts from a child's play equipment. The law breakers face a £400 fixed penalty notice if caught.
Head to Redbridge Wall of Shame to view footage of offenders from our September edition: https://wallofshame.redbridge.gov.uk/
If you can help identify any of the culprits, please contact us on: Cleansing.Services@redbridge.gov.uk
Redbridge Cabinet Member for Environment and Civic Pride Cllr Jo Blackman, said: "Fly-tipping is a blight on our borough and we are doing all we can as a council to crack down on offenders and make our streets cleaner and greener. Our Redbridge Wall of Shame is resulting in tip-offs from the community, and empowering local people to help in the fight against fly-tipping and catch those responsible for making our streets messy.
By working together as one community we can make it harder for fly-tippers to dump their rubbish in Redbridge, or think they can get away with it."
Redbridge Wall of Shame forms part of the council's ongoing work to create a cleaner Redbridge, which includes fining or prosecuting any individual or business caught illegally discarding their rubbish on the borough's streets.
Enforcement action is also coupled with other council led fly-tipping initiatives, including community engagement work, free online workshops on reducing and disposing of waste properly, and targeted fly-tipping operations.
The council also offers a Bulky Waste Collection Service entitling residents to a free collection every 12 months (maximum of 3 items). For more details, including costs for additional collections go to: www.redbridge.gov.uk/bins-waste-and-recycling/book-a-bulky-waste-or-large-item-collection/
Residents can easily report any fly-tips they spot in the borough online through the council's Report It page:  https://www.redbridge.gov.uk/report-it/
All fly tips made known to the council are recorded and investigated, with enforcement action being taken if evidence is found. The council aims to clear all recorded fly-tips on council land and the highway within 24 hours of it being reported.
(END)