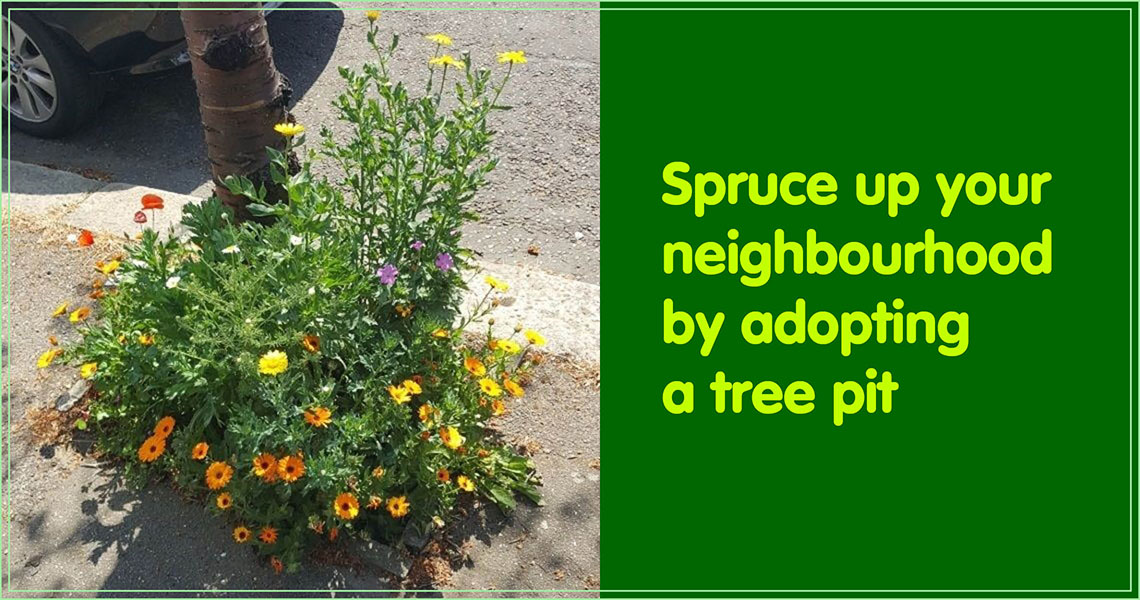 One, two, tree, go! Don't miss the deadline to 'Adopt a Tree Pit' to spruce up your street
Published: 24 November 2020
Help beautify your neighbourhood by adopting your very own tree pit to bring to bloom.
As part of the council's community gardening initiative, residents are being encouraged to take part in this year's 'Adopt a Tree Pit' scheme – a fun and interactive way to make the borough's streets more attractive, as well as support wildlife including bees and birds.
By adopting a tree pit near your home, you can create your own mini-garden on your doorstep by planting flowers and getting creative cultivating the space.
With regular love and care, you'll soon see your tree pit bloom to bring splashes of colour to your street.
More than 900 tree pits were successfully adopted by residents, schools and community groups last year when the initiative was first launched. 
Among those was the Barron family in South Woodford, who used their adopted tree pit as an opportunity to learn about gardening.
Speaking about the Barron family tree pit, mum Lucy said: "We have really enjoyed taking on a tree pit in our street. The children have loved spending time clearing out the weeds (hard work!), planting wild flower seeds and watering.
"They've really taken ownership of the tree pit and regularly check on its progress. Such a great initiative and lovely to see other streets also doing it. We're all very excited to see the flowers."
With applications to adopt a tree pit now open, it is hoped 2020 will be an even bigger success beating last year's numbers.
Cabinet Member for Civic Pride Cllr John Howard said: "This initiative is another creative way for our residents to make a visible difference to their neighbourhood.
"By working together to make the best out of our natural green assets in the borough we can create attractive and colourful spaces to be enjoyed by all.
"Last year was a big success, and we want this year to be even better - so get your applications in and make your corner of the neighbourhood your own!"
The Leader of Redbridge Council, Cllr Jas Athwal commented: "We can all play a part in keeping our neighbourhoods clean, tidy and green. By adopting a local tree pit you can help make your street a little more beautiful and support local wildlife in the process."
Applications can be made until the end of December. Those applying to adopt a tree pit will receive a free packet of wildflower, while stocks last– so get your application in early.
If you applied last year you will have to re-apply again this year as all adoptions are for a minimum of one year.
For more information, or to apply go to:
https://www.redbridge.gov.uk/our-streets/spruce-up-your-neighbourhood/tree-pit-adoption-form/
Help shape the borough's Green Urban Landscape policy:
Redbridge Council is currently working on a Green Urban Landscape policy that will create a plan for managing and improving council greenery across the borough. The council is asking for resident's views to help shape the policy.
What matters to you about the greenery around where you live?
What do you want to see the council prioritise in the management of greenery?
What's your vision for improving greenery in the borough?
To find out more, or share your thoughts go to:
https://engagement.redbridge.gov.uk/strategy/redbridge-green-urban-landscape-policy
Or alternatively post your comments addressed to:
Green Urban Landscape Policy
Neighbourhood Street Scene
London Borough of Redbridge,
The WREN Office, Ley Street Depot,
531 Ley Street
Ilford,
IG2 7QZ
Residents have until 5pm Friday 15 January 2021 to share their views.