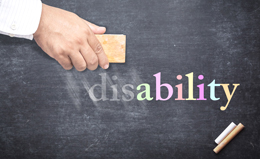 'Chordless Choir' to launch International Day of Persons with Disabilities in Redbridge
Published: 3 December 2021
A special performance by a Chordless Choir is set to round off a series of events organised in partnership between disability charity One Place East and Redbridge Council to celebrate International Day of Persons with Disabilities on Friday 3 December.  

The Chordless Choir will perform at 7pm as part of a day of events which includes focus groups, a podcast and art and creativity workshops, all designed to raise awareness of people with disabilities.
Approximately 15% of the world's population are considered to have some form of disability, according to the World Health Organisation's latest report on disability.

However, the specific needs and requirements of people with disabilities are not always catered to by the society they live in.
Chief Officer of One Place East, Margaret Summers, said:
"Our Chordless Choir is a fun 45-minute event which we set up for our service users. 'Chordless' is probably the best description as there is no leader.

"All our staff take part, and we pre-record singing and do a livestream showing the video and all the songs chosen will make you feel good.

"At the end of the day, the aim is to promote equality for people with disabilities in all areas of society by breaking down barriers to inclusion".
Redbridge Council's Cabinet Member for Transformation & Digital, Cllr Helen Coomb, said:

" Redbridge Council is committed to fostering an inclusive environment that values the diversity and individual contributions of all people, both abled and disabled.

"I encourage everyone to join us in marking International Day of People with Disabilities on Friday 3 December as we celebrate the challenges, barriers and opportunities for people who live with disabilities, in the context of a global pandemic."
One Place East is a partner of Redbridge Council and promotes equality and inclusion for disabled people, people with lived experience of mental health problems, long term conditions and people with a learning disability and Autism.