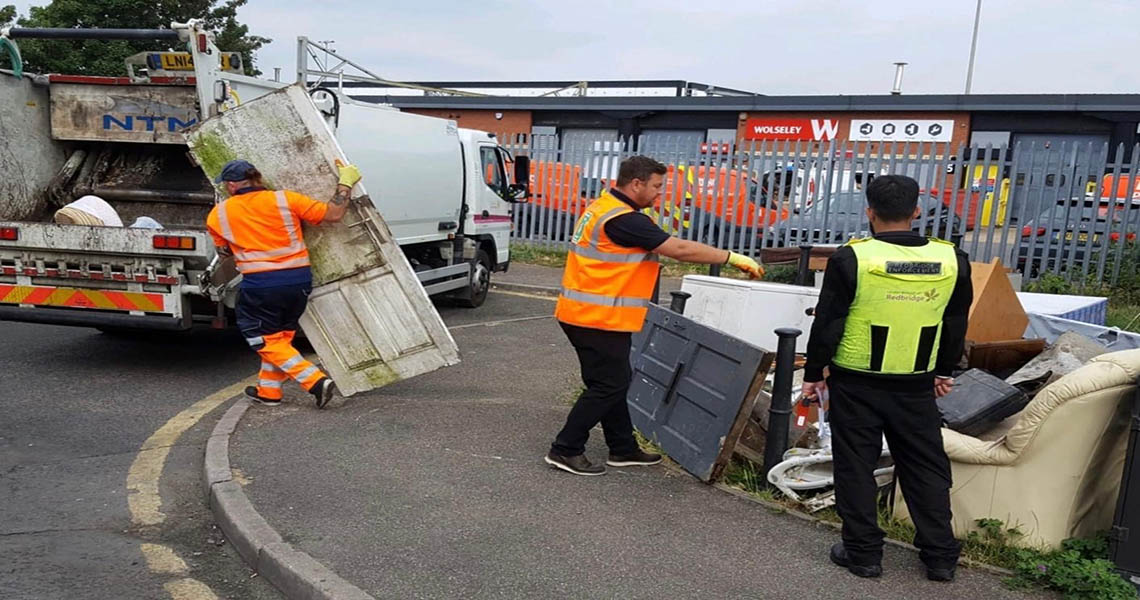 Fly-tipping operation digs up dirt on those dumping rubbish in Redbridge and hits them with fines totalling nearly £40,000
Published: 30 July 2020
A new initiative to crack down on fly-tipping in Redbridge has led to a string of grime crime offenders getting busted in the borough, and £38,950 being paid out in fines.
Under the initiative, Redbridge Enforcement Officers teamed up with colleagues in Street Cleansing to run a day of joint action each week in June, targeting fly-tipping hotspots around the borough.
Together they investigated and cleared over 300 fly-tips as part of the weekly operations, which also resulted in 79 fines for fly-tipping - totalling £31,600, and 49 fines for littering - totalling £7,350.
Redbridge Enforcement Officers waded through mountains of mess including furniture, mattresses and bags of clothing to find the evidence needed to track down the culprits responsible for dumping their mess on the borough's streets.
One officer even made a gruesome discovery of a pig's head among the filth left behind by selfish fly-tippers.
The majority of fines handed out for fly-tipping following the June operations were issued in Loxford, Goodmayes, Clementswood and Ilford Town.
Following its successful launch, the initiative is now being rolled out regularly over the next few months.
Cllr John Howard, Cabinet Member for Civic Pride, said: "The new joined up initiative between our Street Cleansing Team and Enforcement Officers is another string to our bow in the fight against grime crime in the borough.
"Dumping rubbish and destroying our environment is a criminal offence and we will not tolerate it. 
"All our residents deserve to live in a clean and safe environment. This is especially important now in the face of this pandemic. It is up to all of us to keep our streets clean, and report those we see fly-tipping.
"The council won't hesitate to bring down the full weight of the law to prosecute those caught making a mess of our borough."
The Leader of Redbridge Council, Cllr Jas Athwal commented: "Redbridge is our home and we all have a responsibility to keep it clean by disposing of our rubbish responsibly.
"There are some who choose to chuck their rubbish on the street, creating health hazards and ruining our local environment. This is unacceptable.
"Our uniformed Enforcement Officers and Street Cleansing Team are working hard together to clear up rubbish and catch those responsible."
Residents can report fly-tips in the borough via: https://www.redbridge.gov.uk/report-it/
For more information about disposing of waste and recycling in the borough please visit: https://www.redbridge.gov.uk/bins-waste-and-recycling/