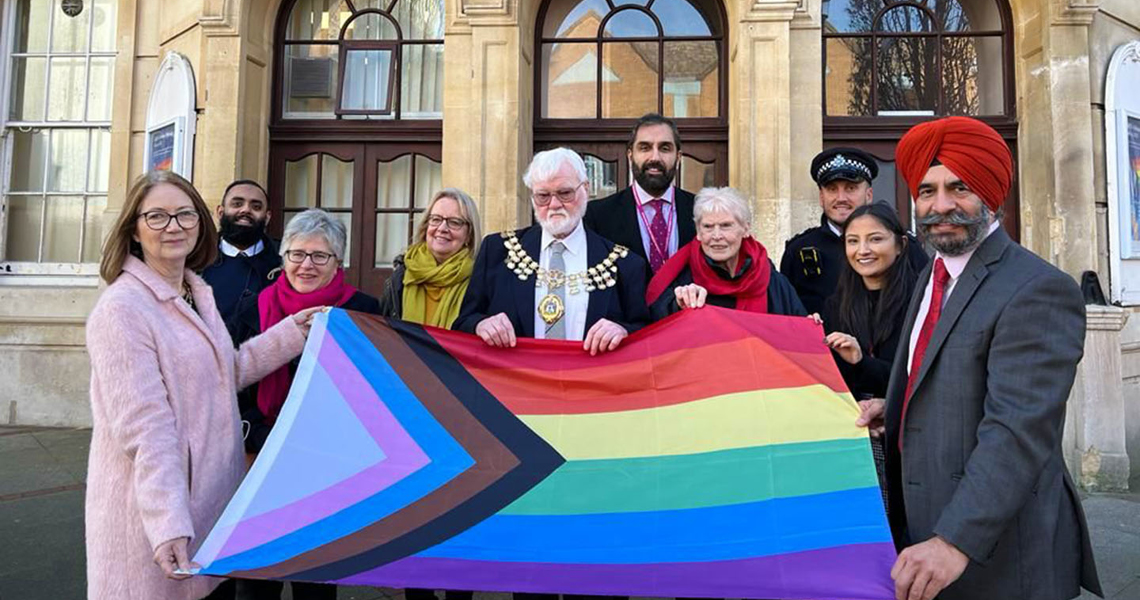 Redbridge raises the flag for LGBT History Month
Published: 31 January 2022
Redbridge Council today (Tuesday, 1 February) raised the rainbow flag at Redbridge Town Hall to mark the beginning of LGBT+ History Month.
LGBT+ History Month celebrates the history and civil rights movements of lesbian, gay, bisexual and transgender people worldwide. 
The Leader of Redbridge Council, Cllr Jas Athwal, said: "In Redbridge, our diversity is our strength, we are an inclusive borough where all communities support one another as good neighbours. The history of the LGBT+ movement has been one of tremendous struggle, suffering and moments of great triumph as discriminatory laws and practices have steadily been outlawed in the UK and around the world. The struggle for truly equal rights continues, and in Redbridge, we stand side by side with our LGBT+ communities as allies and as friends."
In addition to the public flag-raising ceremony, Redbridge Council is hosting interactive events to celebrate LGBT+ History Month throughout February.
Tuesday, 1 February: Redbridge Council marked the start of LGBT+ History Month with a public flag-raising ceremony at 12:15 pm on the steps of the Town Hall. 
Wednesday, 2 February : LGBT+ History Month Book Chat. Join this special LGBT+ History Month reading group if you enjoy reading and discussing books with LGBT+ themes.
Thursday 24 February: Free, Private & Confidential HIV testing at Redbridge Central Library, offered by Positive East
Explore what our libraries will be doing, including an LGBT+ History Month book month chat, collection displays, themed workshops, a comedy evening and more!
Redbridge Museum will release an activity pack for children aged 8+ to create peaceful protest badges during children's February half-term. Click here for updates. 
Redbridge Museum appeals to LGBT+ Redbridge residents to share their stories as part of a local history collection. If you identify as LGBTQ+ and have photos, films, clothes, items or memories you would like to share, please email redbridge.museum@visionrc.org.uk 
Vision Redbridge Culture & Leisure (RCL) invites residents to celebrate LGBTQ+ History Month across their social media platforms and virtual library, giving members access to many resources and information. 
Vision RCL has also created a special LGBTQ cinema collection of films.