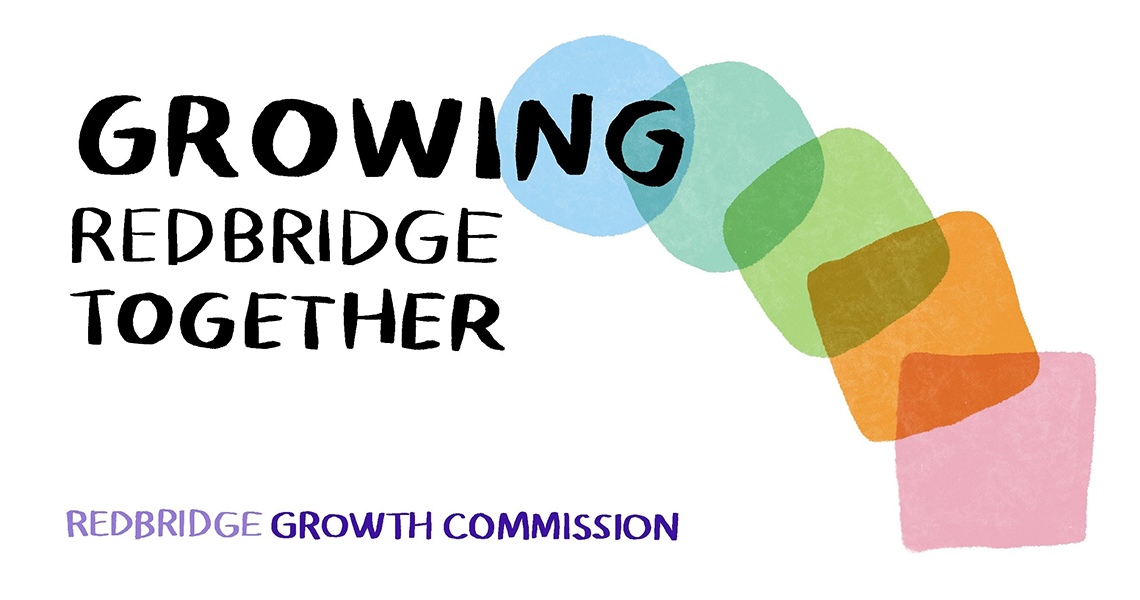 Redbridge Council Launches Growth Commission report: Growing Redbridge Together
Published: 19 February 2021
A ground-breaking report on the future of Redbridge has been published today (Friday, 19 February) by the London Borough of Redbridge. 
The report is being published at a special virtual launch event today at 2.30pm.
Entitled Growing Redbridge Together, the report sets out innovative recommendations to support the council to help residents improve their lifestyles, grow their businesses, and make the borough a better place to live and work.
The Growth Commission was set up by Redbridge Council in 2020 and is made up of six independent experts in their respective fields. The commission ran during the summer of 2020, conducting online engagement sessions with residents. 
The commissioners are:
Sophia de Sousa, Chair, CEO of Glass House
Bethia McNeil, CEO Centre for Youth Impact
David Ubaka, Founder DUP ltd
Mandeep Kaur, Director Civic Square
Sir Steve Bullock, Chair London Borough of Sutton's ALMO and
Yashmin Hurun, Chair Muslimah Sports Association
During two phases of engagement, commissioners met with over 200 people, with representatives from 30 organisations including resident groups, charities, religious groups, architects, voluntary groups, developers, and education institutions to discuss the challenges of growth as well as identifying solutions.
In response to the Growing Redbridge Together report, the council has produced the Working Towards a Brighter Future for Ilford brochure to showcase how the recommendations are already being put into practice across Ilford.
There will be an opportunity for residents to help shape the council's response to the recommendations and create an action plan to 'do growth better.'
The recommendations include:
Taking a neighbourhood-based approach, and recognising that Redbridge is a diverse collection of people and places, and ensuring growth complements and benefits the existing context.
Participatory approaches and providing opportunities for community collaboration and leadership that reflects our diverse communities.
Placing the green agenda at the heart of growth which builds on Redbridge's much-valued wealth of green spaces and waterways to prioritise use of sustainable and green technologies.
Chair of the Commission, Sophia de Sousa, CEO of Glasshouse Community Design, said:

"We Commissioners have been impressed and inspired by what we have seen in Redbridge, and firmly believe that all of the ingredients are already at your fingertips to build on what is special about the borough as a whole, and on the uniqueness and diversity of the people and places within it.
"We now share recommendations and ideas that have emerged from our conversations with you. They represent a collective contribution from everyone who has engaged with the Growth Commission. How you choose to prioritise and use these recommendations will require ongoing discussion, joint decision-making, and collaborative action from the council, elected members, local businesses, groups, and people, as well as working effectively with external partners and delivery bodies. 
"As the commissioners step away, our hope is that these recommendations plant the seeds for a more engaged, participatory, and collaborative approach to delivering good, green, and sustainable growth in Redbridge that you can nurture."
Another commissioner who was brought in for her local expertise on women in particular and BAME communities, in general, was Yashmin Hurun, the award-winning Chair of the Muslimah Sports Association, Director of The Football Association, and British Fencing. Yashmin said: 
"When I founded the MSA in 2014, I saw how few opportunities there were for women-only sports facilities in Redbridge, particularly those from minority backgrounds. Yes, it was a struggle at first, but pre-lockdown. We regularly got 200 women a week participating in badminton, football, and even martial arts. Whether they chose to wear their Hijab or not, it didn't matter, as long as they were happy taking part. I use this as an example because this is one area I would like to see expanded in the borough, using every school playground and leisure centre. 
"In many areas of the borough, not enough voices are being heard. Young voices are equally important, so it will be necessary for us to encourage them to speak up and be heard. We already know they value their green spaces, and we are fortunate in Redbridge in having so many, but we also need to take advantage of our very diverse communities and encourage more of them to move into the borough. With this commission and report, I believe we are on our way to achieving that."
Cllr Jas Athwal, Leader of Redbridge Council, commented:

"Redbridge is growing. Our fantastic schools are attracting families, our vibrant high streets and inviting local economy are inspiring young professionals, and our beautiful parks and green spaces are encouraging people to move out of the city. As a borough, we have so much to offer, but it's important local people play a key role in shaping our future. We set up the Growth Commission to bring our neighbours into the conversation – to hear from local people and to create a blueprint for how we manage growth going forward."
"Our brilliant commissioners, each experts in their fields, have worked closely with local people, groups, faith communities, and businesses to establish thoughtful recommendations, and we are committed to putting these into action.
"The recommendations in the Growing Redbridge Together report are an opportunity for us to deliver on growth in a more inclusive way by collaborating with local residents and strengthening our partnerships. As you can see in the Working Towards a Brighter Future for Ilford brochure, we have already started work in Ilford. We want to work with our communities to go further and turn more of these recommendations into a reality."
A series of online workshops will be held in the spring. Please visit https://letstalkredbridge.uk.engagementhq.com/growth-commission for further updates.