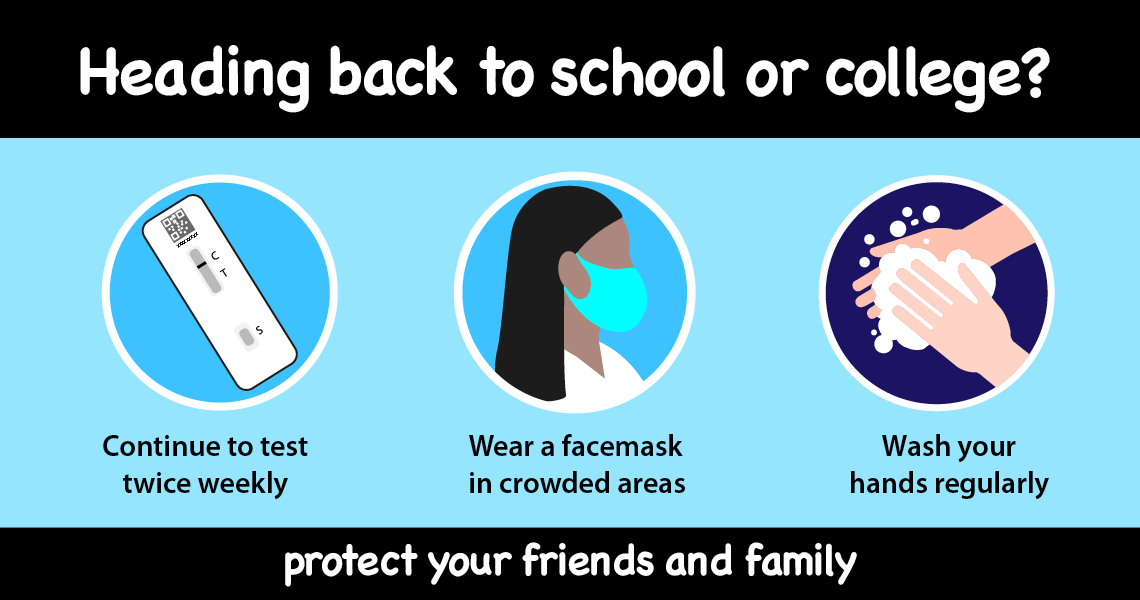 Back to School Safely
Published: 31 August 2021
Starting this week, children and young people return to early years settings, schools and colleges from their summer breaks.
Now that there are fewer restrictions, pupils will once again be able to gain fuller education experiences including more group activities. However, Coronavirus has not gone away. Schools will still be to following measures to avoid the spread of the virus, such as ensuring good hygiene, maintaining cleaning regimes, keeping spaces well ventilated and following the latest public health advice.
Below is information for parents and carers as schools return. 
Face coverings: are no longer routinely advised for pupils in schools, although they are still recommended in crowded spaces such as school buses and public transport.
Self- isolation: under 18s who are named as close contacts will be asked to take a PCR test but will not have to self-isolate unless they themselves test positive.
Testing: all secondary-school pupils will be invited to take two lateral-flow swab tests at school - three to five days apart - to see if they are carrying the virus. You can find out more on testing on the testing page.
More detailed advice for parents and carers of children at nurseries, primary or secondary schools and colleges is available on the government website
Share this page