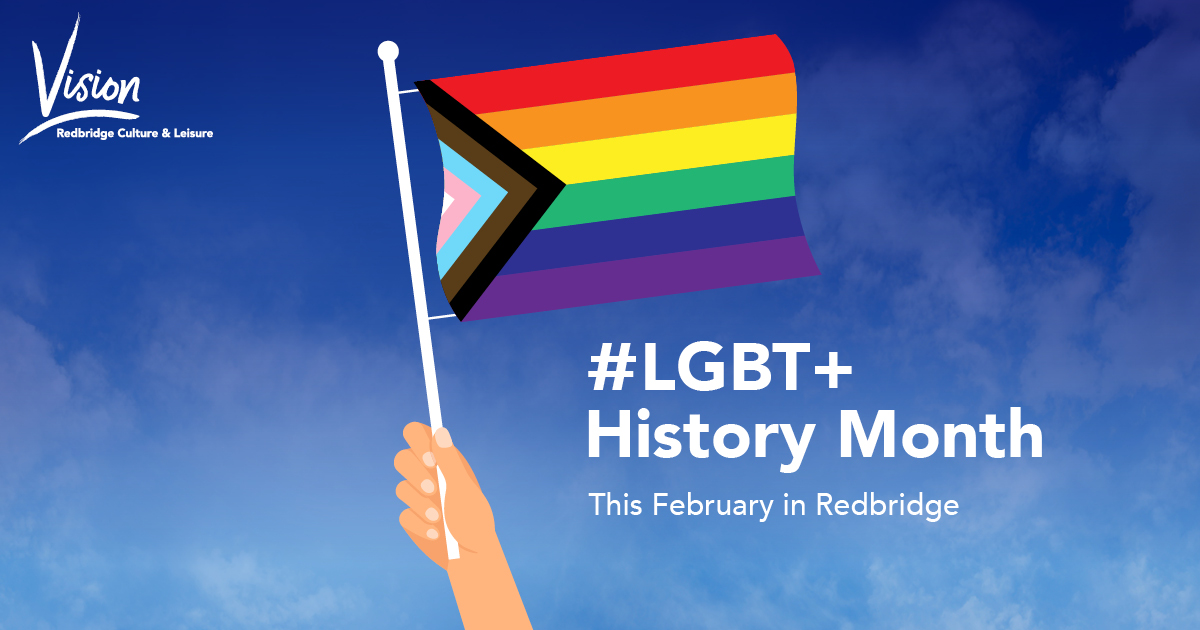 LGBT+ History Month 2022
February is LGBT+ History Month, an annual month-long observance of lesbian, gay, bisexual and transgender history, and the history of the gay rights and related civil rights movements.
 In Redbridge we're proud to celebrate our diverse communities and promote equality and diversity and inclusion.
At Redbridge Council, we support and promote the diversity of our staff, residents and people who interact within the borough. We are committed to the wellbeing and equality of those who identify within the LGBT+ community and aim to reduce inequalities and tackle discrimination.
Did you know that 2022 marks the 17th Anniversary of LGBT+ History Month?
LGBT+ is an acronym that stands for Lesbian, Gay, Bisexual, Transexual, and others. These terms are used to describe a person's sexual orientation or gender identity. The plus symbol covers a wide range of terms, for example 'Cisgender', 'Queer', 'Non-binary', 'Femme' and more. To explore the definitions, click here.
February is a poignant month in LGBT + History. It coincides with the abolition of Section 28 of the Local Government Act in 2003; a law passed in 1988 that stopped councils and schools from 'promoting' homosexuality. LGBT + History Month has been held every February since 2005.
The purpose of the Lesbian Gay Bisexual Trans + (LGBT+) History month is to promote equality and diversity for the benefit of our communities. WE do this by:
Raising awareness and advancing education on matters affecting the LGBT+ community
Increasing the visibility of LGBT+ people, their history, and lived experiences through the wider community
Working to make educational and other institutions safe spaces for all LGBT+ communities
Promoting the welfare of the LGBT+ community, by ensuring their recognition by the education system.
What will be happening locally in Redbridge to celebrate?
On Tuesday 1 February 2022, the Council will be marking the start of LGBT+ History Month with a flag raising at 12:15pm on the steps of the Town Hall. All are welcome to join us for this.
On Wednesday 2 February 2022 there will be a LGBT+ History Month Book Chat. Please use the following link to find out more information - find out more about LGBT+ History Month book chat 
In addition, Redbridge Library will be hosting a LGBT+ History Month book collection for those seeking to explore the subject. Please use the following link to find out more information - find out more about LBGT+ History Month Book Collections at Redbridge Library
On Thursday 24 February 2022, there will be a free, private & confidential HIV testing at Redbridge Central Library which will be offered by Positive East. If you wish to find out more about Positive East then please use the following link - find out more about Positive East.
Our libraries will be hosting a series of events which includes themed workshops, a comedy evening and more - explore the LGBT+ events calendar of our libraries in Redbridge
During children's February half-term, Redbridge Museum will release an activity pack for children, aged 8+ to create peaceful protest badges - find out more about the activity pack here. 
In addition, Redbridge Museum is calling out to Redbridge borough members within the LGBT community. They would like to collect stories, so if you identify as LGBTQ+, and have photos, films, cloths, items or memories to share, then please email redbridge.museum@visionrc.org.uk
Vision Redbridge Culture & Leisure (RCL) are inviting YOU to celebrate LGBTQ+ History Month across their social media platforms and will be hosting a virtual library, giving members access to lots of resources and information - find out more about Vision's virtual library here.
Finally, Vision RCL has also created a special LGBTQ cinema collection of films and you can find out more on this by using the following link - find out about Vision's LGBTQ+ cinema collection. 
How has Redbridge Council promoted LGBT+ inclusion in the past?
2016/17
We funded Redbridge Rainbow Community - a community forum for LGBT for people in Redbridge
2018
A month-long series of events during November 2018 to celebrate our LGBT+ staff and communities and raise awareness of some of the issues they face
2019
Redbridge Council's first ever attendance at London Pride in June 2019
Rainbow Cards project for Christmas 2019 – staff across the organisation wrote 156 Christmas cards to members of the LGBT+ community who wouldn't necessarily receive a card from their families
2020
Our LGBT+ Staff Network hosted a virtual pride event
Celebrated LGBT History Month with a lunchtime discussion session and Bring and share lunch
2021
Attended Virtual Pride 2021, where we covered a variety of topics including History of Pride, Met Police LGBT+ Independent Advisory Group, Coming out at work, Providing services for our Transgender customers and UK Black Pride
LGBT+ History Month Social Media
As always, social media will be used proactively to help trend LGBT+ History Month. The movement has created three special hashtags, which are being encouraged to be used: #LGBTHM22, #LGBTplusHM #educateOUTprejudice
Follow LGBT+ History Month's social media handles for updates:
Twitter: @LGBTHM
Facebook: LGBTHistoryMonth
Instagram: @lgbthistorymonth