Mercato Metropolitano Ilford
Mercato Metropolitano (MM) is a sustainable community market. One that combines community events, innovative farming practices, circular economy models and dishes from around the world. MM is much more than a food market: it is an urban destination and community space.
MM has their flagship sustainable and inclusive community market at Elephant & Castle. MM is a hub for people to eat, buy, learn and share food.
MM's focus is on quality, sustainably sourced products, artisan producers and the local community. MM is a movement, and its MManifesto states (amongst other values) that 'small is beautiful' and emphasises the importance of 'building community'. Ultimately, MM's goal is to create a MMovement that guarantees everyone access to nutritious and affordable food, while promoting unsophisticated and sustainable produce.
With a clear passion for urban renewal, MM will transform Redbridge Town Hall car park to a covered food market promoting fresh produce from local growers and encouraging social enterprises by incubating start-up food and beverage businesses. In line with another cornerstone of our MManifesto, MM will provide a community space with a comprehensive engagement programme offering cooking classes, food growing, health and fitness classes, music and dance.
Check out Mercato Metropolitano's website here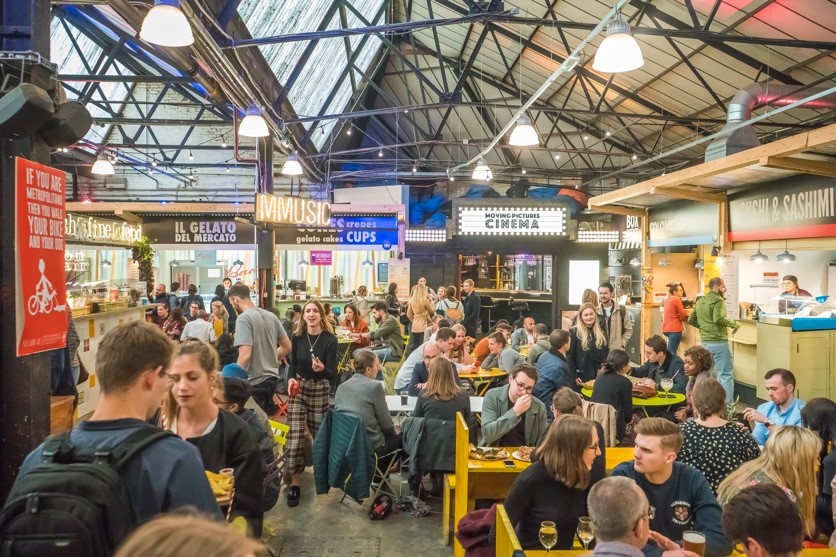 Projects and Community Initiatives
Community building lies at the heart of everything MM does, and these are some of projects entirely dedicated to the local citizens and their direct environment's benefits.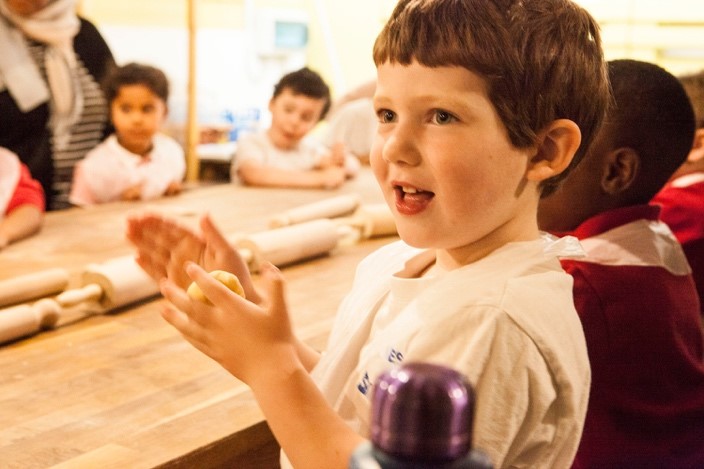 Holiday Club
Food insecurity is a significant issue in London and groups affected by this are at greater risk of health issues. It is evident that during school holidays these issues are magnified, as children lose the security of free school meals.
MM's Holiday club ran this year during the 6-week summer holidays to ensure a range of activities and nutritious meals for over 500 attendees. MM prides itself on the impact of the programme: it was much broader than just providing food. It facilitated the creation of new friendships for the children and their parents and the variety of activities, from sports to arts and crafts, engaged the children.
Female Food Founders
MM defines itself an incubator and as part of this, the project Female Food Founders was established. The aim was to support female food entrepreneurs to help turn one enthusiastic foodie's dream into a successful business.
MM launched an online competition across South London and amongst 40 entries, seven were shortlisted and invited back to a Masterchef-style final. Nancy Nosel, founder of Ze Spätzle Club, stood out and won the competition with her traditional south-west German dish: spätzle. Subsequently, MM has helped Nancy to build her business, assisting with everything from branding to sourcing.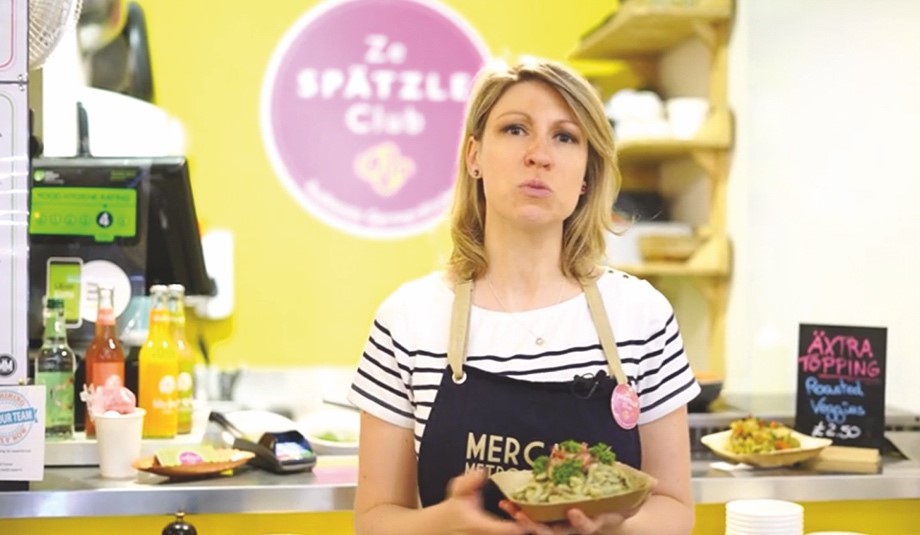 Circular Economy – German Kraft
MM is a strong advocate of circular practices which use the planet's finite resources in a more sustainable way, ultimately aiming for zero wastage. This approach means that food, packaging, energy and materials are considered part of a system – a closed loop.
Our on-site brewery, German Kraft, is a living example of our zero-waste approach. They reuse and recycle resources to minimise waste and recuperate energy. Water is distilled by using waste-heat from the brewing process. Beer is then produced using this water together with specialty hops and malts. Pints are then poured straight out of the tank, unfiltered and unpasteurised!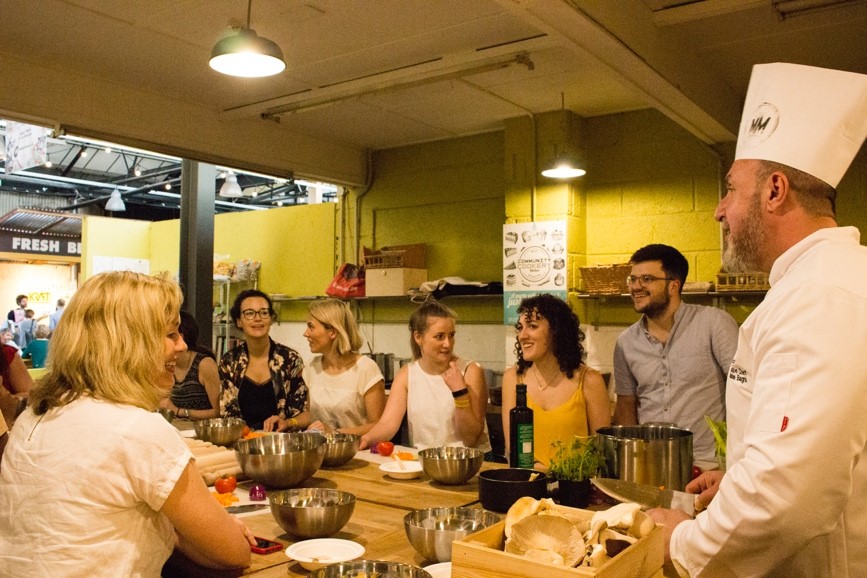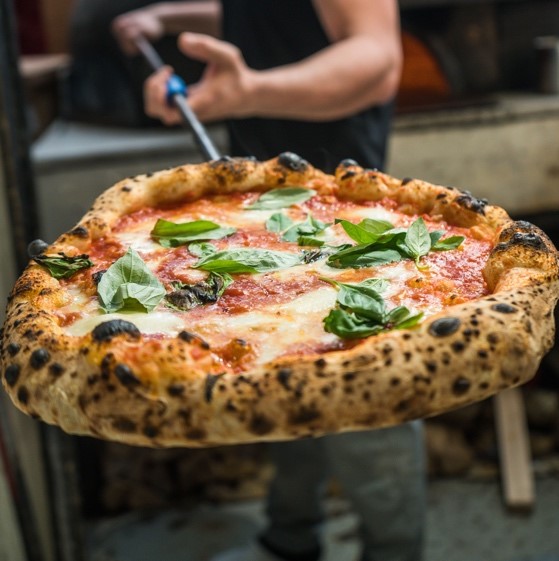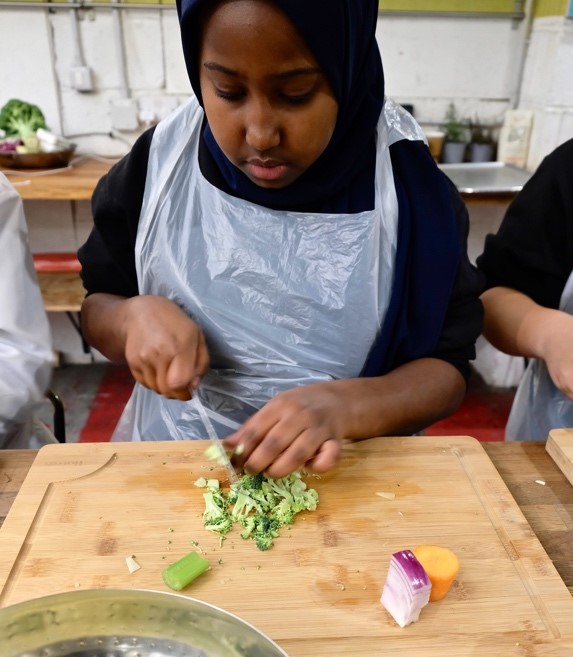 Part of MM's MManifesto is 'Educating and Empowering Citizens'. This translates into organising cookery classes and workshops of different kinds but with the same aim: bringing people together to learn about food.
MM welcomes people of all ages and backgrounds, and often offers cookery classes or fun group activities (e.g. pumpkin carving for Halloween) to ignite community building.
MM's Executive Chef, Gabriele, leads all cookery classes and familiarises attendees with MM's MManifesto values.