Anti-social behaviour around York Road
Come and listen to an update on the work to reduce crime on and near York Road on Friday 1 October 2021 at City Gates Church, Ilford from 6pm (please note the change of venue).
Join the Leader of the Council, Cllr Jas Athwal and the acting area commander of the Metropolitan Police, Paul Trevers.
Message from Cllr Jas Athwal - The Leader of Redbridge Council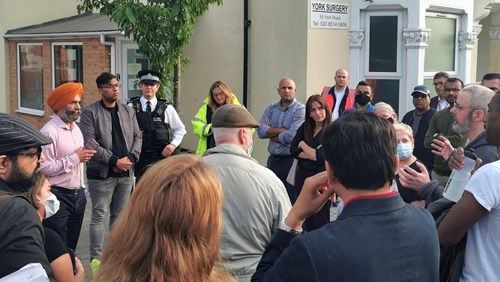 Cllr Jas Athwal and Cllr Khayer Chowdhury held a street meeting with residents on York Road to listen to concerns and explain action being taken by the council and police.
Update on anti-social behaviour around York Road
Dear resident,
On Friday 3 September, I along with, police, enforcement officers, trading standards officers, licensing officers and Cllr Khayer Chowdhury, the Cabinet Member for Crime, Safety and Community Cohesion led a street surgery meeting in York Mews to meet with local residents about the work that the council and police have been doing to tackle the anti-social behaviour and crime issues that have increased around York Road. 
As a resident of the borough for 51 years, I share your concerns about the rise in anti-social behaviour and crime around York Road and as the Leader of the Council, I will ensure that Redbridge council does everything it can within its power to work alongside the police to tackle this problem.
I would like to thank all those residents who were able to attend, and those who shared their concerns and experiences. At the start of the meeting I updated residents on the work that is being done to tackle the problem head-on and then I along with Cllr Chowdhury, police and council officers took questions from residents.  I also spoke about the complex factors which have led to an increase in crime and anti-social behaviour the area.  This included the number of people that have been housed in cheap hotels and hostels by other local authorities, some of whom have complex needs and support requirements.
To date, the council has taken the following actions:
Increased visible Redbridge Enforcement Officer presence, with evening vehicle patrols and daytime presence on-foot
The police and council Multi Agency Tasking Team (MATT) prioritised action on anti-social behaviour in the area and prostitution around Ilford Town Centre, resulting in 29 arrests in July
Joint action with local police teams, including CCTV led interventions during the recent Redbridge Action Week, resulting in eight arrests
Launched an operation to inspect 3,000 properties in the area to ensure accommodation is fit for purpose and not overcrowded
Clamped down on rogue landlords offering 'beds in sheds' and other contraventions in planning permission in the area to ensure that accommodation is legal, suitable and safe
Contacted all nearby off-licences to let them know we will be monitoring to ensure that they do not sell alcohol to street drinkers
Targeted landlords with untidy front gardens and issued Community Protection Notice fines to landlords who do not comply
Shared all video footage and intelligence received from residents with the police
In addition to these measures, I have worked with senior police figures to push for a step-up in police presence in the area. Police Chief Inspector Chris Nixon and his team have undertaken the actions outlined below:
Recognised the area as a priority for local policing and established a multi-agency problem solving group having to ensure short, medium and long-term approaches are put in place to tackle the issues
Focused patrols and investigations conducted by Local Police Safer Neighbourhood and Tasking team on drug supply suspects in the area
Undertaken significant intelligence work to identify those controlling drug supply in the location and bring them to justice, and made a series of arrests in the area for drugs offences with significant policing resources committed both now and in the future
Between 2 July and 26 August, 637 Police Officer shifts were deployed to York Road and the areas surrounding Ilford Train Station. This resulted in 371 stop and search actions and 64 arrests for a variety of offences including drugs and weapons offences
The resourcing of a new policing team is underway to innovatively use Anti-Social Behaviour legislation to tackle problematic individuals operating in the area by warning, fining, evicting and even banning them from Ilford
Increased enforcement of those who knowingly or unknowingly trade in stolen goods to make it harder for drug users who steal to support their addiction to make money in Redbridge
In addition to these interventions, residents made a number of suggestions that we are actively working with the police to implement:
Staffing a council funded 'pop up police contact point' on York Road that will run at well publicised, high footfall times to improve issue reporting and public engagement
Working with central police colleagues responsible for London's 101 and online reporting functions to improve the information flow locally and to ensure that the police provide feedback to those who have reported issues
Making crime prevention audit recommendations with council colleagues on environmental improvements in the area that will make it harder for illegal activity to take place and make it feel safer to local residents. This includes a review of street lighting and a street cleansing audit
Police officer presence in council CCTV suite for regular operations to improve the tasking of police resources to identified issues in the area to generate arrests
The police working with council CCTV to provide evidence for possible anti-social behaviour interventions including banning orders/eviction of individuals
Review of the local drug support interventions in the area including reviewing the Drug Needle Exchange points run by pharmacies
Conduct a highways audit to look at possible improvements to improve traffic flow across the area
This is a selection of your suggestions and ideas that we are working on. During the street surgery I committed to updating you in person in a follow-up meeting and I can now confirm that this meeting will be held on 1 October at 6pm at City Gates Church, Ilford (please note the change of venue).
To keep you updated I have set up this dedicated web page on our council site for residents to access and see the progress of these actions http://www.redbridge.gov.uk/ASB-YorkRoad
In the meantime, please continue to report problems in the area to the police using 999 in an emergency or 101 for non-emergencies, or to the council at https://www.redbridge.gov.uk/report-it/ depending on the issues you are reporting.
Yours faithfully,
Cllr Jas Athwal
Leader, The London Borough of Redbridge