The Spark Ilford
A new Cultural Quarter is coming to Ilford town centre which will combine civic, leisure, education and community uses. The area surrounding Redbridge Town Hall and Oakfield Road will be the heart of this change, boosting cultural activity both day and night.
"The Spark Ilford" has been developed to kick-start the regeneration of the Cultural Quarter bringing meanwhile projects that will transform three Council assets, initially for a five-year period whilst longer term plans are developed. The Spark Ilford project will transform the Town Hall car park, the Town Hall building and the Janice Mews building.
The following projects will create a vibrant cultural offer focusing on art, enterprise, technology and food.
Redbridge Town Hall – SPACE
SPACE Studios is a charitable organisation that has been running for fifty years to provide affordable artist space across London and now to outer counties. SPACE will convert the ground, third and fourth floors of the of the Town Hall for affordable artist studios for residents of Redbridge and London artists to rent. There will be at least 38 studios available 24 hours a day, seven days a week. A gallery and exhibition space will be created on the ground floor which will be open to the public for art launches and showings. SPACE will carry out engagement programmes with the community and work closely with local art graduates to develop their skills and gain experience in setting up as a working artist.
To register your interest for art studios at Redbridge Town Hall, please contact Emma Guest on 0208 525 2022 or at emma@spacestudios.org.uk
Space Open House Event - Saturday 8 December 2018
If you would like to learn more about SPACE's plans, come along for a free tour of Redbridge Town Hall. Three tours will take place between 1pm and 4pm on Saturday 8 December 2018. Tours are FREE but spaces are limited, so please book a ticket at your preferred time slot on the Eventbrite page.
Find out more on the SPACE Studios page.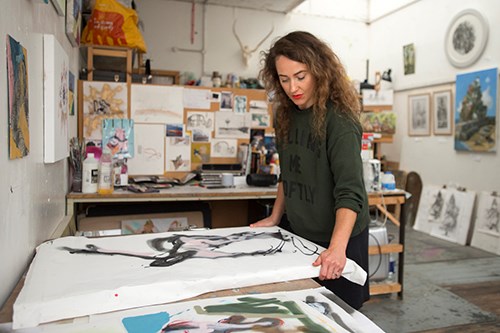 Redbridge Town Hall Car-park – Mercato Metropolitano (MM)
Mercato Metropolitano (MM) will transform Redbridge Town Hall car-park to a covered food market promoting fresh food from local growers and encouraging social enterprise with start-up food and beverage businesses. MM will provide a community space with a comprehensive engagement programme offering cooking classes, food growing, health and fitness classes, music and dance.
MM has their flagship food market at Elephant & Castle with their first sustainable and inclusive community market with an Italian soul. Mercato Metropolitano is a playground for food lovers and artisan food producers to meet, talk, relax, shop, eat and share a meal.
Mercato Metropolitano revolves around individuals: small-scale farmers, local producers and members of the local community.
Find out more on the Mercato Metropolitano page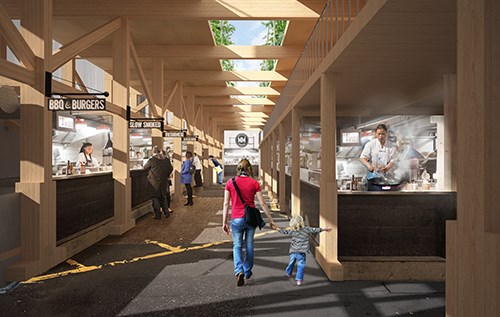 10/11 Janice Mews - Things Made Public
Things Made Public are a vibrant and energetic organisation that will refurbish the Janice Mews warehouse located near the Kenneth More Theatre and Redbridge Town Hall. The Janice Mews building will be transformed into a creative and comfortable working space for local business start-ups. There will also be co-working space for local businesses at affordable rates. Things Made Public are a local provider that manage the retailers in Romford town centre. They will bring creativity, business support, training and events involving the community to Ilford.
Find out more on the Things Made Public page.

It will be an exciting time for Ilford Town Centre in 2019, the Spark will bring intriguing events and illuminate the community spirit of Ilford, bringing people together through art, enterprise, events and food.

The Spark projects are preparing for their individual planning applications during 2018 and 2019. The planning applications will be accompanied by consultation with residents and community.
Spark Ilford - opening timetable
| | |
| --- | --- |
| Provider | Opening Date |
| SPACE | Spring 2019* |
| Things Made Public | Summer 2019* |
| Mercato Metropolitano | Autumn 2019* |
*please note timescales could be subject to change due to delivery programme changes to revisions